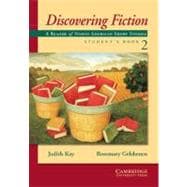 List Price: $33.00
Usually Ships in 3-5 Business Days

More New and Used
from Private Sellers
Questions About This Book?
What version or edition is this?
This is the Student edition with a publication date of 2/26/2001.
What is included with this book?
The New copy of this book will include any supplemental materials advertised. Please check the title of the book to determine if it should include any CDs, lab manuals, study guides, etc.
Summary
Discovering Fiction is a two-level reading series that introduces students to authentic American literature. Student's Book 2 is an anthology of eighteen short stories by contemporary and classic American authors, including Kate Chopin, Ernest Hemingway, Langston Hughes, and Shirley Jackson. The stories have universal appeal that will touch students and make them think. Designed for high-intermediate to advanced students, the text provides interactive, integrated skills lessons developed around each story. Pre-reading sections include prior knowledge questions, author biographies, discussions of literary terms, and reviews of idioms and expressions found in the stories. Accompanying grammar exercises help students overcome such trouble areas as prepositions, articles, and irregular verbs. Also included are vocabulary sections, reading comprehension questions, and thought-provoking discussion and writing topics. Review sections tie the stories together and provide review tests.
Table of Contents
About the Authors
vii
To the Student
xxi
To the Instructor
xxiii
Instructions for Using This Book
xxv
Part One A Life Lesson
2
(60)
4
(11)
4
(1)
4
(1)

| | |
| --- | --- |
| | Literary Term: Point of View |

5
(1)
5
(1)
5
(3)
8
(5)
8
(1)
8
(1)
9
(2)
11
(2)
13
(2)
13
(1)
14
(1)
15
(12)
15
(1)
15
(1)
16
(1)
16
(1)
16
(4)
20
(5)
20
(1)
20
(1)
21
(1)
22
(2)

| | |
| --- | --- |
| | Grammar: Negative Verb Forms |

24
(1)
25
(1)
25
(2)
25
(1)
26
(1)
27
(10)
27
(1)
27
(1)
28
(1)
28
(1)
28
(4)
32
(4)
32
(1)
33
(1)

| | |
| --- | --- |
| | Grammar: Adverbs of Time and Degree |

33
(1)

| | |
| --- | --- |
| | Grammar: Adverb Placement |

34
(2)
36
(1)
36
(1)
36
(1)
37
(25)
37
(1)
37
(1)

| | |
| --- | --- |
| | Literary Term: Sense Impressions |

38
(1)
38
(1)
38
(10)
48
(4)
48
(1)
48
(1)

| | |
| --- | --- |
| | Grammar: Using Adjectives and Adverbs |

49
(1)

| | |
| --- | --- |
| | Grammar: Using Adjectives to Create Word Pictures |

50
(1)

| | |
| --- | --- |
| | Grammar: Using Hyphenated Adjectives |

51
(1)
52
(1)
52
(2)
52
(1)
53
(1)
54
(1)
54
(1)
54
(1)
54
(1)

| | |
| --- | --- |
| | Words Frequently Confused |

55
(2)
57
(2)
59
(3)
Part Two The Unexpected Twist
62
(64)
64
(12)

| | |
| --- | --- |
| | O. Henry William Sydney Porter |

64
(1)
64
(1)

| | |
| --- | --- |
| | Literary Term: Surprise Ending |

65
(1)
65
(1)
65
(5)
70
(4)
70
(1)
71
(1)

| | |
| --- | --- |
| | Grammar: Infinitives and Gerunds |

72
(2)
74
(1)
74
(2)
74
(1)
74
(2)
76
(15)
76
(1)
76
(1)

| | |
| --- | --- |
| | Literary Term: Foreshadowing |

77
(1)
77
(1)
77
(7)
84
(6)
84
(1)
85
(1)

| | |
| --- | --- |
| | Grammar: Comparative and Superlative Adjectives |

86
(2)

| | |
| --- | --- |
| | Grammar: Placement of Adjectives |

88
(2)
90
(1)
90
(1)
90
(1)
91
(16)
91
(1)
91
(1)
92
(1)
92
(1)
92
(8)
100
(6)
100
(1)
100
(1)

| | |
| --- | --- |
| | Grammar: Roots, Prefixes, and Sufixes |

101
(5)
106
(1)
106
(1)
106
(1)
107
(19)
107
(1)
107
(1)
108
(1)
108
(1)
108
(3)
111
(5)
111
(1)
111
(2)

| | |
| --- | --- |
| | Grammar: Active and Passive Voice |

113
(2)
115
(1)
116
(1)
116
(1)
116
(1)
117
(1)
117
(1)
117
(1)
117
(1)

| | |
| --- | --- |
| | Words Frequently Confused |

118
(3)
121
(2)
123
(3)
Part Three Irony
126
(42)
128
(11)
128
(1)
128
(1)

| | |
| --- | --- |
| | Literary Term: Romanticism |

129
(1)
129
(1)
129
(4)
133
(4)
133
(1)
133
(2)

| | |
| --- | --- |
| | Grammar: Reflexive and Intensive Pronouns |

135
(2)
137
(1)
137
(2)
137
(1)
137
(2)
139
(14)
139
(1)
139
(1)

| | |
| --- | --- |
| | Literary Term: Atmosphere |

140
(1)
140
(1)
140
(5)
145
(6)
145
(1)
145
(1)

| | |
| --- | --- |
| | Grammar: Pronoun Cases: Subjective and Objective |

145
(3)
148
(3)
151
(1)
151
(2)
151
(1)
151
(2)
153
(15)
153
(1)
153
(1)
154
(1)
154
(1)
154
(5)
159
(3)
159
(1)
160
(1)

| | |
| --- | --- |
| | Grammar: Participial Clauses |

161
(1)
162
(2)
162
(1)
163
(1)
164
(1)
164
(1)
164
(1)
164
(1)

| | |
| --- | --- |
| | Words Frequently Confused |

165
(1)
166
(1)
167
(1)
Part Four Family Relationships
168
(46)
170
(14)
170
(1)
170
(1)
171
(1)
171
(1)
171
(7)
178
(5)
178
(1)
178
(1)

| | |
| --- | --- |
| | Grammar: Subject-Verb Agreement |

179
(3)

| | |
| --- | --- |
| | Grammar: Collective Nouns |

182
(1)
183
(1)
183
(1)
183
(1)
184
(15)
184
(1)
184
(1)

| | |
| --- | --- |
| | Literary Term: Characterization |

185
(1)
185
(1)
185
(4)
189
(8)
189
(1)
190
(1)
191
(2)

| | |
| --- | --- |
| | Grammar: Conditional Sentences |

193
(4)
197
(2)
197
(1)
198
(1)

| | |
| --- | --- |
| | My Father Sits in the Dark |

199
(15)
199
(1)
199
(1)

| | |
| --- | --- |
| | Literary Term: Interior Monologue |

200
(1)
200
(1)
200
(4)
204
(2)
204
(1)
204
(1)

| | |
| --- | --- |
| | Grammar: Verb Tense Changes |

205
(1)
206
(1)
206
(2)
206
(1)
207
(1)
208
(1)
208
(1)
208
(1)
208
(1)

| | |
| --- | --- |
| | Words Frequently Confused |

209
(1)
210
(2)
212
(2)
Part Five Meeting Challenges
214
(61)
216
(9)
216
(1)
216
(1)
217
(1)
217
(1)
217
(2)
219
(5)
219
(1)
219
(1)

| | |
| --- | --- |
| | Grammar: Simple Sentences |

220
(1)

| | |
| --- | --- |
| | Grammar: Compound Sentences |

220
(1)

| | |
| --- | --- |
| | Grammar: Complex Sentences |

221
(1)

| | |
| --- | --- |
| | Grammar: Compound-Complex Sentences |

222
(2)
224
(1)
224
(1)
224
(1)
225
(12)
225
(1)
225
(1)
226
(1)
226
(1)
226
(6)
232
(4)
232
(1)
232
(1)

| | |
| --- | --- |
| | Grammar: Transitional Words |

233
(2)

| | |
| --- | --- |
| | Grammar: Transitional Phrases |

235
(1)
235
(1)
236
(1)
236
(1)
236
(1)
237
(18)
237
(1)
237
(1)

| | |
| --- | --- |
| | Literary Term: Local Color |

237
(1)
238
(1)
238
(10)
248
(6)
248
(1)
248
(1)
249
(3)
252
(1)
253
(1)
253
(1)
254
(1)
254
(1)
254
(1)
255
(20)
255
(1)
255
(1)
256
(1)
256
(1)
256
(9)
265
(3)
265
(1)
265
(1)

| | |
| --- | --- |
| | Grammar: the Topic Sentence |

266
(2)
268
(1)
268
(1)
268
(1)
269
(1)
269
(1)
269
(1)
269
(1)

| | |
| --- | --- |
| | Words Frequently Confused |

270
(1)
271
(1)
271
(4)
Appendix
275
(6)
275
(1)
276
(2)
278
(3)
Acknowledgments
281
(2)
Index
283