Note: Supplemental materials are not guaranteed with Rental or Used book purchases.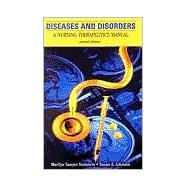 Questions About This Book?
What version or edition is this?
This is the edition with a publication date of 1/1/2002.
What is included with this book?
The New copy of this book will include any supplemental materials advertised. Please check the title of the book to determine if it should include any CDs, lab manuals, study guides, etc.
Summary
Univ. of Cincinnati, OH. Pocket handbook for students and nurses features tables and more than 270 diseases and disorders. Includes expanded information on gender and lifespan considerations. Previous edition, c1997, was titled Davis's Manual of Nursing Therapeutics for Diseases and Disorders. Softcover. DNLM: Nursing Care--handbooks.
Table of Contents
| | |
| --- | --- |
| | Abdominal Aortic Aneurysm |

1
(4)
5
(6)
11
(4)
15
(4)

| | |
| --- | --- |
| | Acid-Base Imbalances: Metabolic Acidosis and Alkalosis |

19
(8)

| | |
| --- | --- |
| | Acquired Immunodeficiency Syndrome |

27
(6)
33
(3)
36
(3)

| | |
| --- | --- |
| | Acute Alcohol Intoxication |

39
(4)

| | |
| --- | --- |
| | Acute Respiratory Distress Syndrome |

43
(4)

| | |
| --- | --- |
| | Adrenal Insufficiency (Addison's Disease) |

47
(4)
51
(3)
54
(5)
59
(2)
61
(5)
66
(4)
70
(4)

| | |
| --- | --- |
| | Amyotrophic Lateral Sclerosis |

74
(3)
77
(4)
81
(4)

| | |
| --- | --- |
| | Anorectal Abscess and Fistula |

85
(4)
89
(4)
93
(4)
97
(3)
100
(4)
104
(4)

| | |
| --- | --- |
| | Arterial Occulusive Disease |

108
(5)
113
(4)
117
(3)
120
(7)
127
(4)

| | |
| --- | --- |
| | Benign Prostatic Hyperplasia (Hypertrophy) |

131
(4)
135
(4)

| | |
| --- | --- |
| | Blood Transfusion Reaction |

139
(5)
144
(4)
148
(3)
151
(6)
157
(7)

| | |
| --- | --- |
| | Bronchiolitis (Respiratory Syncytial Viral Infection) |

164
(4)
168
(3)
171
(5)
176
(5)
181
(4)
185
(3)

| | |
| --- | --- |
| | Cardiac Contusion (Myocardial Contusion) |

188
(5)
193
(4)
197
(4)
201
(4)
205
(4)
209
(3)
212
(4)
216
(5)
221
(4)
225
(5)
230
(5)
235
(3)
238
(4)

| | |
| --- | --- |
| | Cholecystitis and Cholelithiasis |

242
(4)
246
(4)

| | |
| --- | --- |
| | Chronic Fatigue Immune Dysfunction Syndrome |

250
(3)
253
(4)
257
(3)
260
(5)

| | |
| --- | --- |
| | Coronary Artery Disease (Arteriosclerosis) |

265
(4)
269
(4)
273
(4)
277
(5)
282
(4)
286
(4)
290
(3)

| | |
| --- | --- |
| | Cystomegalovirus Infection |

293
(3)

| | |
| --- | --- |
| | Degenerative Joint Disease (DJD) |

296
(5)
301
(3)
304
(6)
310
(4)
314
(4)

| | |
| --- | --- |
| | Disseminated Intravascular Coagulation |

318
(5)
323
(3)

| | |
| --- | --- |
| | Dysfunctional Uterine Bleeding |

326
(3)
329
(4)
333
(4)
337
(3)
340
(4)
344
(4)
348
(4)
352
(5)
357
(4)
361
(3)
364
(4)

| | |
| --- | --- |
| | Fibrocystic Breast Condition |

368
(5)

| | |
| --- | --- |
| | Gallbladder and Biliary Duct (Biliary System) Cancer |

373
(3)
376
(4)
380
(4)
384
(5)

| | |
| --- | --- |
| | Gastroesophageal Reflux Disease (GERD) |

389
(3)
392
(4)

| | |
| --- | --- |
| | Glomerulonephritis, Acute |

396
(4)
400
(4)
404
(3)
407
(5)
412
(5)
417
(4)
421
(5)
426
(3)
429
(4)
433
(5)
438
(4)
442
(3)
445
(3)
448
(5)
453
(4)
457
(4)
461
(3)
464
(4)
468
(3)
471
(5)
476
(3)
479
(4)
483
(4)
487
(3)
490
(5)
495
(5)
500
(3)
503
(3)
506
(4)
510
(4)
514
(4)
518
(3)
521
(4)
525
(4)

| | |
| --- | --- |
| | Hypovolemic/Hemorrhagic Shock |

529
(4)

| | |
| --- | --- |
| | Idiopathic Thrombocytopenia Purpura |

533
(4)
537
(4)
541
(3)
544
(3)
547
(3)
550
(1)
550
(5)

| | |
| --- | --- |
| | Intrauterine Fetal Demise |

555
(4)
559
(3)
562
(4)
566
(3)
569
(5)
574
(3)
577
(4)

| | |
| --- | --- |
| | Laryngotracheobronchitis (Croup) |

581
(5)
586
(4)
590
(5)
595
(5)
600
(6)
606
(5)
611
(4)
615
(4)
619
(5)
624
(3)
627
(4)
631
(4)
635
(4)
639
(4)

| | |
| --- | --- |
| | Mitral Insufficiency (Regurgitation) |

643
(4)
647
(4)

| | |
| --- | --- |
| | Mononucleosis, Infectious |

651
(3)
654
(6)

| | |
| --- | --- |
| | Multiple Organ Dysfunction Syndrome |

660
(5)
665
(1)
665
(5)
670
(5)
675
(5)
680
(6)
686
(5)
691
(3)
694
(5)
699
(5)
704
(4)
708
(4)
712
(3)
715
(5)
720
(4)
724
(5)
729
(5)
734
(4)
738
(4)

| | |
| --- | --- |
| | Pelvic Inflammatory Disease |

742
(5)
747
(4)
751
(3)
754
(4)
758
(4)
762
(4)
766
(6)
772
(4)

| | |
| --- | --- |
| | Pneumocystis Carinii Pneumonia |

776
(4)
780
(3)
783
(4)

| | |
| --- | --- |
| | Polycystic Kidney Disease |

787
(4)
791
(4)
795
(4)

| | |
| --- | --- |
| | Pregnancy-Induced Hypertension |

799
(5)

| | |
| --- | --- |
| | Premature Rupture of Membranes |

804
(5)
809
(4)
813
(6)
819
(5)
824
(4)

| | |
| --- | --- |
| | Psychoactive Substance Abuse |

828
(5)
833
(5)
838
(3)
841
(3)
844
(4)
848
(5)
853
(6)
859
(3)
862
(4)
866
(4)

| | |
| --- | --- |
| | Rocky Mountain Spotted Fever |

870
(4)

| | |
| --- | --- |
| | Salmonella Infection (Salmonellosis) |

874
(3)
877
(5)
882
(4)
886
(4)
890
(3)
893
(5)
898
(5)
903
(4)
907
(5)

| | |
| --- | --- |
| | Sudden Infant Death Syndrome |

912
(3)

| | |
| --- | --- |
| | Syndrome of Inappropriate Antidiuretic Hormone (SIADH) |

915
(4)
919
(4)
923
(3)
926
(4)
930
(4)
934
(5)
939
(5)
944
(4)
948
(3)
951
(5)
956
(4)
960
(4)
964
(4)
968
(5)
973
(6)
979
(3)
982
(3)
985
(4)
989
(6)
995
(4)
Bibliography
999
(2)
Index
1001