Note: Supplemental materials are not guaranteed with Rental or Used book purchases.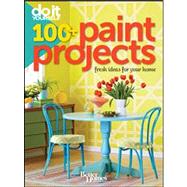 Do It Yourself : 100+ Paint Projects
ISBN13:
9781118031636
by
Unknown
Better Homes & Gardens Books
Summary
The spring "Paint Anything" issue of Do It Yourself magazine, a Better Homes and Gardens special interest publication, is consistently the best selling issue of the year. This book dives deeper into the subject readers love so much for its ease, affordability, and show-stopping results. Do-it-yourselfers are continually looking for paint makeover ideas featuring new products such as spray paint and eco-friendly paints and primers. This book is a complete guide for homeowners working on paint projects.
Table of Contents
Projects & How-tos.
6 CHAPTER 1: FABRIC & TEXTILES
8 Stenciling
18 Stamping
26 More Ideas
36 CHAPTER 2: FURNITURE
38 Stenciling
46 Masking
52 Stamping
56 More Ideas
70 CHAPTER 3: WALLS & FLOORS
72 Stenciling
82 Stamping
90 Masking
98 More Ideas
110 CHAPTER 4: ARTWORK & ACCESSORIES
112 Artwork
124 Accessories
138 CHAPTER 5: CERAMICS, GLASS & METAL
140 Ceramics
146 Glass
154 Metal
162 CHAPTER 6: CABINETRY & TILE
164 Cabinetry
172 Tile
Resources
178 CHAPTER 7: TIPS, TOOLS & TECHNIQUES
190 CHAPTER 8: PROJECT PATTERNS
206 SOURCES
207 PROJECT INDEX