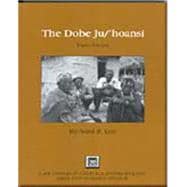 Questions About This Book?
What version or edition is this?
This is the 3rd edition with a publication date of 2/4/2002.
What is included with this book?
The Used copy of this book is not guaranteed to include any supplemental materials. Typically, only the book itself is included.
Summary
This classic, bestselling study of the !Kung San, foragers of the Dobe area of the Kalahari Desert describes a people's reactions to the forces of modernization, detailing relatively recent changes to !Kung rituals, beliefs, social structure, marriage and kinship system. It documents their determination to take hold of their own destiny-despite exploitation of their habitat and relentless development-to assert their political rights and revitalize their communities. Use of the name Ju/'hoansi (meaning "real people") acknowledges their new sense of empowerment.
Table of Contents
Foreword
iii
Preface to the Third Edition
vii
Preface to the Second Edition
viii
Preface to the First Edition
xi
A Note on the Ju Language
xii
Acknowledgments
xv
1
(8)

| | |
| --- | --- |
| | Introduction: A Voyage of Discovery |

1
(2)
3
(6)

| | |
| --- | --- |
| | The People of the Dobe Area |

9
(14)
11
(1)
11
(3)
14
(1)
14
(4)
18
(5)

| | |
| --- | --- |
| | Environment and Settlement |

23
(14)

| | |
| --- | --- |
| | The Dune and Molapo System |

24
(2)
26
(1)
26
(2)
28
(4)
29
(3)
32
(4)
32
(1)
33
(2)

| | |
| --- | --- |
| | Hut and Shelter Construction |

35
(1)
36
(1)

| | |
| --- | --- |
| | Subsistence: Foraging for a Living |

37
(22)
40
(8)
40
(3)
43
(3)

| | |
| --- | --- |
| | Food Classes and Subsistence Strategy |

46
(2)
48
(3)
48
(1)
49
(2)
51
(2)

| | |
| --- | --- |
| | Work Effort and Caloric Returns |

53
(5)

| | |
| --- | --- |
| | The Quality and Quantity of the Diet |

56
(2)

| | |
| --- | --- |
| | Ju/hoansi Subsistence: Affluence or Anxiety? |

58
(1)

| | |
| --- | --- |
| | Kinship and Social Organization |

59
(18)
60
(4)
64
(10)
64
(5)

| | |
| --- | --- |
| | Kinship II: Names and the Name Relationship |

69
(3)

| | |
| --- | --- |
| | Kinship III: The Principle of Wi |

72
(2)
74
(3)
77
(14)

| | |
| --- | --- |
| | The Arrangement of Marriages |

77
(3)

| | |
| --- | --- |
| | The Marriage-by-Capture Ceremony |

80
(2)

| | |
| --- | --- |
| | Plural Marriage and Remarriage |

82
(3)

| | |
| --- | --- |
| | Intergroup Alliance and Conflict |

85
(1)

| | |
| --- | --- |
| | The ``Marriage'' of /Tontah |

86
(1)
87
(2)

| | |
| --- | --- |
| | Male and Female Among the Ju/'hoansi |

89
(2)

| | |
| --- | --- |
| | Complaint Discourse: Aging and Caregiving among the Ju/'hoansi |

91
(18)
91
(3)

| | |
| --- | --- |
| | Aging and Social Change in Ju/'hoan Society |

94
(2)

| | |
| --- | --- |
| | Field Research on Aging: The 1986-1987 Project |

96
(2)
98
(1)

| | |
| --- | --- |
| | Narratives of Neglect and Abandonment |

99
(4)
99
(2)
101
(2)
103
(1)

| | |
| --- | --- |
| | The Social Organization of Care |

104
(3)

| | |
| --- | --- |
| | Conclusion: The Paradox of Sharing and Complaining |

107
(1)

| | |
| --- | --- |
| | Future Prospects: How will ``Development'' affect Caregiving? |

107
(2)

| | |
| --- | --- |
| | Conflict, Politics, and Exchange |

109
(16)
109
(2)

| | |
| --- | --- |
| | The Problem of the Headman |

109
(2)
111
(1)
112
(3)

| | |
| --- | --- |
| | Deadly Combat: Ju/'hoan Style |

115
(3)
118
(1)
118
(7)

| | |
| --- | --- |
| | Coping with Life: Religion, World View, and Healing |

125
(16)

| | |
| --- | --- |
| | The World of the //gangwasi |

126
(4)
128
(1)

| | |
| --- | --- |
| | How Ancestors Become Enemies |

129
(1)

| | |
| --- | --- |
| | N/um and the Giraffe Dance |

130
(5)
133
(2)
135
(2)

| | |
| --- | --- |
| | Three Medicines: One Blood |

137
(4)

| | |
| --- | --- |
| | The Ju/'hoansi and Their Neighbors |

141
(10)

| | |
| --- | --- |
| | Introducing the Herero and the Tswnna |

141
(2)
143
(2)
145
(2)
147
(1)
148
(3)

| | |
| --- | --- |
| | Perceptions and Directions of Social Change |

151
(16)

| | |
| --- | --- |
| | Perceptions of the White Man |

153
(4)

| | |
| --- | --- |
| | Transition to Farming and Herding |

157
(2)
159
(1)

| | |
| --- | --- |
| | Wage Work and Migrant Labor |

159
(3)
162
(1)

| | |
| --- | --- |
| | Government and the Future |

162
(5)
167
(26)

| | |
| --- | --- |
| | Dobe: Three Decades of Change |

168
(1)
169
(5)

| | |
| --- | --- |
| | Nyae Nyae: A Struggle for Survival |

174
(2)
176
(1)
176
(1)

| | |
| --- | --- |
| | The Nyae Nyae Foundation and the Farmers' Co-Op |

177
(1)

| | |
| --- | --- |
| | The Land Questions: A Victory for the Ju/'hoansi |

178
(3)

| | |
| --- | --- |
| | Ju/'hoansi at the Millennium: Progress and Poverty |

181
(8)
186
(3)

| | |
| --- | --- |
| | Regional Developments: Mandela and After |

189
(1)

| | |
| --- | --- |
| | The Challenge of HIV/AIDS |

190
(3)

| | |
| --- | --- |
| | Anthropological Practice and Lessons of the Ju/'hoansi |

193
(8)

| | |
| --- | --- |
| | The Changing Image of the Ju/'hoansi |

197
(4)
Postscript: The /Gwihaba Dancers
201
(6)
Appendix A: Eating Christmas in the Kalahari
207
(6)
Appendix B: The Kalahari Debate: Ju/'hoan Images of the Colonial Encounter
213
(16)
Glossary of Ju/'hoan and Other Non-English Terms
229
(2)
Films of the Ju/'hoansi: An Annotated List
231
(4)
References Cited and Recommended Readings
235
(8)
Index
243