Note: Supplemental materials are not guaranteed with Rental or Used book purchases.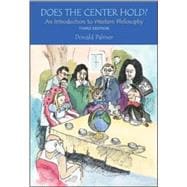 Does the Center Hold? : An Introduction to Western Philosophy
ISBN13:
9780767415804
by
Palmer, Donald
McGraw-Hill Humanities/Social Sciences/Languages
Related Products
Summary
Does the Center Hold? is an entertaining, topically-organized introductory text with more than 500 original illustrations. The ideas and issues typically covered in introductory courses are presented here in a remarkably accessible and enjoyable manner. The author demonstrates that serious philosophical inquiry may be perplexing but is ultimately enlightening and liberating.
Table of Contents
Preface / Introduction 1. What Are We Doing in This Class? Is Philosophy Possible? / The Origins of Philosophy / Contemporary Branches of Philosophy / The Philosophy of Socrates 2. Truth Is Beauty, Beauty Is Truth Rationalist Epistemology / The Philosophy of Plato / René Descartes' Rationalism / 3. What You See Is What You Get Empiricist Epistemology / Aristotle as a Precursor to Empiricism / The Empiricism of John Locke / Berkeley's Correction of Locke / Hume's Radicalization of Berkeley's Empiricism / Kant's Compromise / Conclusion 4. Who's on First, What's on Second? Ontology / Dualism / Materialistic Monism / Pluralism / Conclusion 5. Mount Olympus, Mount Moriah, and Other Godly Places Philosophy of Religion / Theism / Atheism / Volitional Justifications of Religious Belief / Religious Mysticism / Religious Existentialism / Conclusion 6. The Largest Airline in the Free World Philosophy of Freedom / Determinism: Ancient Greek and Enlightenment Views / Hard Determinism: Modern Views / Soft Determinism / Indeterminism / Conclusion 7. Thou Shalt Become Perfected Ethics / Ancient Greek Moral Philosophers / Egoism / Hedonism / Utilitarianism / Duty-Oriented Morality / Conclusion 8. Different Strokes for Different Folks Critiques of Traditional Ethical Theories / Existentialism / Hume and the Naturalistic Fallacy / Logical Positivism / Cultural Relativism / Ethics and Feminism / Ethics and Deep Ecology / Conclusion 9. Let Them Eat Cake Political and Social Philosophy / Political Philosophy / Social Philosophy / Conclusion 10. But Is It Art? Philosophy of Art / Plato and Freud / Aristotle / The Interlude between Aristotle and the Nineteenth Century / Marx / Marcuse / Existentialism / Wittgenstein / Conclusion Notes Glossary Credits Index At the end of each chapter: Topics for Consideration Suggestions for Further Reading: Paperback Editions