Note: Supplemental materials are not guaranteed with Rental or Used book purchases.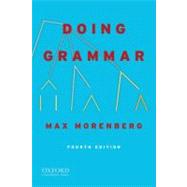 Questions About This Book?
What version or edition is this?
This is the 4th edition with a publication date of 12/17/2009.
What is included with this book?
The Used copy of this book is not guaranteed to include any supplemental materials. Typically, only the book itself is included.
Summary
Doing Grammar is a practical and lively guide to discovering how the English language works. Author Max Morenberg uses modern linguistic theories to build upon traditional frameworks and provide accessible explanations about the composition of sentences, illustrating them at every step with diagrams and other visual models. In this fourth edition, Doing Grammar retains its unique voice, clarity, and organization, but also demonstrates the author's commitment to a renewed and streamlined focus on the critical skills necessary for writing effective sentences. Featuring updated examples, Morenberg once again makes a seemingly dry subject come alive. New to this Edition * A streamlined approach maintains the straightforward, easy-to-read narrative while also focusing on key skills * A glossary of terms and expanded table of contents for easy reference * A new printed Instructor's Resource Manual-free to adopters. Prepared by Charles MacQuarrie at California State University, Bakersfield, it features an Answer Key to those in-text exercises not answered at the back of the book, additional activities and test questions, teaching tips, sample syllabi, and a guide to developing syllabi Distinctive Features * Innovative tree diagrams explicate the process of grammatical analysis and guide students through taking apart, labeling, and understanding the various elements of sentences * Engaging real-world examples and anecdotes illustrate the important elements of clear writing * Extremely effective exercises provide practice in chapter concepts * An Answer Key at the back of the book offers students answers to selected exercises Invaluable for students in undergraduate grammar courses, this compact guide is also essential for all readers seeking to discover how the English language works.
Author Biography

Max Morenberg is Professor Emeritus at Miami University, where he co-directed the Ohio Writing Project. He is the co-author of The Writer's Options: Lessons in Style and Arrangement, Eight Edition (2007) and The Writing Teacher as Researcher: Essays in the Theory and Practice of Class-Based Research (1990).

Table of Contents
Preface
Identifying Verbs and Core Sentences
Preview
Grammar and Our View of Language1`
Verbs and Core Sentences
Verbs: The Basic Sentence Components
Intransitive Verbs
Linking Verbs
Transitive Verbs
Two Place Transitive Verbs
Vg Verbs
Vc Verbs
Two Place Transitives as Transitive Verbs
The Verb BE
Verbs and Slots and Sentence Nuclei
Verbs Change Types
Reference Material
Knowledge and Practice
Chapter Summary
Exercises
Identifying Verb Types
Relating Words, Phrases, and Slots
Parts of Speech
What Nouns Do
Verbs, Modals, Auxiliaries, and Tense
Adjectives and Noun Characteristics
Adverbs Orient Readers and Listeners
Prepositions Precede Noun Phrases
Words and Grammar
Grammatical Slots Identify Phrases
The Hierarchy
Constituents as Hierarchies
Grammatical Analyis and Chicken Parts
Heads and Attributes
Basic Sentence Structure
The Yes/No Question Test
Tree Diagrams
Diagrams as Tools
Multiple-Word Verbs
Words, Hierarchies, and Constituents
Exercises
Identifying Sentence Constituents
Expanding Verb Phrases
Tense, Modality, and Aspect
Statu of the Main Verb
Verb Form
Finiteness
Mood and Purpose
Conditional Mood and Possibility
Future Time and Conditional Mood Again
Aspect
Past Participles
Present Participles
Tense Forms of Main Verbs
How to Expand a Main Verb
Regular Verbs
Summary
Exercises
Changing Main Verb Forms
Identify Verb Status and Analyzing Sentence
Exploring Noun Phrases
Noun Phrase Component
Proper and Common Nouns
Determiners
Definite Articles
Possessive Pronouns
Numbers
Prearticles
Postnoun Modifiers
Genitives
Genitive Rather than Possessive
Personal, Reflexive, and Indefinite Pronoun
Function Words Can Expand Noun Phrases
Here are the Main Points in the Chapter
Exercises
Identifying Noun Constituents and Analyzing Sentences
Rearranging and Compounding
Changing Core Sentences
Making Negative Sentences
Changing Statements into Yes/No Questions
Wh-Question Sentences
Passive Sentences
Deleting By from a Passive
Core Arrangement of Passive Constituents
Past Participles and Adjectives
Get as a Passive Auxiliary
Rearranging a Passive Sentence
Status and Passive
Existential-There Sentences
Expletives
Imperative Structure
Deleting You and Will from Imperative Sentences
Diagramming Imperative Sentences
Imperative Sentence Lack Tense
The Negative Form of Imperatives
Compounding Structures
Coordinate and Correlative Conjunctions
Conjoining and Commas
Attaching Conjunctions
Conjunctive Adverbs
Chapter Summary
Exercises
Rearranging and Compounding Sentences
Analyzing Sentences
Constructing Relative Clauses
Dependent Clauses
Little Sentences Combine to Make Big Sentences
Why We Combine Sentences
A Relative Clause Embeds into a Noun Phrase
The Way It Was Is the Way It Is
Restrictive Relative Clauses as Adjectives
Making a Relative Clause
Relative Pronouns Replace Noun Phrases
Whose Replaces a Possessive Pronoun or a Genitive Noun
Relative Pronouns in Prepositional Phrases
The Functions of Fronted Relatives
Find the Constituents of the Relative Clause
Deleting Object Noun Phrases from Relative Clauses
Embedding Relative Clauses into Subordinate Clauses
Constituents in Independent or Dependent Clauses
Here are the Main Points in the Chapter
Exercises
Combining Sentences
Breaking Out Underlying Sentences
Analyzing Sentences
Reducing Relative Clauses to Phrases
Deriving Prepositional and Participial Phrases
Reducing Clauses
Participial Phrases are Verb Phrases
Making Some Verbs into Present Participles
Deriving Past Participial Phrases
Embedded Prepositional Phrases
Constituency: Adjectives or Adverbs
How the Components of an Embedded Phrase Function
Prepositional Phrases Headed by With
We Won't Derive One-Word Modifiers
Embedded Phrases and Commas
Making Long Sentences from Just a Few Kinds of Phrases and Clauses
The Clauses that Underlie a Sentence's Constituents
Grammatical Ambiguity
Phrases Derived from Relative Clauses
Here are the Main Points of the Chapter
Exercises
Breaking Out Underlying Sentences
Combining Sentences
Analyzing Sentences
Making Noun Clauses, Gerunds, and Infinitives
Noun Clauses, Gerunds, and Infinitives Fill Noun Phrase Slots
That-Clauses
Noun Clauses Fill Noun Phrase Slots
Extraposing That-Clauses
Some Sentences with Expletives and Noun Clauses Don't Seem to Be Derived
Wh-Subordinators Act as Content Words within Noun Clauses
Wh-Clauses Are Related to Question Sentences
Reducing Clauses to Infinitive Phrases
Infinitives without to
Infinitive Phrases Introduced by For ... to
Some Infinitives Function as Adverbs
Gerunds Are -ing Verb Forms
Gerund Phrases May Contain a Subject in the Genitive Form
Studying Grammar is Cumulative
Embedded Structures That Fill Noun Phrase Slot in Matrix Clauses
Here are the Main Points of Chapter 8
Exercises
Breaking Out Underlying Sentences
Combining Sentences
Analyzing Sentences
Adding Modifiers to Sentences
Nonrestrictive Modifiers
Nonrestrictive Relative Clauses Sit Next to Noun Phrases
Nonrestrictive Relative Clauses Make Added Comments
Nonrestrictive Participial Phrases
Nonrestrictive Participial Phrases Function as Adverbs
Appositives Sit Next to Nouns
Absolute Phrases
Adverb Cluses Share Some Characteristics of Nonrestrictive Modifiers
Adverb Clauses and Subordinate Conjunctions
Nonrestrictive Modifiers Change the Pace, Rhythm, and Movement in Sentences
A Grammar Course Should Prepare You to Analyze Real Sentences
Doing Grammar is About Understanding the System That Generates Sentences
Here are the Main Points of Chapter 9
Exercises
Breaking Out Underlying Sentences
Combining Sentences
Analyzing Sentences
What can You do Now that You can do Grammar?
Reflecting on Writing and Reading
Style
Students Writing With Style
Most Punctuation Can Be Addressed with Three Principles
Teachers Should Point Out Interesting and Effective Student Sentences
Good Writers, Good Readers, and Good Teachers Understand the Options Grammar Gives Us to Construct Sentences
Exercises
Answer Key
Glossary
Index
Table of Contents provided by Publisher. All Rights Reserved.