Note: Supplemental materials are not guaranteed with Rental or Used book purchases.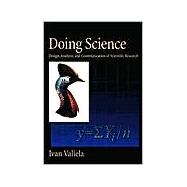 Doing Science Design, Analysis, and Communication of Scientific Research
ISBN13:
9780195134131
by
Valiela, Ivan
Related Products
Summary
Doing Science offers a rare compendium of practical advice based on how working scientists pursue their craft. It covers each stage of research, from formulating questions and gathering data to developing experiments and analyzing results and finally to the many ways for presenting results.Drawing on his extensive experience both as a researcher and a research mentor, Ivan Valiela has written a lively and concise survey of everything a beginning scientist needs to know to succeed in the field. He includes chapters on scientific data, statistical methods, and experimental designs, andmuch of the book is devoted to presenting final results. He gives valuable suggestions for improving scientific writing, for preparing scientific talks, and devotes three chapters to hands-on advice for presenting data in charts, tables, and graphs. Anyone beginning a scientific career, or anyonewho advises students in research, will find Doing Science an invaluable source of advice.
Author Biography

Ivan Valiela is a professor in the Boston University Marine Program at the Marine Biological Laboratory, Woods Hole, MA.

Table of Contents
| | |
| --- | --- |
| | Obtaining Scientific Information |

3
(26)
3
(1)
4
(14)
18
(11)

| | |
| --- | --- |
| | Elements of Scientific Data and Tests of Questions |

29
(20)
29
(3)
32
(1)
33
(2)
35
(5)

| | |
| --- | --- |
| | Distributions and Transformations of Data |

40
(3)
43
(6)
49
(30)
50
(9)
59
(4)
63
(4)
67
(1)

| | |
| --- | --- |
| | Summary of Statistical Analyses |

68
(1)
69
(10)

| | |
| --- | --- |
| | Principles of Research Design |

79
(20)

| | |
| --- | --- |
| | Desirable Properties of Research Design |

79
(1)
80
(4)
84
(10)
94
(1)

| | |
| --- | --- |
| | Sensible Experimental Design |

95
(4)

| | |
| --- | --- |
| | Communication of Scientific Information: Writing |

99
(28)

| | |
| --- | --- |
| | The Matter of Publication |

99
(4)

| | |
| --- | --- |
| | The Matter of Which Language to Use |

103
(5)

| | |
| --- | --- |
| | Writing Scientific English |

108
(19)
127
(20)

| | |
| --- | --- |
| | Organization of a Scientific Paper |

127
(10)

| | |
| --- | --- |
| | The Life History of a Scientific Paper |

137
(10)

| | |
| --- | --- |
| | Other Means of Scientific Communication |

147
(24)
147
(7)
154
(4)
158
(13)

| | |
| --- | --- |
| | Presenting Data in Tables |

171
(12)
171
(3)
174
(2)
176
(3)

| | |
| --- | --- |
| | Tables That Need Not Be Tables |

179
(4)

| | |
| --- | --- |
| | Presenting Data in Figures |

183
(36)
188
(1)
189
(19)

| | |
| --- | --- |
| | Principles of Graphical Representation |

208
(11)

| | |
| --- | --- |
| | Case Studies of Graphical Data Presentation |

219
(36)
220
(13)
233
(1)
234
(5)
239
(6)
245
(10)

| | |
| --- | --- |
| | Perceptions and Criticisms of Science |

255
(30)

| | |
| --- | --- |
| | Current Perceptions About Science |

255
(9)

| | |
| --- | --- |
| | Science and Some Modern Critics |

264
(3)

| | |
| --- | --- |
| | Sharpening Perceptions About Science |

267
(18)
Index
285