Note: Supplemental materials are not guaranteed with Rental or Used book purchases.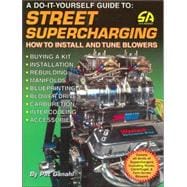 Do-It-Yourself Guide to Street Supercharging : How to Install and Tune Blowers
ISBN13:
9781884089299
by
Ganahl, Pat
Specialty Pr Pub & Wholesalers
Summary
For brute horsepower, nothing can equal a high-winding supercharged engine. From basic design and selection to hands-on installation tips, this easy-to-understand book explores many types and brands of superchargers. Filled with technical and practical advice from top experts, plus a listing of blower and accessory manufacturers. A definitive reference on modern supercharging.
Table of Contents
4
(12)

| | |
| --- | --- |
| | Superchargers - Exotic Or Practical? |

4
(2)
6
(1)
7
(2)
9
(3)
12
(8)

| | |
| --- | --- |
| | History of Automotive Supercharging |

12
(8)
20
(12)
21
(1)
21
(1)

| | |
| --- | --- |
| | The S.Co.T./Italmeccanica |

22
(1)
23
(1)
24
(1)
25
(1)
26
(1)
27
(1)
28
(1)
29
(1)
29
(3)
32
(14)

| | |
| --- | --- |
| | The Imperfect World of Supercharging |

32
(1)

| | |
| --- | --- |
| | Density, Volume and Pressure |

33
(1)
34
(1)
34
(1)
35
(1)
35
(2)
37
(1)
38
(2)
40
(1)

| | |
| --- | --- |
| | The Limits of Supercharging |

41
(2)

| | |
| --- | --- |
| | Expansion Ratio and Thermal Efficiency |

43
(1)
44
(2)
46
46
(4)

| | |
| --- | --- |
| | Strengthening the GMC Blower |

50
(3)
53
(1)

| | |
| --- | --- |
| | How to Build a Street GMC Blower |

54
(6)

| | |
| --- | --- |
| | How to Check a Used Blower |

60
(3)

| | |
| --- | --- |
| | PART 2: The Blower Builders |

62
(1)
63
(1)
63
(1)
64
(2)
66
(1)
66
(1)
67
(1)
68
(1)

| | |
| --- | --- |
| | PART 3: Other Roots-Type Blowers |

68
(1)
68
(2)
70
(1)
71
(3)
74
(1)
74
(4)

| | |
| --- | --- |
| | Centrifugal Superchargers vs. Turbos |

78
(1)
79
(5)
84
(1)
85
(1)
86
(2)

| | |
| --- | --- |
| | The Lysholm Screw-Type Compressor |

88
(1)
89
(2)
91
(1)
91
(2)
93
(1)
94
(1)
95
(1)
96
(4)

| | |
| --- | --- |
| | Supercharging on the Street |

98
(2)
100
(1)
101
(3)
104
(2)

| | |
| --- | --- |
| | Camshafts and Valve Train |

106
(1)
107
(11)
108
(3)

| | |
| --- | --- |
| | Building Holley Carbs for Blowers |

111
(3)

| | |
| --- | --- |
| | Building Carter Carbs for Blowers |

114
(2)
116
(2)
118
(3)
121
(1)
121
(1)
122
(4)
122
(1)
123
(1)
124
(2)

| | |
| --- | --- |
| | Supercharger Product Guide |

126