Note: Supplemental materials are not guaranteed with Rental or Used book purchases.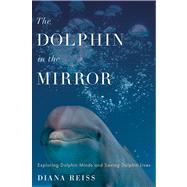 The Dolphin in the Mirror: Exploring Dolphin Minds and Saving Dolphin Lives
ISBN13:
9780547445724
by
Reiss, Diana
Houghton Mifflin Harcourt
Summary
Diana Reiss is one of the world's leading experts on dolphin intelligence. In addition, as a dolphin advocate, she is a leading rescuer who helped inspire and served as an adviser for "The Cove." Here, she combines her science and activism to show us just how smart dolphins really are, and why we must stop mistreating them. Readers will be astonished at dolphins' sonar capabilities; at their sophisticated, life-long creativity and playfulness; at their emotional intelligence; and at their ability to communicate with us, and ours with them. Her beloved "mentor" dolphins (as she calls them), each with distinct personalities, create their own toys, use underwater keyboards, tease and scold her playfully, and give us glimpses of their intelligence that often seem very familiar. The Mind in the Mirroris both a scientific revelation and an emotional eye-opener, revealing one of the greatest intelligences on the planet.
Table of Contents
Prologue: saving Humphrey
p. 1
Minds in the Water
p. 23
First Insights
p. 43
In Search of the Dolphin Rosetta Stone
p. 78
Nonterrestrial Thinkers
p. 109
The Face in the Mirror
p. 133
Through the Looking Glass
p. 148
Cognitive Cousins
p. 168
Reflections on Dolphin Minds
p. 190
Into the Cove
p. 213
Ending the Long Loneliness
p. 236
Consortium of Marine Scientists and Zoo and Aquarium Professionals Call for an End to the Inhumane Dolphin Drives in Japan
p. 258
Notes
p. 261
Acknowledgments
p. 266
Index
p. 268
Table of Contents provided by Ingram. All Rights Reserved.
Excerpts
There was Shiloh right in front of me, blowing bubbles. I watched as Shiloh quite deliberately
positioned herself horizontally almost on the floor of the pool, and then moved her head upward, a quick jerking motion. At the same instant, she let out a large bubble that instantly formed itself into a perfect, lustrous bubble ring that looked like a silver halo, or even, as someone once observed, a miniature UFO. I
had heard anecdotal accounts of dolphins and whales blowing bubbles under different
circumstances, but I had never before seen it in action. It was a magical moment. Before I'd had a chance to savor it fully, Shiloh blew another bubble ring. This one seemed to be a little smaller than the first, and it traveled upward faster. Within seconds the new ring had met with the first and, in a moment of undulating creativity, coalesced to form a much larger ring. Shiloh had been watching these events very carefully too, and as soon as the two rings became one, she quickly swam vertically
upward and passed through the hoop with an exaggerated flourish.