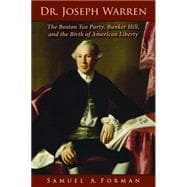 Dr. Joseph Warren : The Boston Tea Party, Bunker Hill, and the Birth of American Liberty
by
Forman, Samuel A.
Summary
Early American physician, political strategist, and soldier Joseph Warren was the person who dispatched Paul Revere on his famous ride. This biography delves into the fascinating life of this man, who was doctor to John and Abigail Adams, ran a spy ring out of his medical practice, and was ultimately killed at Bunker Hill.
Table of Contents
Foreword
p. 9
Acknowledgments
p. 13
An Apple a Day¨Family, Youth, and Adolescence
p. 19
College Education¨Joseph Warren and the Rainspout
p. 29
Apprentice Physician
p. 42
Breaking the Smallpox's Siege of Boston
p. 54
Graph Iatroos and a Medical Society for Massachusetts
p. 63
Healing Waters
p. 67
A Case of Medical Malpractice
p. 70
Patient Interactions
p. 88
A Commonwealth of Masons
p. 109
Patriotism's Spark
p. 126
Apprentice Politician
p. 141
High Son of Liberty
p. 161
Family and Love Life
p. 178
Stage Center
p. 194
The Way to War
p. 237
Military Affairs
p. 250
Siege of Boston
p. 270
Final Act
p. 289
Aftermath
p. 307
Into History
p. 315
On Fame and Forgetfulness
p. 325
Account Books
p. 335
Artifacts and Relics Associated with Joseph Warren
p. 345
Quest for Warren's Head
p. 356
Places Named after Joseph Warren
p. 367
Attributions to Miss Mercy Scoliay
p. 370
Notes
p. 381
Selected Bibliography
p. 413
Index
p. 429
Table of Contents provided by Ingram. All Rights Reserved.