Note: Supplemental materials are not guaranteed with Rental or Used book purchases.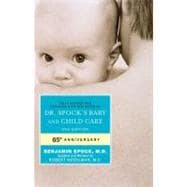 Questions About This Book?
What version or edition is this?
This is the 9th edition with a publication date of 1/24/2012.
What is included with this book?
The New copy of this book will include any supplemental materials advertised. Please check the title of the book to determine if it should include any CDs, lab manuals, study guides, etc.
Summary
The Classic Handbook -- Completely Up-To-Date For generations, parents across the world have relied on Dr. Spock's expert pediatric advice. Now, In this fully revised edition of his timeless bestseller, you'll find all the information you need to meet the changes and challenges of childrearing in the new millennium -- including entirely new chapters about international adoption, coping with terrorism and disasters, college planning, autism, and other such topics as: breast-feeding: the latest research, approaches, and techniques common medical-care Q&A talking to your child about sex, drugs, and disease immunizations, vitamins, and nutrition learning, behavioral, and physical disorders dental and vision care raising nonviolent children, teaching tolerance blended families gay and lesbian parenting first aid and injury prevention ...and more. With all-new glossaries of medical terms and common medications, and an updated list of resources, this invaluable guide is the next best thing to Dr. Spock's #1 rule of parenting: "Trust yourself. You know more than you think you do."
Table of Contents

Contents

Acknowledgments

Preface

Trust Yourself and Your Children

Trust Yourself

Raising Children in a Changing World

What Are Your Aims in Raising a Child?

Parents Are Human

Nature and Nurture

Love and Limits

The Diversity of Families

Section I:

Your Child, Age by Age

Before Your Child Is Born

Babies Develop; Parents, Too

Prenatal Care

Delivery

Choosing Your Baby's Doctor

Planning the Homecoming

Helping Siblings Cope

Things You'll Need

Your Newborn, Birth to about Three Months

Enjoy Your Baby

Touch and Bonding

Early Feelings

Parents' Sexual Relations after Delivery

Caring for Your Baby

Feeding and Sleeping

Crying and Comforting

Diapering

Bowel Movements

The Bath

Body Parts

Temperature, Fresh Air, and Sunshine

Common Newborn Concerns

The First Year, Four to Twelve Months

A Time of Firsts

Caring for Your Baby

Feeding and Growth

Sleeping

Crying and Colic

Spoiling

Physical Development

Learning about People

Clothes and Equipment

Common Physical Issues in the First Year

Your Toddler, Twelve to Twenty-Four Months

What Makes Them Tick?

Help Your Toddler Explore Safely

Fears around One Year

Challenging Behaviors

Sleep Issues

Eating and Nutrition

Toilet Training and Learning

Your Two-Year-Old

Being Two

Worries around Two

Challenging Behaviors

Diet and Nutrition

Toilet Training

Your Preschooler, Three to Five Years

Devotion to the Parents

Romantic and Competitive Feelings

Curiosity and Imagination

Sleep Issues

Fears around Three, Four, and Five

Worries About Injury and Body Differences

School Age: Six through Eleven Years

Fitting into the Outside World

Social Lives

At Home

Common Behavior Concerns

Adolescence: Twelve to Eighteen Years

A Two-Way Street

Puberty

Other Health Issues

Psychological Tasks

Early Adolescence

Middle Adolescence

Late Adolescence

Advice for Parents

Section II:

Feeding and Nutrition

Feeding in the First Year

What Feeding Means to the Baby

Schedules

Getting Enough and Gaining Weight

Changes and Challenges

Self-Feeding

Vitamins, Supplements, and Special Diets

Breast-Feeding

Benefits of Breast-Feeding

Feelings about Breast-Feeding

How to Give Breast-Feeding a Fair Trial

The Nursing Mother's Physical Condition

Getting Started at Breast-Feeding

How the Nursing Pattern Gets Established

Is Your Baby Getting Enough?

The Working Mother

Problems during Breast-Feeding

Manual Expression and Breast Pumps

Breast and Bottle Combinations

Weaning from the Breast

Formula Feeding

Choosing and Preparing Formula

Washing and Sterilization

Mixing the Formula

Bottling the Formula

Formula Refrigeration

Giving the Bottle

Weaning from Bottle to Cup

Starting Solid Foods

Healthy Diets Start Young

When and How to Start

Meals at Six Months

Nutrition and Health

What Is Good Nutrition?

As a Society, We Need to Change

Building Blocks of Nutrition

A Healthier Diet

Sensible Food Choices

Simple Meals

Tips for Happy Eating

Feeding Problems and Eating Disorders

How Feeding Problems Start

What to Do

Special Problems

Eating Disorders

Section III:

Raising Mentally Healthy Children

What Children Need

Early Relationships

Emotional Needs

Parents as Companions

The Father as Parent

Self-Esteem

Beyond Parenting

Raising Children in a Troubled Society

Work and Child Care

Family and Career

Time with Your Child

Child Care Alternatives

Choosing Day Care

After-School Care

Babysitters

Discipline

What Discipline Is

Punishment

Tips for Limit-Setting

Parents' Feelings Matter

Manners

Grandparents

Sexuality

The Facts of Life

Talking with Teens about Sex

How Sexuality Develops

Gender Differences and Homosexuality

The Media

Living with the Media

Television

Video Games

Movies

Rock and Roll and Rap

The Internet
par

Different Types of Families

Adoption

Single-Parent Families

Stepfamilies

Gay and Lesbian Parents

Stresses and Traumas

The Meaning of Stress

Terrorism and Disasters

Physical Abuse

Sexual Abuse

Domestic Violence

Death

Separation from a Parent

Divorce

Section IV:

Common Developmental and Behavioral Challenges

Sibling Rivalry

Jealousy between Siblings

The Many Faces of Jealousy

Jealousy of the New Baby

Siblings with Special Needs

Acting Out

Temper Tantrums

Swearing and Back Talk

Biting

Hyperactivity (ADHD)

Messiness, Dawdling, and Whining

Messiness

Dawdling

Whining

Habits

Thumb-Sucking

Other Infant Habits

Rhythmic Habits

Nail-Biting

Stuttering

Toilet Training, Soiling, and Bed-Wetting

Readiness for Toilet Training

A Gentle Training Approach

Bladder Control

Setbacks in Bowel and Bladder Control

Soiling

Bed-Wetting

Children with Disabilities

An Unexpected Journey

Coping within the Family

Taking Action

Early Intervention and Special Education

Mental Retardation

Autism

Down Syndrome

Other Special Needs

Getting Help

Why People Seek Help

First Steps

Types of Therapy

Working Together

Section V:

Learning and School

Learning and the Brain

The New Brain Science

How Children Think

Multiple Intelligences

Ready for School

Reading Aloud

Preschool

School and School Problems

What School Is For

Learning to Read

Physical Education

Parents and Schools

Homework

Problems in School

Learning Disabilities

The Unpopular Child

School Avoidance

Planning for College

What College Is For

Choosing a College

College Entrance Exams

Saving for College

Section VI:

Health and Safety

General Medical Issues

Your Child's Doctor

Regular Checkups

Telephone Calls to Your Doctor

f0 Fevers

Diet during Illness

Giving Medicine

Isolation for Contagious Diseases

Caring for a Sick Child

Going to the Hospital

Immunizations

How Vaccines work

Risks of Immunization

The Immunization Schedule

Coping with Shots

A Practical Tip

Preventing Injuries

Keeping Children Safe

Riding in Cars

Streets and Driveways

Bicycle Injuries

Playground Injuries

Sports and Recreation Safety

Cold- and Hot-Weather Injuries

Sun Safety

Preventing Insect Bites

Preventing Dog Bites

Fireworks and Trick or Treat

Dangers at Home

Drowning and Water Safety

Fire, Smoke, and Burns

Poisons

Lead and Mercury

Choking

Suffocation and Strangulation

Guns in the Home

Falls

Toy Safety

Home Safety Equipment

First Aid and Emergencies

Cuts and Scratches

Splinters

Bites

Bleeding

Burns

Skin Infections

Objects in Nose and Ears

Objects in the Eye

Sprains and Strains

Fractures

Neck and Back Injuries

Head Injuries

Swallowed Objects

Poisons

Allergic Reactions

Convulsions and Seizures

Drowning

Choking and Rescue Breathing

Home First-Aid Kit

Dental Development and Oral Health

Tooth Development

Teething

What Makes Good Teeth?

Dental Office Visits

Tooth Decay

Toothbrushing and Flossing

Sealants

Dental Injuries

Preventing Mouth Injuries

Common Childhood Illnesses

Colds

Ear Infections

Tonsils and Adenoids

Sore Throat and Swollen Glands

Croup and Epiglottitis

Influenza, Bronchitis, and Pneumonia

Headaches

Stomach Aches and Intestinal Infections

Constipation

Genital and Urinary Disturbances

Allergies

Asthma

Eczema

Other Skin Conditions

Classic Childhood Infections

Tuberculosis (TB)

Reye's Syndrome

Joints and Bones

Heart Murmurs

Hernias and Testicle Problems

Eye Problems

Neurological Problems

Hormonal Disturbances

Sudden Infant Death Syndrome (SIDS)

Acquired Immune Deficiency Syndrome (AIDS)

West Nile Virus

Glossary of Medical Terms

Common Medications for Children

Glossary of common medications

Resource Guide

Index