Note: Supplemental materials are not guaranteed with Rental or Used book purchases.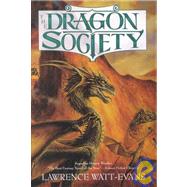 Summary
It all began with Dragon Weather: a wave of incredible heat, oppressive humidity, dark angry clouds . . . and dragons. Dragons with no remorse, no sympathy, and no use for humans. Dragons who destroyed an entire village and everyone in it. Everyone, that is, except the young boy Arlian. Orphaned and alone, Arlian was captured by looters and sold as a mining slave. Seven years later he escaped, fueled by years of hatred for the dragons, bandits, and slavers who took away his youth-and a personal vow to exact retribution from all those who have wronged him, including the powerful Lord Enziet Arlian's entire life has one purpose, and one purpose only: to mete out justice. And in the climactic battle of Dragon Weather Lord Enziet fell to this justice. InThe Dragon SocietyArlian returns to Manfort, the city that is home to The Dragon Society, whose sworn purpose is to stand against the dragon menace, and whose foremost member had been Lord Enziet. Arlian must immediately deal with the consequences of Enziet's death. But what he finds is shocking, for the doomed Enziet believes that Arlian might well be the best hope humanity will ever have for defeating the dragons . . . permanently.
Author Biography
Born and raised in Massachusetts, Lawrence Watt-Evans has been a full-time writer and editor for more than twenty years. The author of more than thirty novels, over one hundred short stories, and more than one hundred and fifty published articles, Watt-Evans writes primarily in the fields of science fiction, fantasy, horror, and comic books. His short fiction has won the Hugo Award as well as twice winning the Asimov's Readers Award. His fiction has been published in England, Germany, Italy, Japan, Spain, Poland, France, Hungary, and Russia
He served as president of the Horror Writers Association from 1994 to 1996 and after leaving that office was the recipient of HWA's first service award ever. He is also a member of Novelists Inc., and the Science Fiction Writers of America. Married with two children, he and his wife Julie live in Maryland.