Note: Supplemental materials are not guaranteed with Rental or Used book purchases.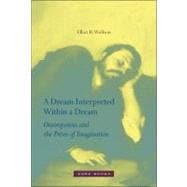 A Dream Interpreted Within a Dream: Oneiropoiesis and the Prism of Imagination
by
Wolfson, Elliot R.
Summary
Dreams have attracted the curiosity of humankind for millennia. In A Dream Interpreted Within a Dream, Elliot Wolfson guides the reader through contemporary philosophical and scientific models to the archaic wisdom that the dream state and waking reality are on an equal phenomenal footing--that the phenomenal world is the dream from which one must awaken by waking to the dream that one is merely dreaming that one is awake. By interpreting the dream within the dream, one ascertains the wakeful character of the dream and the dreamful character of wakefulness. Assuming that the manner in which the act of dreaming is interpreted may illuminate the way the interpreter comprehends human nature more generally, Wolfson draws on psychoanalysis, phenomenology, and neuroscience to elucidate the phenomenon of dreaming in a vast array of biblical, rabbinic, philosophical, and kabbalistic texts. To understand the dream, Wolfson writes, it is necessary to embrace the paradox of the fictional truth--a truth whose authenticity can be gauged only from the standpoint of its artificiality. The dream, on this score, may be considered the semblance of the simulacrum, wherein truth is not opposed to deception because the appearance of truthfulness cannot be determined independently of the truthfulness of appearance.