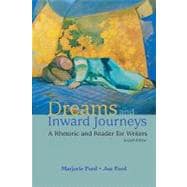 Questions About This Book?
What version or edition is this?
This is the 7th edition with a publication date of 7/2/2009.
What is included with this book?
The Used copy of this book is not guaranteed to include any supplemental materials. Typically, only the book itself is included.
Summary
This best-selling collection of readings explores the theme of dreams, the imagination, and the reasoning mind. Supporting a creative approach to the teaching of writing,Dreams and Inward Journeyspresents a rich mixture of personal and academic essays, stories, and poems. The readings touch on such topics as memory, myths and fairy tales, obsessions, sexuality, gender roles, technology, popular culture, nature, and spirituality. Readings encourage the investigation of new ways of seeing and understanding self and the relationship to important social issues and universal human concerns. Featuring a dual thematic and rhetorical organization, each chapter also provides practical writing advice on a specific rhetorical pattern, a range of writing assignments, and sample papers. Beautiful, stimulating art opens each chapter to support the theme and provide prompts for prewriting.
Table of Contents
Chapter One: Discovering Ourselves in Reading and Writing
William Stafford, "A Way of Writing"
Stephen King, "The Symbolic Language of Dreams"
Virginia Woolf, "Professions for Women"
Frederick Douglass, "Learning to Read and Write"
Amy Tan, "Mother Tongue"
Joyce Chang, "Drive Becarefully" (student essay)
Steven Holtzman, "Don't Look Back"
Molly Thomas, Response to "Don't Look Back" (student essay)
Mokoto Rich, "Literacy Debate: Online, R U Really Reading?"
Chapter Two: Memory (Narrative)
bell hooks, "Writing Autobiography"
Judith Ortiz Cofer, "Silent Dancing"
Saira Shah, "The Storyteller's Daughter"
Melissa Burns, "The Best Seat in The House" (student essay)
Alberto Rios, "Nani" (poem)
Julian Castro, "An Interpretation of 'Nani'" (student essay)
Chapter Three: Journeys and Reflections (Description and Reflection)
Walt Whitman, From "Song of the Open Road" (poem)
Andrew Pham, "Viet-Kieu"
Kavita Sreedhar, "Travelling Home" (student essay)
Ken Matusow, "Grandpère"
Francine Prose, "Confessions of a Ritual Tourist"
Natalie Goldberg, "On the Shores of Lake Biwa"
Joan M. Thomas, "The Field of Dreams Mystique: Quest for the American Ideal"
Chapter Four: Myths and Fairy Tales (Comparison)
Joseph Campbell, "The Four Functions of Mythology"
Marcello Gleiser, "The Myths of Science Creation"
Portfolio of Creation Myths:
"Genesis 1 and 2"
"How the Sun Was Made: Dawn, Noontide and Night" (Australian Aboriginal)
"The Pelasgian Creation Myth" (Ancient Greek)
"The Chameleon Finds" (Yao-Bantu, African)
"Spider Woman Creates the Humans" (Hopi, Native American)
"The Beginning of the World" (Japanese)
Josh Groban, "Comparing Two Creation Myths" (student essay)
Bruno Bettleheim, "Fairy Tales and the Existential Predicament"
Portfolio of Cinderella Tales:
The Brothers Grimm, "Aschenputtel" (German)
Charles Perrault, "Cendrillon" (French, adapted by Andrew Lang)
"The Algonquin Cinderella" (Native American Indian)
"Tam and Cam" (Vietnamese)
Anne Levitsky, "Classic Cinderella in Today's World" (student essay)
Chapter Five: Obsessions and Transformation (Definition)
W.S. Merwin, "Fog Horn" (poem)
Andrew Solomon, "Depression"
Rachel Naomi Remen, "Remembering"
Anne Lamott, "Hunger"
Lexie Spiranac, "Working It Out" (student essay)
Sharon Slayton, "The Good Girl" (student essay)
Maressa Hecht Orzack, "Computer Addiction: What is it?"
Carrie Demers, "Chaos or Calm: Rewiring the Stress Response"
Marc Ian Barasch, "What is a Healing Dream?"
Chapter Six: Gender and Relationships (Causal Analysis)
Pablo Neruda: "The Dream" (poem)
Sigmund Freud, "Erotic Wishes and Dreams"
Mary Pipher, "Saplings in the Storm"
Bonnie Ruberg, "Games for Girls"
William Pollack, "Revising the Boy Code"
David Sedaris, "I Like Guys"
Jakki Martinez, "The College 'Hook Up' Scene" (student essay)
Gilberto Jimenez, "It's Complicated: Facebook and Modern Youth Relationships" (student essay)
Tajamika Paxton, "Loving a One-armed Man"
Chapter Seven: The Double/The Other (Argument and Dialogue)
Judith Ortiz Cofer, "The Other" (poem)
Marie- Luise Von Franz, "The Realization of the Shadow in Dreams"
Robert Louis Stevenson, "Henry Jekyll's Full Statement of the Case" From Dr. Jekyll
and Mr. Hyde (fiction)
Maxine Hong Kingston, "The Silent Girl"
Susan Voyticky, "Mixed Up" (student essay)
Fran Peavey, "Us and Them"
Desmond Mpilo Tutu, "No Future without Forgiveness"
Jessica Rubenstein, "Coed Schools Help Students Excel at Life"
Chapter Eight: Pop Dreams (Research)
Carlin Flora, "Seeing by Starlight: Celebrity Watch"
Juliet B. Schor, "Decommercialization of Childhood"
Eugene F. Provenzo, Jr., "Impact of Interactive Violence on Children"
Henry Jenkins: "Education, Media, and Violence"
Phillip Mattera "Greenwashing"
Jonathan Cusick, "Do Benefit Concerts Affect Political Decisions?"
Mark Stephen Meadows, "Second Life: Why?"
Anne Ritchie, "Creativity, Drugs, and Rock and Roll" (student essay)
Chapter Nine: Voyages in Spirituality (Creativity)
Linda Gregg, "God's Places"
Jane Goodall, "In the Forests of Gombe"
Donna Lovong, "Are You Joining a Cult?"
Norman Yeung Bik Chung, "A Faithful Taoist" (student essay)
Jessie Harriman, "The Soul Has Six Wings"
Noah Levine, "Death is Not the End My Friend"
Martin Luther King, "A Christmas Sermon on Peace"
Jim Wallis, "Taking Back the Faith"
Karen Methot-Chun, "Living Spiritually" (student essay)