Note: Supplemental materials are not guaranteed with Rental or Used book purchases.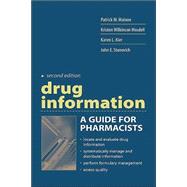 Related Products
Summary
Newly revised edition of the guide that explains how to research, interpret, collate and disseminate drug information in its most usable form. The new edition includes a new chapter on managing information electronically and through the Internet and World Wide Web, new coverage of pharmacoeconomics, and a new "how to use references" feature. Also incorporates major revisions which integrate information on quality assurance, drug usage evaluation (DUE), drug utilization review (DUR) and medication usage evaluation (MUE).
Table of Contents
Chapter One: Introduction to the Concept of Medication Information. Chapter Two: Modified Systematic Approach to Answering Questions. Chapter Three: Formulating Effective Responses and Recommendations: A Structural Approach. Chapter Four: Drug Information Resources. Chapter Five: Electronic Information Management. Chapter Six: Literature Evaluation I: Controlled Clinical Trials. Chapter Seven: Literature Evaluation II: Beyond the Basics. Chapter Eight: Pharmacoeconomics. Chapter Nine: Evidence-Based Clinical Practice Guidelines. Chapter Ten: Clinical Application of Statistical Analysis. Chapter Eleven: Professional Writing. Chapter Twelve: Legal Responsibility for the Provision of Drug Information. Chapter Thirteen: Ethical Aspects of Drug Information Practice. Chapter Fourteen: Pharmacy and Therapeutics Committee. Chapter Fifteen: Quality Improvement and the Medication Use Process. Chapter Sixteen: Medication Misadventures: Adverse Drug Reactions and Medication Errors. Chapter Seventeen: Investigational Drugs.