Note: Supplemental materials are not guaranteed with Rental or Used book purchases.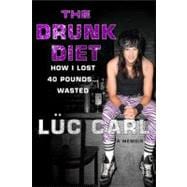 The Drunk Diet How I Lost 40 Pounds . . . Wasted: A Memoir
ISBN13:
9781250001825
by
Carl, Lüc
Summary
Three years ago, Luc Carl was a chubby, rock 'n roller with a penchant for partying and Chinese food. With long hair, snakeskin spandex pants, and black leather, Luc fit the part as bar manager at hip lower east side bars, but the job was getting the best of him-the long, late hours and the barfly life had made him fortypounds overweight and completely out of shape-and he grew increasingly unhappy with his body and himself. Taking inspiration from such heroes as David Lee Roth and Rocky, he decided to do something about it. But after reading countless fitness books and being told time and again that it's impossible to lose weight while drinking alcohol he decided to take matters into his own hands. (He could give up the cheeseburgers, the cigarettes, the soda, but don't take away his booze!) This book is that journey-a journey in which he went from being an out of shape, bloated asshole, to losing 40 pounds, picking up running, and becoming "the sexiest, most delightful man on the planet."Full of charismatic wit and insane stories about his life, Luc's book is a mix of memoir and advice: laugh and be inspired while he takes you along on his ride to become healthier and fitter, and live vicariously through a guy who likes to have a good time, ALL the time (even if that now means running 8 miles a day). Along the way, you'll find out much more about Luc than just how he lost all that weight: you will read about his charming Midwest roots in Nebraska, where his love of music was discovered at the age of nine in his dad's truck; his high school days where he honed his skills as a kickass drummer in the school band; and his move to NYC to pursue his rockstar dreams, sleeping on friends' couches and working all night at the local taco shop. Peppered throughout will be hilarious sidebars, such as his "What the F*ck" sections that will define terms such as electrolytes and omega3 fatty acids, and Luc's Laws "If you've made the decision to drink beer, drink a f*cking beer. Light beer is for pussies."
Author Biography
Lüc Carl is an author, the voice of rock 'n roll on SiriusXM satellite radio, long-distance runner, semi-professional bowler, drummer, party maker, and running coach having multiple certifications in track & field and endurance. After moving to the big city at a young age, he worked is way up, managing his own rock 'n roll bar by the age of 25. After years of hard living his quest to become the sexiest man in the world has been chronicled on his wildly successful blog. He is originally from Omaha, NE. Go Big Red.
Table of Contents
The Drunk Diet is the beer-soaked tale of a long-haired, leather-clad Rock 'N Roll party-maker who transformed a whiskey-and-5-A.M.-cheeseburger lifestyle into a wildly successful weight-loss regime. If you've ever felt intimidated by the whey-guzzling, creatine-popping models on muscle magazine covers, or unmotivated by ridiculously buff fitness gurus who swear you can look just like them if you simply follow their completely unrealistic, masochistic program...OR if you want to read about a regular guy who managed to change his life for the better, this book is for you.