Note: Supplemental materials are not guaranteed with Rental or Used book purchases.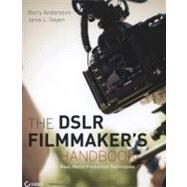 Summary
A hands-on how-to guide for getting the most from your DSLR's video capabilitiesMost of today's DSLRs have the ability to shoot HD video, yet many digital camera owners either don't know how to use the video feature or don't know how to maximize the camera's potential for shooting video. DSLR Filmmaker's Handbook helps you harness the HD video capabilities of your digital camera so that you can create a professional-level video. Packed with tried-and-true tools and techniques for getting high-quality video, this indispensible book serves as a training guide for the complex steps that must be taken before, during, and after filming. Teaches you the key tools and techniques for using your DSLR to shoot high-quality, professional-level video Distills dense information about filmmaking and filters it down to easily understood granules Escorts you through common challenges, such as how to handle overcoming audio shortcomings, shooting underwater, training a film crew, etc. Shares real-world examples and helpful case studies to provide you with an idea of the potential that exists when shooting HD video with your DSLRDSLR Filmmaker's Handbook shows you how to overcome any tricky drawbacks that you may face while shooting HD video with your DSLR.
Author Biography
Barry Andersson
is an award-winning independent filmmaker. His career started with live television video production and now includes several acclaimed short films, a television pilot, commercials, and a DSLR feature-length film. Follow him on Twitter: @mopho_barry.
Janie L. Geyen has a law degree with an emphasis on entertainment and contract law. She has produced several award-winning short films, a television pilot, and a recently completed feature-length DSLR film. She is currently producing another DSLR feature. Follow her on Twitter: @deodand.
Table of Contents
Introduction xi
Chapter 1 Fundamentals of DSLR Filmaking 1
Features of DSLR Cameras 1
Features of SLR Lenses 9
How Sensor Size and Lenses Interact 16
Chapter 2 Gear and Recommendations 21
What Camera Is Right for You? 21
Lenses and Accessories 26
Lights 40
Audio 41
Tripod and Dollies 46
Specialty Items and Miscellaneous 48
Planning Your Gear Package 54
Chapter 3 Testing and Custom Settings 59
Camera-Specific Testing 59
Testing Equipment Interactions 67
Using In-camera Presets 78
Changing the Camera Presets for Image Control 80
Customizing Your Picture Style: Steps for Canon DSLR Cameras 92
Chapter 4 Cameras and Lenses on Location 99
Using Cameras on Location 99
Using Lenses on Location 103
Chapter 5 Camera Motion and Support 125
Camera Motion 125
Types of Camera Movement 127
Planning the Motion 134
Gear for Designing and Controlling Movement 135
Stabilizing Your Camera Motion 140
Motion, the Edit, and Cutting 154
Chapter 6 Lighting on Location 157
Planning the Lights 158
Choosing Lights 159
Principles for Setting Lighting 163
Types of Lights by Position 170
Lighting for Special Situations 176
Managing Light 182
Light Quality 188
Picking Exposure 191
Chapter 7 Sound on Location 195
The Role of Sound 195
Recording Sound with DSLR Cameras 197
Microphones and Key Accessories 204
Planning, Setting Up, and Recording a Shoot 210
Chapter 8 Organizing and Storing Data in the Field 217
Setting Up a File System 217
Capture Formats 226
Backing Up Your Footage on Set 227
Organizing Data on Set 229
Chapter 9 Troubleshooting 233
Avoiding Problems: What to Do, What to Take 233
Shooting Problems 238
Hardware Problems 255
Ways to Save the Shot 264
Chapter 10 Converting and Editing Your Footage 267
Setting the Foundation for Post-Production Workflow 267
Choosing the Right Hard Drives 268
Backing Up Data 273
Choosing and Using an Editing Codec 274
Editing Your Footage 279
Chapter 11 Audio Crash Course 285
Syncing Your Audio and Video 285
Troubleshooting Out-of-Sync Sound 289
Automated Dialogue Replacement (ADR) 291
Chapter 12 Color Correction and Grading 297
Color Theory and the Eye 297
Color Correction on Set: Outside of the Camera 303
Color Correction on Set: Inside of the Camera 307
What Is This Camera Shooting Anyway and Why Do I Care? 310
Post-Production Color Correction and Grading 315
Chapter 13 Compression 327
Understanding Compression 327
Outputting Your Video 330
One File Fits All 337
Chapter 14 Fixing It in Post 341
Primary Color Correction 341
Micromanaging with Regional Color Corrections 343
Secondary Color Correction 345
Faux Lens Effects 349
Behind-the-Lens Fakery 353
Chapter 15 Workshops 363
A Brief Guide to Underwater Cinematography 363
Rigging a Car 378
Achieving That Cinematic Look: Ramping and Changing Frames per Second 389
Index 392