Note: Supplemental materials are not guaranteed with Rental or Used book purchases.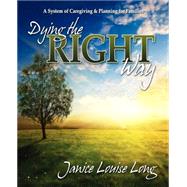 Dying the Right Way : A System of Care Giving and Planning for Families
ISBN13:
9781600377006
by
Long, Janice Evans
Summary
If you died today, would your family know how to settle your estate? If you were told today that you have cancer and you have a month to live, would your family know what your final wishes are? If you suddenly lose all your financial memory, due to Alzheimerrs"s, would your family know what to do? Do you have a parent or loved one whose health is declining? Are you a senior that needs help in estate planning or is thinking about moving into a facility? Or, are you a senior planning to stay at home but expect to need help in the future? Dying the Right Way is a caregiving story for seniors, families, and caregivers, a journey from the beginning of caregiving through the death experience and settling of the estate. Dying the Right Way prepares seniors and families for the time when caregiving is needed, and offers a system for caregiving in the home for family caregivers or for monitoring professional caregivers. Dying the Right Way extends the caregiving experience to assist seniors through the document preparation phase, the search for a residential facility, life support, the dying experience, funeral planning, and settling of the estate.
Author Biography
Janice Long Evans carried her forty year experience and knowledge of the health care arena home to care for her parents in their remaining years and applied systems concepts to the caregiving environment. The author has chaired performance improvement teams in small and large environments and is passionate about using updated knowledge to achieve improvement in any process.
Janice Long Evans began working in the health care field as a teenager and carried her love of medicine into her professional career, acquiring a Bachelors Degree in Nuclear Medicine. She later earned her Masters in Business Administration. Ms. Evans has worked in clinical medicine, research and development, as a technical representative, in marketing, as a statistician, and in systems management for a worldwide health care system. Her recent expertise was concentrated in disease management, establishment and monitoring of metrics, and metrics report card design. These experiences greatly helped during the four years that Ms. Evans performed caregiving for her parents.