Note: Supplemental materials are not guaranteed with Rental or Used book purchases.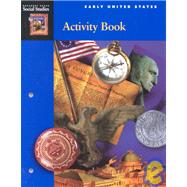 Early United States
ISBN13:
9780153103087
by
Not Available (NA)
Houghton Mifflin Harcourt School
Questions About This Book?
What version or edition is this?
This is the Workbook edition with a publication date of 6/1/1998.
What is included with this book?
The Used copy of this book is not guaranteed to include any supplemental materials. Typically, only the book itself is included.
Table of Contents
UNIT 1
1
(3)

| | |
| --- | --- |
| | How to Compare Map Projections |

2
(2)

| | |
| --- | --- |
| | Think Like an Archaeologist |

4
(2)

| | |
| --- | --- |
| | How to Identify Patterns on Time Lines |

5
(1)

| | |
| --- | --- |
| | Preserving Native American Artifacts |

6
(2)
7
(1)

| | |
| --- | --- |
| | Two Northwest Coast Indian Canoes |

8
(1)
9
(1)

| | |
| --- | --- |
| | The Importance of the Buffalo |

10
(1)

| | |
| --- | --- |
| | Hiawatha & Longfellow Make History |

11
(2)

| | |
| --- | --- |
| | How to Identify Causes and Effects |

12
(1)

| | |
| --- | --- |
| | Unlocking the Mystery of Mayan Numbers |

13
(2)
14
(1)
UNIT 2
15
(1)

| | |
| --- | --- |
| | Marco Polo and the Riches of Asia |

16
(1)

| | |
| --- | --- |
| | The Log of Christopher Columbus |

17
(2)

| | |
| --- | --- |
| | How to Use Latitude and Longitude |

18
(1)
19
(3)

| | |
| --- | --- |
| | How to Form a Logical Conclusion |

20
(1)
21
(1)
22
(1)

| | |
| --- | --- |
| | Esteban in Time and Place |

23
(1)
24
(2)

| | |
| --- | --- |
| | How to Use a Map to Show Movement |

25
(1)
26
(1)
27
(3)

| | |
| --- | --- |
| | How to Read Parallel Time Lines |

28
(1)

| | |
| --- | --- |
| | Encounters in the Americas |

29
(1)
UNIT 3

| | |
| --- | --- |
| | Comparing Spanish Missions |

30
(1)
31
(1)

| | |
| --- | --- |
| | The Routes of Three Colonists |

32
(1)
33
(1)
34
(4)

| | |
| --- | --- |
| | How to Classify Information |

36
(1)

| | |
| --- | --- |
| | Europeans Settle Throughout North America |

37
(1)
38
(2)

| | |
| --- | --- |
| | How to Read a Circle Graph |

39
(1)

| | |
| --- | --- |
| | Looking at Life in the Southern Colonies |

40
(1)

| | |
| --- | --- |
| | Tooling Around the Frontier |

41
(3)

| | |
| --- | --- |
| | How to Use a Product Map to Make Generalizations |

42
(1)

| | |
| --- | --- |
| | Life in the British Colonies |

43
(1)
UNIT 4

| | |
| --- | --- |
| | Historical Events of the 1700s |

44
(2)

| | |
| --- | --- |
| | How to Use a Historical Map |

45
(1)

| | |
| --- | --- |
| | Understanding Proverbs in Poor Richard's Almanack |

46
(1)

| | |
| --- | --- |
| | Events Leading to Revolution |

47
(3)

| | |
| --- | --- |
| | How to Make Economic Choices |

48
(1)

| | |
| --- | --- |
| | Differences Divide Britain and Its Colonies |

49
(1)
50
(2)

| | |
| --- | --- |
| | How to Read a Political Cartoon |

51
(1)

| | |
| --- | --- |
| | A Woman Printed the Declaration of Independence |

52
(2)

| | |
| --- | --- |
| | How to Learn from Pictures |

53
(1)
54
(1)
55
(1)

| | |
| --- | --- |
| | Which Event Happened First? |

56
(2)
57
(1)
UNIT 5

| | |
| --- | --- |
| | Articles of Confederation |

58
(1)
59
(2)

| | |
| --- | --- |
| | How to Figure Travel Time and Distance |

60
(1)
61
(2)

| | |
| --- | --- |
| | How to Compromise to Resolve Conflicts |

62
(1)

| | |
| --- | --- |
| | Who Does What in the Government? |

63
(1)
64
(2)
65
(1)
66
(1)
67
(1)
68
(3)

| | |
| --- | --- |
| | How to Learn from a Document |

69
(1)
70
(1)
UNIT 6
71
(1)
72
(1)

| | |
| --- | --- |
| | The Growth of Nationalism |

73
(2)

| | |
| --- | --- |
| | How to Predict a Likely Outcome |

74
(1)
75
(2)
76
(1)

| | |
| --- | --- |
| | Inventors and Their Inventions |

77
(1)
78
(1)
79
(2)

| | |
| --- | --- |
| | How to Use Relief and Elevation Maps |

80
(1)
81
(4)

| | |
| --- | --- |
| | How to Use a Double-Bar Graph |

82
(2)
84
(1)
UNIT 7

| | |
| --- | --- |
| | A Tale of Two Regions, 1860 |

85
(2)

| | |
| --- | --- |
| | How to Use Graphs to Identify Trends |

86
(1)

| | |
| --- | --- |
| | The Life and Times of a Slave |

87
(1)
88
(1)

| | |
| --- | --- |
| | Why Did South Carolina Secede? |

89
(3)

| | |
| --- | --- |
| | How to Make a Thoughtful Decision |

90
(1)

| | |
| --- | --- |
| | Background to the Conflict |

91
(1)
92
(1)

| | |
| --- | --- |
| | The Emancipation Proclamation |

93
(1)
94
(2)

| | |
| --- | --- |
| | How to Compare Maps with Different Scales |

95
(1)
96
(2)

| | |
| --- | --- |
| | Civil War and Reconstruction |

97
(1)
UNIT 8
98
(3)

| | |
| --- | --- |
| | How to Use a Time Zone Map |

99
(2)
101
(1)
102
(1)
103
(3)
104
(1)
105
(1)
106
(2)

| | |
| --- | --- |
| | How to Compare Information on Graphs |

107
(1)

| | |
| --- | --- |
| | An African American Portrait |

108
(1)
109
(2)

| | |
| --- | --- |
| | How to Act as a Responsible Citizen |

110
(1)
111
(1)
112