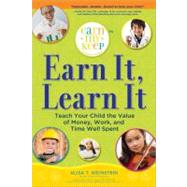 Earn It, Learn It : Teach Your Child the Value of Money, Work, and Time Well Spent
by
Weinstein, Alisa
Summary
The groundbreaking alternative allowance program featured in Earn It, Learn It offers a way for parents and children to have fun learning about money, work, and the value of time well spent. It's easy: parents and kids choose tasks from one of 50 eclectic professions, complete them with a set amount of time, and earn while they learn.
Table of Contents
Foreword
p. xvii
The Story
p. 1
Introduction: The Battle of the Lip Balm
p. 3
Getting Started with Earn My Keep
p. 9
Insider Tips for the Ultimate Experience
p. 25
FAQs
p. 31
The Careers
p. 43
Accountant
p. 45
Acquisitions Editor
p. 51
Archaeologist
p. 57
Astronomer
p. 63
Banker
p. 69
Buyer
p. 75
Chef
p. 81
Contractor
p. 87
Copywriter
p. 93
Costume Designer
p. 99
Curator
p. 105
Dietitian
p. 111
Diplomat
p. 117
Disc Jockey
p. 123
Entomologist
p. 129
Environmental Planner
p. 135
Event Planner
p. 141
Geneticist
p. 147
Geologist
p. 153
Guest Relations Manager
p. 159
Horticulturist
p. 165
Human Resources Manager
p. 171
Interior Designer
p. 177
Investigator
p. 183
Journalist
p. 189
Judge
p. 195
Land Surveyor
p. 201
Librarian
p. 207
Linguist
p. 213
Marine Biologist
p. 219
Market Researcher
p. 225
Meteorologist
p. 231
Musician
p. 237
Nurse Practitioner
p. 243
Outdoor Adventure Guide
p. 249
Paleontologist
p. 255
Photographer
p. 261
Producer
p. 267
Project Manager
p. 273
Publicist
p. 279
Social Activist
p. 285
Toy Designer
p. 291
Translator
p. 297
Transportation Engineer
p. 303
Travel Agent
p. 309
TV Writer
p. 315
Urban Planner
p. 321
UX Researcher
p. 327
Zoologist
p. 333
Create-Your-Own!
p. 339
The Bonus Stuff
p. 343
Earn My Keep Cash
p. 344
Sample Thank-you Note
p. 346
Astronomer, Contractor, Paleontologist & Toy Designer: Play-dough Recipe
p. 347
Accountant: Income Tax Return
p. 348
Accountant: Budget Plan
p. 349
Copywriter: TV Script
p. 350
Copywriter: Radio Script
p. 351
Costume Designer: Pieces List
p. 352
Guest Relations Manager: Feedback Card
p. 353
Human Resources Manager: Wellness Program Enrollment Form
p. 354
Investigator: Search Warrant
p. 355
Judge: Family Constitution
p. 356
Judge: Adoption Petition
p. 357
Market Researcher: Moderator's Guide
p. 358
Market Researcher: In-Depth Interview Questionnaire
p. 360
Meteorologist: Symbol Story
p. 361
Nurse Practitioner: Medical History Questionnaire
p. 362
Outdoor Adventure Guide: Campfire Recipe
p. 363
Producer: Consent and Release Agreement
p. 364
Project Manager: Project Delivery Plan
p. 365
Publicist: Press Release
p. 366
Social Activist: Letter to the Editor
p. 367
TV Writer: Script
p. 368
Urban Planner: Census Form
p. 371
Acknowledgments
p. 373
About the Author
p. 377
Icon Legend
p. 379
Table of Contents provided by Ingram. All Rights Reserved.
Excerpts
<style type="text/css"><!-- body p { text-align: left; } --></style><p align="right">Foreword<br>We are living in an era of entitlement, a term used to describe a strange malaise gripping many of our youth. Children from a surprising va­riety of socioeconomic groups, who have been given too much with little or no effort on their part, clearly feel they deserve to have what they want, when they want it. The symptoms of these "gimmies" are easy to recognize-the insatiable craving for more stuff while showing less appreciation, less interest, and less valu­ing for what they already have.</p><p>Experts have noticed that children showing signs of entitlement often have more difficulty relating in healthy ways with others. In addition, they are fre­quently medicated for more stress-, depression-, and anxiety-related conditions than peers unaffected by this condition. It's all too easy for a child to slip into this state of entitlement.</p><p>Fortunately, a delightful antidote to much of that risk has sprung from the frisky imagination of Alisa T. Weinstein, a mother of two with a background in marketing and enough energy to light a small city. In today's society of high com­merce and consumption, children between the ages of four and twelve have few ways to earn, learn, or become discerning about money. But the alternative allow­ance program featured in <i>Earn it, Learn It </i>provides us with multiple opportunities to teach children in this age group to work for, value, and handle money wisely.<br>In this book, Ms. Weinstein addresses some of the knottiest questions par­ents have about these issues. She deals straightforwardly with common parental  concerns about allowances, and the flexibility of this approach can be tailored to any parent's convictions on the subject.</p><p>Ms. Weinstein recognizes that the motivation to "get" can be harnessed. It can be used to reach much more substantive goals and to teach vital values that build character, competence, and solid social connections in the bargain.</p><p>Children generally possess only a narrow range of ideas about the broad spec­trum of career opportunities that exist in the world. They yearn to know more about the fascinating kinds of work adults love to do. If only they could find someone to make the introductions.</p><p>This book offers kids a full "dress-up box" of real-life vocations to try on. Each profession, such as Zoologist, Musician, Meteorologist, or Outdoor Adventure Guide, is introduced by an enthusiastic expert in that field. Since children learn best experientially, they suddenly have at their fingertips engaging opportunities to explore the multitude of interesting careers that keep our society humming along productively, artistically, and scientifically. The ability to envision an excit­ing future for themselves explodes with each new possibility.</p><p>For many harried parents, finding ways to connect with their kids at certain ages can be difficult at best. As your child checks the day's weather, learns to measure rain or snowfall, and provides the family with a daily weather report, the whole family will benefit from her discoveries and contributions. Children's regular family responsibilities, such as caring for family pets, learning to make tasty sandwiches, or organizing the bookcase in the family room, also take on greater meaning as the child recognizes the value of good work-and possibly the connection to being a Meteorologist, Zoologist, Chef, and Librarian.</p><p>"Finding the time" is probably the biggest obstacle parents identify in their lives. <i>Earn It, Learn It </i>will hand you a treasure chest of manageable ways to be involved with your child that fit into workable chunks of time. You will find many of these experiences to be as eye-opening and as irresistible as your child does. Suddenly quality time becomes so easy to achieve you will both want to go back for more on a frequent basis.</p><p>You will be amazed at how hard your children are willing to work, how self-motivated, resourceful, and dedicated they can become, how excited they will be to progress and finally accomplish these tasks. Becoming a competent producer and generous contributor, rather than just a consumer, supplies a deep level of satisfaction that sticks to children's intellectual, emotional, and moral ribs lon­ger-and nourishes them better-than just getting "stuff." Appreciation grows as kids develop a recognition of the effort and care others exert on <i>their </i>behalf. From this fertile mix, their confidence and self-respect will flourish.</p><p>There's gold-and a bit of genius-in these pages. As our culture dumbs down a lot of learning experiences for children, the program in <i>Earn It, Learn It </i>helps us all wise up. So cut way back on the overgiving of gifts and treats. Instead, read, share, get involved with, and enjoy these rich opportunities together. Perhaps the best part of all is that your child's relationship with you and others will grow and flourish as you venture along with your mini-professional. </p><p>Linda E. Jessup, RN, MPH, FNP, certified Adlerian parent educator, founder of the Parent Encouragement Program (PEP, Inc.) </p>