Note: Supplemental materials are not guaranteed with Rental or Used book purchases.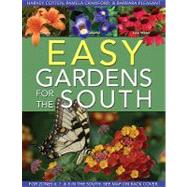 Summary
This groundbreaking book shows beginners and experienced gardeners alike how to create gorgeous gardens with the easiest, colorful, low water plants the south has to offer. Learn about annuals, perennials, shrubs, and trees that thrive with little or no irrigation and only require minutes of care per year - plants that can breeze through hot, humid, southern summers while attracting butterflies, birds and hummingbirds. Shop for plants like a pro by taking the book with you to garden centers and checking out the latest information on the newest plants around - from people who have grown them! Create traffic-stopping color combinations from the over 150 easy examples shown. The book is extremely easy to follow, with thousands of color photographs, as well as many budget gardening tips. For Arkansas, Tennessee, North Carolina, South Carolina, Georgia, Alabama, Mississippi, north Florida, and north and central Louisiana.
Author Biography
Harvey Cotton has lived and gardened in the south for his entire life. After completing his horticulture degree from Mississippi State University, he worked in both the landscaping and nursery business prior to his current (16 year) position at Huntsville (Alabama) Botanical Garden, where he is currently Chief Operating Officer. Harvey has tested all of the plants in this book at the Garden, where he has extensive experience with all the latest cultivars. He serves as Director Emeritus of the Alabama Nurserymen's Association, and is on the board of the Horticulture Research Institute and the Alabama Invasive Plant Council. Harvey writes a weekly column for the Huntsville Times, and is a weekly guest on the Noonday News television show on the local ABC affiliate.; Pamela Crawford, author of eight gardening books, has lived and gardened in the southeast for most of her life (in Mississippi, Tennessee, Florida, and Georgia, her current location). In addition to designing gardens for over 1500 residences, her work has been featured on the cover of Better Homes and Gardens publications as well as in Southern Living, HGTV Magazine, Fine Gardening, Country Gardens, Country Almanac, Small Gardens, and in over fifty newspapers. As an expert in her field, she has appeared on the Fine Living Network, Fox News affiliates and numerous local tv shows. Pamela has an undergraduate degree from Vanderbilt University and a masters degree in landscape architecture from Florida International University, where she received the prestigious ôTorch Award' as an outstanding alumnus from the school of architecture. Pamela has been heavily involved in trial gardens, both on a university and private level. Her goal is to find plants that give the most color for the least amount of care.; Born and raised in Mobile, Alabama, Barbara Pleasant is "one of America's most trusted garden writers" (Cheryl Long, editor-in-chief of Mother Earth News magazine). She has both a B.S. and a Masters degree from University of Alabama, and has lived in Louisiana, Alabama, North Carolina, and Virginia. Her awards include Honorary Alabama Master Gardener; First runner-up to the Herald Award, given by the American Nursery and Landscape Association; Two-time winner of the Quill and Trowel Award, given by the Garden Writers Association; 2002 winner of the Garden Globe Award in book writing, given by the Garden Writers Association; and 2005 Distinguished Alumni of the Year, New College, University of Alabama. Barbara has written numerous books on a wide range of subjects from vegetables to weeds. She is a contributing editor for Mother Earth News and The Herb Companion magazines, and she also covers the southeast region for Gardening How-To magazine. She lives in Floyd, Virginia, where she grows vegetables, herbs, fruits and flowers.