Note: Supplemental materials are not guaranteed with Rental or Used book purchases.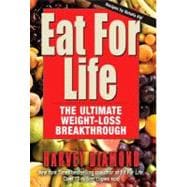 Eat for Life: The Ultimate Weight-Loss Breakthrough
ISBN13:
9781591203056
by
Diamond, Harvey
Summary
With his signature conversational tone and relaxed style, New York Times bestselling coauthor of Fit For Life, Harvey Diamond shines a bright spotlight on how to lose weight naturally as part of a healthy and forgiving eating lifestyle. As Harvey explains in Eat For Life, it isn't necessary to make radical dietary and lifestyle changes to reach and maintain a healthy weight. All it takes are a few simple modifications to make sure that the food we choose works for us to provide the body with what it needs to excel. No more merry-go-round diets are necessary! Diamond's dietary recommendations are time-tested, tried, and proven. The principles of eating delineated in the Fit For Life books have been remarkably successful for people over the years, and it is from those books that Diamond has extracted the most important basics to help the reader in the quest to lose that stubborn weight. In Eat For Life, readers will learn: How to lose weight naturally as a lifestyle How to eat for taste and good health with no deprivation How to improve digestion and reduce pain How combining foods help shed pounds and increase energy How to use simple exercises that promote weight loss How enzymes help remove fat With sections on food combining, the importance of exercise, enzymes explained, and delicious raw recipes contributed by top raw food chef Natalia KW, and much more, readers of Eat For Life will have the necessary tools and information
Author Biography
Harvey Diamond has been studying the subject of diet and health for more than 40 years. He is undoubtedly one of the most renowned and successful health authors in history-certainly one of today's truly great health thinkers. His landmark international bestseller Fit For Life transformed the understanding of healthy eating and has helped millions of health seekers worldwide reach their goals. In a stunning validation of his healing methods, Harvey is one of the longest known survivors of peripheral neuropathy resulting from exposure to Agent Orange while serving his country in Vietnam. This is his ninth book.
Table of Contents
Introduction
p. 1
Does Heat Make You Fat? Clearing Up Calorie Confusion
p. 19
The Grandest Gift: Enzymes for Life
p. 31
Choose Life: Living the Adage "You Are What You Eat"
p. 47
Does This Go with That? Combining Foods for Better Health
p. 73
Is There a Perfect Food? The Sweetest Prize
p. 89
You Gotta Move! Exercising for Fat Loss
p. 127
Interview with Dr. Mamadou on Enzymes
p. 133
Recipes for Life: Good and Good for You
p. 141
Conclusion
p. 177
Afterword: A Note from Toby Coriell
p. 183
Appendix: Dr. Steven Lamm on the Role of Enzymes in Weight Loss
p. 207
Index
p. 211
About the Author
p. 217
Contact Information
p. 219
Table of Contents provided by Ingram. All Rights Reserved.