Note: Supplemental materials are not guaranteed with Rental or Used book purchases.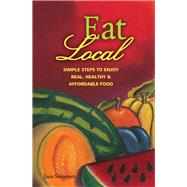 Eat Local : Simple Steps to Enjoy Locally-Grown, Healthly and Affordable Foods
by
STEINMENTZ JASIA
Summary
Your Essential Guide to Enjoy Local Foods!Eat Local! Consumers nationwide are heading to the farmers' markets, pick-your-own farms, joining a CSA or local buying club... to enjoy locally-grown foods. You've heard about how it's good for your health; your community, local farmers and farmland; and, mainly, that it tastes great and is fun! (When's the last time you've savored food so luscious, you say to someone, You've just got to taste this!?) Now, with the help of this book, you have a simple, step-by-step guide to put local foods on your plate... and enjoy!Put this handbook in your tote and take it with you as you shop from local farmers and improve your diet with local, sustainable food choices.·Introduction: Benefits of local food;·Eat Local: Finding Local Food: Why's and how's of finding, purchasing, preserving and using local foods;·Saving Money with Local Food: Tips to save money with local foods;·Eat Well - Slow food, organic and sustainable food, making ethical food choices;·Join the Local Food Movement: Joining a local food movement, supporting school gardens or farm to school programs and hunger projects, farmland protection, etc.