Note: Supplemental materials are not guaranteed with Rental or Used book purchases.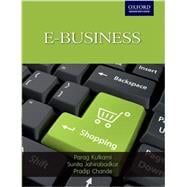 Summary
E-business is a comprehensive textbook designed to meet the needs of students of post graduate management programmes. It integrates e-commerce with strategic aspects of e-business and illustrates them through numerous examples, exhibits, figures, and case studies.

The book covers different aspects of e-business including e-business strategies, various e-business models and life cycle, business intelligence and knowledge management in Indian and global context. It also covers setting up of e-business and its management and techno-managerial aspects of running e-business. The book is equipped with real life case studies of India-based e-business companies.

Users would find this book useful for its coverage of the various aspects of e-business. It would also serve as a good reference book for marketing and IT professionals and e-business practitioners.

Author Biography

Parag Kulkarni, Chief Scientist, EKLaT Research, Pune,Sunita Jahirabadkar, Assistant Professor, Cummins College, Pune,Pradip Chande, Group Director, TRUBA Group of Institutes, Indore


Dr Parag Kulkarni is CEO and Chief Scientist at EKLaT Research, Pune. An alumnus of IIM Kolkata and IIT Kharagpur, he has been conferred with DSc - Higher Doctorate for his research, professional, and business contributions. He has been a visiting faculty at various IIMs and IITs, Symbiosis, Pune University, and FTMS-Singapore and has co-authored IT Strategy for Business (OUP).

Sunita Jahirabadkar is Assistant Professor in department of Computer Engineering in Cummins College of Engineering, Pune. She has more than 15 years of experience in teaching and industry.

Dr Pradip K Chande is Group Director, TRUBA Group of Institutes, Indore. Formerly, Professor, IIM Indore; Director MANIT, Bhopal; and Corporate Head, MBT, Pune, he has three decades of experience in teaching, research, consultancy, industry, and administration. He has co-authored IT Strategy for Business (OUP).

Table of Contents

1. E-business - Understanding new Internet Economy and Business
2. E-business models
3. E-business: Competitive and Business Strategy
4. Value creation & Business Strategies in e-age
5. Creating e-business plan
6. Design and development of a business website
7. Building and launching E-business
8. E-market
9. Back end systems
10. E-business Applications
11. Online Payment Services
12. Security and Reliability of E-Business
13. Knowledge Management and Business Intelligence for strategic e-business
14. Evaluation and Audit of E-Business
15. Future E-Business: Challenges and Opportunities
Appendices
App 1: E-Banking
App 2: Mobile computing and M-commerce
App 3: Web development
App 4: IT Act 2000
1. E-business - Understanding new Internet Economy and Business
2. E-business models
3. E-business: Competitive and Business Strategy
4. Value creation & Business Strategies in e-age
5. Creating e-business plan
6. Design and development of a business website
7. Building and launching E-business
8. E-market
9. Back end systems
10. E-business Applications
11. Online Payment Services
12. Security and Reliability of E-Business
13. Knowledge Management and Business Intelligence for strategic e-business
14. Evaluation and Audit of E-Business
15. Future E-Business: Challenges and Opportunities
Appendices
App 1: E-Banking
App 2: Mobile computing and M-commerce
App 3: Web development
App 4: IT Act 2000