Note: Supplemental materials are not guaranteed with Rental or Used book purchases.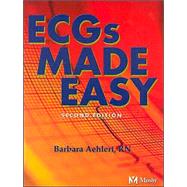 ECGs Made Easy - Book & Pocket Guide Package
ISBN13:
9780323014328
by
Aehlert
Related Products
Summary
The new, updated second edition of ECGs MADE EASY continues to focus on the essential information needed to understand and interpret basic dysrhythmias. With plain language and straightforward explanations, this text targets the beginning ECG student. Packaged FREE with every text is ECGs Made Easy Pocket Reference , a quick reference handbook, color-coded to match the sections in the textbook. Major principles are restated for learning reinforcement, and key tables and ECGs from the text are included for easy reference. A handy heart rate calculator ruler and 12-lead ECG reference card are also included in the text.
Table of Contents
1
(21)
1
(1)
2
(1)

| | |
| --- | --- |
| | Size and Shape of the Heart |

3
(1)
3
(1)
3
(1)
4
(1)
4
(2)
6
(2)
8
(2)
8
(1)
9
(1)
10
(1)

| | |
| --- | --- |
| | Blood Flow Through the Heart |

11
(1)
11
(1)

| | |
| --- | --- |
| | Atrial Systole and Diastole |

11
(1)

| | |
| --- | --- |
| | Ventricular Systole and Diastole |

12
(1)
12
(2)
13
(1)
14
(1)
14
(4)
15
(1)
15
(1)

| | |
| --- | --- |
| | Parasympathetic Stimulation |

15
(1)
16
(2)
18
(3)
18
(1)
18
(1)
19
(1)
19
(2)
21
(1)
22
(51)
22
(1)
23
(1)
23
(2)

| | |
| --- | --- |
| | Types of Action Potentials |

24
(1)

| | |
| --- | --- |
| | Polarization, Depolarization, and Repolarization |

25
(4)
25
(1)
26
(1)
26
(1)

| | |
| --- | --- |
| | Phases of the Cardiac Action Potential |

27
(2)
29
(1)

| | |
| --- | --- |
| | Absolute Refractory Period |

29
(1)

| | |
| --- | --- |
| | Relative Refractory Period |

29
(1)
29
(1)

| | |
| --- | --- |
| | Properties of Cardiac Cells |

30
(1)
31
(6)
31
(1)

| | |
| --- | --- |
| | Atrioventricular Junction |

32
(3)

| | |
| --- | --- |
| | Right and Left Bundle Branches |

35
(1)
36
(1)
37
(1)
37
(1)
37
(1)
38
(1)
38
(1)
38
(12)
38
(1)
39
(3)
42
(3)
45
(1)
45
(2)
47
(3)
50
(1)
51
(11)
51
(2)
53
(1)
53
(1)
54
(3)
57
(2)
59
(1)
60
(1)
60
(2)
62
(1)
62
(1)

| | |
| --- | --- |
| | Patient Movement/Muscle Activity |

62
(1)

| | |
| --- | --- |
| | 60-Cycle (AC) Interference |

62
(1)
63
(2)

| | |
| --- | --- |
| | Method 1: Six-Second Method |

63
(1)
63
(1)
64
(1)

| | |
| --- | --- |
| | Method 4: Sequence Method |

64
(1)
65
(1)
65
(1)
65
(1)
66
(1)
66
(4)
66
(1)
66
(1)

| | |
| --- | --- |
| | Identify and Examine P Waves |

66
(1)

| | |
| --- | --- |
| | Assess Intervals (Evaluate Conduction) |

66
(1)

| | |
| --- | --- |
| | Evaluate the Overall Appearance of the Rhythm |

67
(1)

| | |
| --- | --- |
| | Interpret the Rhythm and Evaluate Its Clinical Significance |

67
(3)
70
(3)
73
(16)
73
(1)
74
(1)
74
(1)
74
(1)
75
(1)
75
(1)

| | |
| --- | --- |
| | Causes and Clinical Significance |

75
(1)
76
(1)
76
(1)
76
(1)

| | |
| --- | --- |
| | Causes and Clinical Significance |

76
(1)
77
(1)
77
(1)
77
(1)

| | |
| --- | --- |
| | Causes and Clinical Significance |

78
(1)
78
(1)
78
(1)
78
(1)

| | |
| --- | --- |
| | Causes and Clinical Significance |

79
(1)
79
(1)
79
(4)
80
(1)

| | |
| --- | --- |
| | Causes and Clinical Significance |

80
(1)
80
(3)
83
(6)
89
(27)
89
(1)
90
(1)

| | |
| --- | --- |
| | Atrial Dysrhythmias: Mechanisms |

90
(1)

| | |
| --- | --- |
| | Premature Atrial Complexes (PACs) |

91
(3)
91
(3)

| | |
| --- | --- |
| | Causes and Clinical Significance |

94
(1)
94
(1)

| | |
| --- | --- |
| | Wandering Atrial Pacemaker |

94
(1)
94
(1)

| | |
| --- | --- |
| | Causes and Clinical Significance |

95
(1)
95
(1)

| | |
| --- | --- |
| | Multifocal Atrial Tachycardia |

95
(1)
95
(1)

| | |
| --- | --- |
| | Causes and Clinical Significance |

95
(1)
96
(1)

| | |
| --- | --- |
| | Supraventricula Tachycardia (SVT) |

96
(7)
97
(1)

| | |
| --- | --- |
| | AV Nodal Reentrant Tachycardia (AVNRT) |

98
(3)

| | |
| --- | --- |
| | AV Reentrant Tachycardia (AVRT) |

101
(2)
103
(2)
103
(1)

| | |
| --- | --- |
| | Causes and Clinical Significance |

104
(1)
104
(1)

| | |
| --- | --- |
| | Atrial Fibrillation (Afib) |

105
(5)
105
(1)

| | |
| --- | --- |
| | Causes and Clinical Significance |

106
(1)
107
(3)
110
(6)
116
(15)
116
(1)
117
(1)

| | |
| --- | --- |
| | Premature Junctional Complexes (PJCs) |

118
(1)
118
(1)

| | |
| --- | --- |
| | Causes and Clinical Significance |

119
(1)
119
(1)

| | |
| --- | --- |
| | Junctional Escape Beats/Rhythm |

119
(2)
119
(1)

| | |
| --- | --- |
| | Causes and Clinical Significance |

120
(1)
120
(1)

| | |
| --- | --- |
| | Accelerated Junctional Rhythm |

121
(1)
121
(1)

| | |
| --- | --- |
| | Causes and Clinical Significance |

121
(1)
121
(1)
121
(4)
121
(1)

| | |
| --- | --- |
| | Causes and Clinical Significance |

122
(1)
122
(3)
125
(6)
131
(26)
131
(1)
132
(1)

| | |
| --- | --- |
| | Premature Ventricular Complexes (PVCs) |

132
(4)
132
(1)
133
(2)

| | |
| --- | --- |
| | Causes and Clinical Significance |

135
(1)
136
(1)

| | |
| --- | --- |
| | Ventricular Escape Beats/Rhythm |

136
(2)
136
(1)

| | |
| --- | --- |
| | Causes and Clinical Significance |

137
(1)
138
(1)

| | |
| --- | --- |
| | Accelerated Idioventricular Rhythm (AIVR) |

138
(1)
138
(1)

| | |
| --- | --- |
| | Causes and Clinical Significance |

138
(1)
139
(1)

| | |
| --- | --- |
| | Ventricular Tachycardia (VT) |

139
(1)
139
(1)

| | |
| --- | --- |
| | Causes and Clinical Significance |

139
(1)
140
(1)

| | |
| --- | --- |
| | Polymorphic Ventricular Tachycardia |

140
(4)
141
(1)

| | |
| --- | --- |
| | Torsades de Pointes (TdP) |

142
(2)

| | |
| --- | --- |
| | Ventricular Fibrillation (VF) |

144
(2)
144
(1)

| | |
| --- | --- |
| | Causes and Clinical Significance |

144
(1)
145
(1)

| | |
| --- | --- |
| | Asystole (Cardiac Standstill) |

146
(1)
146
(1)

| | |
| --- | --- |
| | Causes and Clinical Significance |

146
(1)
146
(1)

| | |
| --- | --- |
| | Pulseless Electrical Activity (PEA) |

146
(5)
146
(1)

| | |
| --- | --- |
| | Causes and Clinical Significance |

147
(1)
147
(4)
151
(6)

| | |
| --- | --- |
| | Atrioventricular (AV) Blocks |

157
(15)
157
(1)
158
(1)
159
(1)
159
(1)

| | |
| --- | --- |
| | Causes and Clinical Significance |

160
(1)
160
(1)
160
(4)
160
(1)

| | |
| --- | --- |
| | Second-Degree AV Block, Type I (Wenckebach, Mobitz Type I) |

160
(1)

| | |
| --- | --- |
| | Second-Degree AV Block, Type II (Mobitz Type II) |

161
(2)

| | |
| --- | --- |
| | Second-Degree AV Block, 2:1 Conduction (2:1 AV Block) |

163
(1)
164
(4)
164
(1)

| | |
| --- | --- |
| | Causes and Clinical Significance |

165
(1)
165
(3)
168
(4)
172
(20)
172
(1)
173
(1)
174
(6)
174
(1)
175
(1)
175
(1)
176
(1)
176
(1)

| | |
| --- | --- |
| | Pacemaker Identification Codes |

177
(1)

| | |
| --- | --- |
| | Single-Chamber Pacemakers |

178
(1)
179
(1)
180
(1)

| | |
| --- | --- |
| | Transcutaneous Pacing (TCP) |

180
(3)
180
(1)
180
(2)

| | |
| --- | --- |
| | Contraindications for TCP |

182
(1)
183
(1)
183
(2)
183
(1)
183
(1)

| | |
| --- | --- |
| | Failure to Sense (Undersensing) |

184
(1)
184
(1)
185
(1)

| | |
| --- | --- |
| | Complications of Transcutaneous Pacing |

185
(1)

| | |
| --- | --- |
| | Complications of Temporary Transvenous Pacing |

185
(1)

| | |
| --- | --- |
| | Complications of Permanent Pacing |

185
(1)

| | |
| --- | --- |
| | Analyzing Pacemaker Function on the ECG |

185
(2)

| | |
| --- | --- |
| | Identify the Intrinsic Rate and Rhythm |

185
(1)

| | |
| --- | --- |
| | Is There Evidence of Paced ACtivity? |

185
(1)

| | |
| --- | --- |
| | Evaluate the Escape Interval |

186
(1)
186
(1)
187
(5)

| | |
| --- | --- |
| | Introduction to the 12-Lead ECG |

192
(41)
192
(1)

| | |
| --- | --- |
| | Introduction to the 12-Lead ECG |

193
(1)
193
(1)

| | |
| --- | --- |
| | Right Coronary Artery (RCA) |

193
(1)

| | |
| --- | --- |
| | Left Coronary Artery (LCA) |

193
(1)
194
(1)
194
(1)
194
(1)
194
(3)
195
(1)
196
(1)
196
(1)
197
(2)
198
(1)

| | |
| --- | --- |
| | Ischemia, Injury, and Infarction |

199
(5)
200
(1)
201
(1)
202
(2)

| | |
| --- | --- |
| | Layout of the 12-Lead ECG |

204
(1)

| | |
| --- | --- |
| | 12-Lead Changes Indicating Infarction |

205
(2)
206
(1)

| | |
| --- | --- |
| | Localization of Infarctions |

207
(6)
208
(1)
208
(1)
209
(1)
210
(1)
210
(3)

| | |
| --- | --- |
| | Right Ventricular Infarction |

213
(1)

| | |
| --- | --- |
| | Intraventricular Conduction Delays |

213
(6)

| | |
| --- | --- |
| | Structures of the Intraventricular Conduction System |

213
(3)

| | |
| --- | --- |
| | Blood Supply to the Intraventricular Conduction System |

216
(1)
216
(3)
219
(3)
219
(2)
221
(1)

| | |
| --- | --- |
| | ECG Changes Associated With Electrolyte Disturbances |

222
(6)
222
(1)
223
(1)
223
(1)
224
(4)

| | |
| --- | --- |
| | Analyzing the 12-Lead ECG |

228
(2)
230
(3)
233
(25)

| | |
| --- | --- |
| | Multiple Choice and True/False |

233
(5)
238
(20)
Appendix A
258
(36)

| | |
| --- | --- |
| | 1 Stop and Review Answers |

258
(1)

| | |
| --- | --- |
| | 2 Stop and Review Answers |

259
(3)
260
(2)

| | |
| --- | --- |
| | 3 Stop and Review Answers |

262
(3)
263
(2)

| | |
| --- | --- |
| | 4 Stop and Review Answers |

265
(4)
266
(3)

| | |
| --- | --- |
| | 5 Stop and Review Answers |

269
(3)
270
(2)

| | |
| --- | --- |
| | 6 Stop and Review Answers |

272
(3)
273
(2)

| | |
| --- | --- |
| | 7 Stop and Review Answers |

275
(3)
276
(2)

| | |
| --- | --- |
| | 8 Stop and Review Answers |

278
(3)
279
(2)

| | |
| --- | --- |
| | 9 Stop and Review Answers |

281
(2)
282
(1)
283
(11)
286
(8)
Glossary
294
(8)
Credits
302