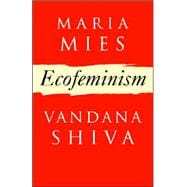 List Price: $32.95

More New and Used
from Private Sellers
Summary
Two of Zed's best-known authors, one an economist, the other a physicist and philosopher, come together in this book on a controversial environmental agenda. Using interview material, they bring together women's perspectives from North and South on environmental deterioration and develop and new way of approaching this body of knowledge which is at once practical and philosophical. Do women involved in environmental movements see a link between patriarchy and ecological degradation? What are the links between global militarism and the destruction of nature? In exploring such questions, the authors criticize prevailing theories and develop an intellectually rigorous ecofeminist perspective rooted in the needs of everyday life. They argue for the acceptance of limits, the rejection of the commoditization of needs, and a commitment to a new ethics.
Table of Contents
Introduction: Why We Wrote this Book Together
p. 1
Reductionism and Regeneration: A Crisis in Science
p. 22
Feminist Research: Science, Violence and Responsibility
p. 36
The Myth of Catching-up Development
p. 55
The Impoverishment of the Environment: Women and Children Last
p. 70
Who Made Nature Our Enemy?
p. 91
Homeless in the 'Global Village'
p. 98
Masculinization of the Motherland
p. 108
Women have no Fatherland
p. 116
White Man's Dilemma: His Search for What He Has Destroyed
p. 132
Women's Indigenous Knowledge and Biodiversity Conservation
p. 164
New Reproductive Technologies: Sexist and Racist Implications
p. 174
From the Individual to the Dividual: the Supermarket of 'Reproductive Alternatives'
p. 198
Self-Determination: The End of a Utopia?
p. 218
GATT, Agriculture and Third World Women
p. 231
The Chipko Women's Concept of Freedom
p. 246
Liberating the Consumer
p. 251
Decolonizing the North
p. 264
People or population: Towards a New Ecology of Reproduction
p. 277
The Need for a New Vision: the Subsistence Perspective
p. 297
Index
p. 325
Table of Contents provided by Blackwell. All Rights Reserved.