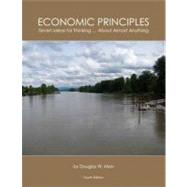 Economic Principles Seven Ideas for Thinking ... About Almost Anything
by
Allen, Doug
Pearson Learning Solutions
Questions About This Book?
Why should I rent this book?
Renting is easy, fast, and cheap! Renting from eCampus.com can save you hundreds of dollars compared to the cost of new or used books each semester. At the end of the semester, simply ship the book back to us with a free UPS shipping label! No need to worry about selling it back.
How do rental returns work?
Returning books is as easy as possible. As your rental due date approaches, we will email you several courtesy reminders. When you are ready to return, you can print a free UPS shipping label from our website at any time. Then, just return the book to your UPS driver or any staffed UPS location. You can even use the same box we shipped it in!
What version or edition is this?
This is the 4th edition with a publication date of 6/24/2011.
What is included with this book?
The New copy of this book will include any supplemental materials advertised. Please check the title of the book to determine if it should include any CDs, lab manuals, study guides, etc.
The Rental copy of this book is not guaranteed to include any supplemental materials. You may receive a brand new copy, but typically, only the book itself.
Related Products
Summary
Most Principles of Microeconomicstextbooks are long, boring, and expensive. They start by introducing thirty terms (most of which are never returned to), spend the next four chapters shifting two lines around, and then proceed to discuss a number of details better left for an intermediate course. They seem to go out of their way to avoid teaching actual principles!   Economic Principles: Seven Ideas for Thinking... About Almost Anythingis about the fundamental ideas that every economic argument is based on: maximization, substitution, opportunity cost, and the like. It is designed to be engaging, focused, and effective.   Appropriate for a Principles of Microeconomics course, the book's main emphasis is on explaining economic behavior, rather than crunching numbers. It is full of interesting real-life examples, applications, and humorous stories - there is no mention of a ;widget ;!   The overriding emphasis of Economic Principlesis on explanation and critical thinking. Repetitive curve shifting, pointless arithmetic exercises, and moot theoretical policy discussions are not to be found. Rather, the book is filled with questions taken from popular culture, history, and world events.   Economic Principlesengages students without overburdening their wallets or their backpacks.
Author Biography
Douglas Allen is the Burnaby Mountain Professor of economics at Simon Fraser University in Burnaby, B.C., where he earned his undergraduate degree. He has a PhD in economics from the University of Washington, and is the author of four books and numerous articles.
Table of Contents
CHAPTER 1: Introduction . . . . . . . . . . . . . . . . . . . . . . 1
What isEconomics? . . . . . . . . . . . . . . . . . . . . . . 3
TheEconomicWay ofThinking . . . . . . . . . . . . . . . . . 4
EconomicPrinciples . . . . . . . . . . . . . . . . . . . . . . 12
The SevenIdeas . . . . . . . . . . . . . . . . . . . . . . . . 13
TheRoadmap . . . . . . . . . . . . . . . . . . . . . . . . . 14
PART I : EXCHANGE AND PRODUCTION . . . . . . . . . . . . . . 19
CHAPTER 2:Maximization . . . . . . . . . . . . . . . . . . . . . . 20
Scarcity . . . . . . . . . . . . . . . . . . . . . . . . . . . . 22
Equilibrium . . . . . . . . . . . . . . . . . . . . . . . . . . 23
WhyBelieveinMaximization? . . . . . . . . . . . . . . . . . . 30
ThePanglossianDilemma . . . . . . . . . . . . . . . . . . . . 32
Summary . . . . . . . . . . . . . . . . . . . . . . . . . . . 33
CHAPTER 3 : Substitution . . . . . . . . . . . . . . . . . . . . . . 40
Trade-offs areEverywhere . . . . . . . . . . . . . . . . . . . . 42
The Fallacy of Priority in Consumption . . . . . . . . . . . . . . 43
Marginal Value . . . . . . . . . . . . . . . . . . . . . . . . . 44
Exchange . . . . . . . . . . . . . . . . . . . . . . . . . . . 46
Summary . . . . . . . . . . . . . . . . . . . . . . . . . . . 48
Appendix: Mapping Preferences . . . . . . . . . . . . . . . . . 55
CHAPTER 4:The Law of Demand . . . . . . . . . . . . . . . . . . . 58
Diminishing Marginal Value . . . . . . . . . . . . . . . . . . . 58
(Real) Income and (Relative)Prices . . . . . . . . . . . . . . . . 59
TheLawofDemand . . . . . . . . . . . . . . . . . . . . . . 63
TheLawofDemand isEverywhere . . . . . . . . . . . . . . . . 65
Direct, but Objectionable Examples of the Law of Demand . . . . . . 69
IndirectEvidencefor theLawofDemand . . . . . . . . . . . . . 71
TotalValue vsMarginalValue . . . . . . . . . . . . . . . . . . 74
TotalExpenditure andConsumer'sSurplus . . . . . . . . . . . . . 77
Summary . . . . . . . . . . . . . . . . . . . . . . . . . . . 79
Appendix: Deriving aDemandCurve . . . . . . . . . . . . . . . 94
CHAPTER 5:TechyIssues ofDemand . . . . . . . . . . . . . . . . . 102
Changes inDemand . . . . . . . . . . . . . . . . . . . . . . . 102
Changes inQuantityDemanded . . . . . . . . . . . . . . . . . 105
Elasticity . . . . . . . . . . . . . . . . . . . . . . . . . . . 106
ElasticityMiscellany . . . . . . . . . . . . . . . . . . . . . . 111
Summary . . . . . . . . . . . . . . . . . . . . . . . . . . . 115
Appendix: ArithmeticIssues . . . . . . . . . . . . . . . . . . . 131
CHAPTER 6:ExchangeWithoutProduction . . . . . . . . . . . . . . 135
TradewithJustTwoPeople . . . . . . . . . . . . . . . . . . . 135
DeterminingPricewithTwoPeople . . . . . . . . . . . . . . . . 137
Market Demand and Supply Curves . . . . . . . . . . . . . . . . 140
UnitDemandCurves (ASpecialCase) . . . . . . . . . . . . . . . 142
Market Supply . . . . . . . . . . . . . . . . . . . . . . . . . 143
Exchange with Market Demand and Supply . . . . . . . . . . . . 146
Applications . . . . . . . . . . . . . . . . . . . . . . . . . . 148
Prelude ofThingsToCome . . . . . . . . . . . . . . . . . . . 150
Summary . . . . . . . . . . . . . . . . . . . . . . . . . . . 152
CHAPTER 7:CostAndComparativeAdvantage . . . . . . . . . . . . . 163
What isCost? . . . . . . . . . . . . . . . . . . . . . . . . . 163
AddingUpCosts . . . . . . . . . . . . . . . . . . . . . . . . 164
Costs andBads . . . . . . . . . . . . . . . . . . . . . . . . 165
Sunk, Avoidable, Fixed, and Variable Costs. . . . . . . . . . . . . 166
ComparativeAdvantage . . . . . . . . . . . . . . . . . . . . . 167
TheGains fromSpecialization . . . . . . . . . . . . . . . . . . 170
ComparativeAdvantage andMarginalCostCurves . . . . . . . . . 171
Marginal Costs and the Supply Curve. . . . . . . . . . . . . . . . 173
Summary . . . . . . . . . . . . . . . . . . . . . . . . . . . 175
CHAPTER 8:ProductionwithDiminishingMarginalProducts . . . . . . . 192
TheProductionFunction . . . . . . . . . . . . . . . . . . . . 192
MarginalProducts and theDemandfor Labor . . . . . . . . . . . 197
MarginalCostsAgain . . . . . . . . . . . . . . . . . . . . . . 202
AverageCostCurves . . . . . . . . . . . . . . . . . . . . . . 204
Summary . . . . . . . . . . . . . . . . . . . . . . . . . . . 208
Appendix: DerivingCostCurves . . . . . . . . . . . . . . . . . 219
CHAPTER 9 : The Competitive Firm and Market Supply Curves . . . . . . 224
TheProfitMaximizingLevel ofOutput . . . . . . . . . . . . . . 226
Profits of theFirm . . . . . . . . . . . . . . . . . . . . . . . 231
The Market Supply Curve . . . . . . . . . . . . . . . . . . . . 236
Summary . . . . . . . . . . . . . . . . . . . . . . . . . . . 238
CHAPTER 10:Applicationsof theNeoclassicalModel . . . . . . . . . . . 251
Market Equilibrium . . . . . . . . . . . . . . . . . . . . . . . 251
Shifts in Supply and Demand . . . . . . . . . . . . . . . . . . . 252
TradeOneMoreTime . . . . . . . . . . . . . . . . . . . . . . 258
Taxes . . . . . . . . . . . . . . . . . . . . . . . . . . . . . 260
Quotas inAgriculture . . . . . . . . . . . . . . . . . . . . . . 265
WarmHouses inColdClimates . . . . . . . . . . . . . . . . . . 267
CriminalBehavior . . . . . . . . . . . . . . . . . . . . . . . 269
TheMarriageMarket . . . . . . . . . . . . . . . . . . . . . . 272
Summary . . . . . . . . . . . . . . . . . . . . . . . . . . . 274
PART II : EXTENSIONS OF THE NEOCLASSICAL MODEL . . . . . . 291
CHAPTER 11:ChoiceOverTime and the InterestRate . . . . . . . . . . 292
The InterestRate . . . . . . . . . . . . . . . . . . . . . . . . 292
TheValue ofDurableGoods . . . . . . . . . . . . . . . . . . . 293
PresentValues . . . . . . . . . . . . . . . . . . . . . . . . . 295
The Equilibrium Interest Rate . . . . . . . . . . . . . . . . . . 306
Summary . . . . . . . . . . . . . . . . . . . . . . . . . . . 307
CHAPTER 12: LaborMarkets . . . . . . . . . . . . . . . . . . . . . 321
TheDemandfor Labor . . . . . . . . . . . . . . . . . . . . . 321
The Supply of Labor . . . . . . . . . . . . . . . . . . . . . . 323
TheMarket for Labor Services . . . . . . . . . . . . . . . . . . 324
IncomeDifferences . . . . . . . . . . . . . . . . . . . . . . . 325
Prostitution . . . . . . . . . . . . . . . . . . . . . . . . . . 330
Unions andMinimumWages . . . . . . . . . . . . . . . . . . . 331
Summary . . . . . . . . . . . . . . . . . . . . . . . . . . . 333
CHAPTER 13: PriceSearching . . . . . . . . . . . . . . . . . . . . . 342
Facing aDownward SlopingDemandCurve . . . . . . . . . . . . 342
MarginalRevenueCurve . . . . . . . . . . . . . . . . . . . . . 344
The Price Searching Equilibrium . . . . . . . . . . . . . . . . . 346
PriceDiscriminationandOtherPricingPractices . . . . . . . . . . 348
Summary . . . . . . . . . . . . . . . . . . . . . . . . . . . 362
CHAPTER 14 : Game Theory, Collusion, and Competition Policy . . . . . . 379
SimpleGameTheory: InteractionsWithOthers . . . . . . . . . . . 379
DominatedandDominant Strategies . . . . . . . . . . . . . . . 381
TheEvolutionofCooperation . . . . . . . . . . . . . . . . . . 384
Theology andGameTheory . . . . . . . . . . . . . . . . . . . 386
The IncentivetoColludeForFirms . . . . . . . . . . . . . . . . 389
TheProblemofCollusion . . . . . . . . . . . . . . . . . . . . 390
Conditions forCollusion . . . . . . . . . . . . . . . . . . . . . 391
CompetitionPolicy . . . . . . . . . . . . . . . . . . . . . . . 394
Summary . . . . . . . . . . . . . . . . . . . . . . . . . . . 397
PART III : THE ORGANIZATION OF MARKETS AND INSTITUTIONS . 409
CHAPTER 15 : Economic Property Rights and Transaction Costs . . . . . . 410
TheCoaseTheorem . . . . . . . . . . . . . . . . . . . . . . . 411
No-FaultDivorce and theCoaseTheorem . . . . . . . . . . . . . 413
What areTransactionCosts? . . . . . . . . . . . . . . . . . . . 415
Backto theCoase Theorem . . . . . . . . . . . . . . . . . . . 419
WhatCausesTransactionCosts . . . . . . . . . . . . . . . . . 421
Private Property, Common Property, and Open Access . . . . . . . . 423
TheOptimalValue of anAsset . . . . . . . . . . . . . . . . . . 428
SomeFinalThoughts onEfficiency . . . . . . . . . . . . . . . . 434
Summary . . . . . . . . . . . . . . . . . . . . . . . . . . . 436
CHAPTER 16:TheEconomics ofOrganization: Firms . . . . . . . . . . 448
TheFalseDichotomyof FirmsandMarkets . . . . . . . . . . . . 448
TheNature of theFirm . . . . . . . . . . . . . . . . . . . . . 450
TheNature of theFarm . . . . . . . . . . . . . . . . . . . . . 451
The Success of the British Navy . . . . . . . . . . . . . . . . . 455
ThePurchase SystemintheBritishArmy . . . . . . . . . . . . . 458
Franchisingand theBigMac . . . . . . . . . . . . . . . . . . . 46
Summary . . . . . . . . . . . . . . . . . . . . . . . . . . . 463
CHAPTER 17 : The Economics of Organization: Contracts and Markets . . . 470
ContractChoice inFarmLand Leases . . . . . . . . . . . . . . . 470
MarketEnforcedQualityControl . . . . . . . . . . . . . . . . . 474
Signals ofQualityType . . . . . . . . . . . . . . . . . . . . . 477
Screeningand theDuel ofHonor . . . . . . . . . . . . . . . . . 479
Summary . . . . . . . . . . . . . . . . . . . . . . . . . . . 481