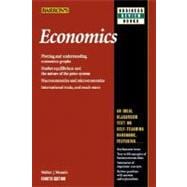 Questions About This Book?
What version or edition is this?
This is the 4th edition with a publication date of 7/1/2006.
What is included with this book?
The New copy of this book will include any supplemental materials advertised. Please check the title of the book to determine if it should include any CDs, lab manuals, study guides, etc.
Summary
Books in this series are intended mainly for classroom use. They makexcellent supplements to main texts when included in college-level businessourses. In adult education and business brush-up programs, they can serve asain textbooks. All titles in this series include review questions withnswers. This expanded, updated text explains plotting and understandingconomic graphs, market equilibrium and the nature of the price system,acroeconomics, microeconomics, and the dynamics of international trade.
Table of Contents
Preface
xiii

| | |
| --- | --- |
| | What is Economics All About? |

1
(19)
2
(1)
2
(11)
3
(1)
3
(7)
10
(3)
13
(1)
14
(2)
16
(4)

| | |
| --- | --- |
| | How to Use Graphs in Economics |

20
(12)
20
(2)

| | |
| --- | --- |
| | How Two Variables Are Related |

21
(1)
22
(3)
23
(2)
25
(1)
25
(2)
27
(5)

| | |
| --- | --- |
| | Supply and Demand: Part One |

32
(20)

| | |
| --- | --- |
| | How to Study Supply and Demand |

32
(2)
33
(1)

| | |
| --- | --- |
| | Demand and the Law of Demand |

34
(3)
35
(2)

| | |
| --- | --- |
| | Supply and the Law of Supply |

37
(2)
38
(1)
39
(7)

| | |
| --- | --- |
| | Studying Demand and Supply Curves |

41
(2)
43
(1)
44
(1)

| | |
| --- | --- |
| | Effects of Price Ceilings and Floors |

45
(1)

| | |
| --- | --- |
| | On the Nature of the Price System |

46
(1)
47
(1)
47
(2)
49
(3)

| | |
| --- | --- |
| | Supply and Demand: Part Two |

52
(16)

| | |
| --- | --- |
| | The Difference Between Economic Shifts and Movements |

52
(8)
53
(4)
57
(3)

| | |
| --- | --- |
| | How to Avoid Mistakes in Analyzing Supply and Demand |

60
(1)
61
(1)
62
(3)
65
(3)

| | |
| --- | --- |
| | MACROECONOMICS: AGGREGATE SUPPLY AND DEMAND |

| | |
| --- | --- |
| | Measuring National Output |

68
(16)
68
(1)
69
(1)

| | |
| --- | --- |
| | The Circular Flow of Income |

70
(5)
71
(4)
75
(1)

| | |
| --- | --- |
| | National Income Accounting Formulas |

75
(1)

| | |
| --- | --- |
| | Applying the National Income Premises |

76
(3)
79
(1)
79
(2)
81
(3)

| | |
| --- | --- |
| | Inflation and Unemployment |

84
(16)
84
(3)

| | |
| --- | --- |
| | The Three Main Price Indexes |

86
(1)

| | |
| --- | --- |
| | Problems with Price Indexes |

86
(1)
87
(4)

| | |
| --- | --- |
| | How Inflation Affects Real Income |

87
(2)

| | |
| --- | --- |
| | The Economic Costs of Inflation |

89
(2)
91
(3)
92
(1)

| | |
| --- | --- |
| | The Types and Costs of Unemployment |

92
(2)
94
(1)
95
(2)
97
(3)

| | |
| --- | --- |
| | Introduction to Macroeconomics: Output, Growth, and Capital |

100
(21)
101
(2)
101
(1)
102
(1)
103
(5)

| | |
| --- | --- |
| | The Level of Current Output |

104
(2)
106
(2)
108
(7)
109
(4)

| | |
| --- | --- |
| | Will Savings Be Invested? |

113
(2)
115
(1)
115
(2)
117
(4)

| | |
| --- | --- |
| | Aggregate Demand and Supply: The Key to Macroeconomics |

121
(17)

| | |
| --- | --- |
| | Aggregate Demand and Supply |

122
(10)
123
(2)

| | |
| --- | --- |
| | Aggregate Supply (Short Run) |

125
(2)

| | |
| --- | --- |
| | The Effects of Shifts in Aggregate Demand and Supply |

127
(3)

| | |
| --- | --- |
| | Aggregate Supply (Long Run) |

130
(2)

| | |
| --- | --- |
| | How to Apply Aggregate Demand and Supply |

132
(1)
133
(1)
133
(2)
135
(3)

| | |
| --- | --- |
| | Aggregate Demand in the Private Sector: The Keynesian Model |

138
(21)

| | |
| --- | --- |
| | The Basic Keynesian Model |

139
(7)
139
(3)
142
(1)

| | |
| --- | --- |
| | Equilibrium in Aggregate Demand |

143
(3)

| | |
| --- | --- |
| | Applying the Keynesian Model |

146
(5)
146
(3)

| | |
| --- | --- |
| | Determinants of Consumption |

149
(1)

| | |
| --- | --- |
| | Determinants of Investment |

150
(1)

| | |
| --- | --- |
| | Factors Shifting the Total Spending Curve |

151
(1)

| | |
| --- | --- |
| | Plotting Aggregate Demand |

151
(1)
152
(1)
153
(1)
154
(2)
156
(3)

| | |
| --- | --- |
| | Aggregate Supply and Getting to Full Employment |

159
(19)

| | |
| --- | --- |
| | Constructing the Aggregate Supply Curve to Get to Full Employment |

160
(6)
160
(2)

| | |
| --- | --- |
| | From Recession to Full Employment |

162
(3)

| | |
| --- | --- |
| | From Too Little Unemployment to Full Employment |

165
(1)

| | |
| --- | --- |
| | The Effects of Employment on the Spending Multiplier |

166
(4)

| | |
| --- | --- |
| | The Natural Rate of Unemployment |

167
(3)
170
(1)
171
(3)
174
(4)

| | |
| --- | --- |
| | MACROECONOMICS: FISCAL AND MONETARY POLICY |

| | |
| --- | --- |
| | Fiscal Policy: Government Spending and Taxation |

178
(14)
179
(5)
179
(2)
181
(3)

| | |
| --- | --- |
| | The Overall Effects of Spending and Taxation |

184
(1)

| | |
| --- | --- |
| | Limits of an Active Fiscal Policy |

184
(4)

| | |
| --- | --- |
| | The Effect on Aggregate Supply and Demand |

185
(1)

| | |
| --- | --- |
| | Deficits: Do They Matter? |

185
(3)
188
(1)
188
(2)
190
(2)
192
(17)
192
(7)
193
(1)
194
(1)

| | |
| --- | --- |
| | Balance Sheets and Banks: Federal and Commercial |

195
(1)
196
(3)

| | |
| --- | --- |
| | How the Fed Controls the Money Supply |

199
(2)

| | |
| --- | --- |
| | Taylor's Rule: What Does the Federal Reserve Do? |

201
(2)
203
(1)
204
(2)
206
(3)

| | |
| --- | --- |
| | Money and Aggregate Demand |

209
(24)
209
(1)

| | |
| --- | --- |
| | The Quantity Theory of Money |

210
(6)

| | |
| --- | --- |
| | The Long-Run Neutrality of Money |

212
(3)
215
(1)

| | |
| --- | --- |
| | The German Hyperinflation |

216
(1)

| | |
| --- | --- |
| | The Short-Run Effects of Money: The Monetarist Model |

216
(2)

| | |
| --- | --- |
| | Keynesian Model of the Short-Run Effects of Money |

218
(4)

| | |
| --- | --- |
| | The Long-Run Effects of Money Supply on Interest Rates |

221
(1)

| | |
| --- | --- |
| | The Spending Multiplier and Fiscal Policy |

222
(1)

| | |
| --- | --- |
| | Bonds: Interest Rates and Prices |

222
(2)

| | |
| --- | --- |
| | The Differences Between Keynesian and Monetarist Views |

224
(2)
226
(1)
227
(2)
229
(4)

| | |
| --- | --- |
| | Inflation and Unemployment |

233
(21)

| | |
| --- | --- |
| | What Causes the Short-Run Aggregate Supply Curve (AS) to Shift? |

233
(2)

| | |
| --- | --- |
| | The Relationship Between the AS Curve and the Phillips Curve |

235
(9)

| | |
| --- | --- |
| | How Shifts Affect the AS Curve and the Phillips Curve |

237
(1)

| | |
| --- | --- |
| | Visualizing the Business Cycle |

238
(3)

| | |
| --- | --- |
| | Inflation and the Phillips Curve |

241
(3)
244
(4)

| | |
| --- | --- |
| | Can Economic Recovery Be Made Faster? |

244
(1)

| | |
| --- | --- |
| | Can Inflation (at Full Employment) Be Reduced? |

245
(1)

| | |
| --- | --- |
| | Does the Phillips Curve Tell the Real Story? |

246
(2)
248
(1)
248
(3)
251
(3)

| | |
| --- | --- |
| | Rational Expectations and Other Models of the Business Cycle |

254
(24)

| | |
| --- | --- |
| | Rational-Expectations Macroeconomics |

255
(6)
256
(2)
258
(3)

| | |
| --- | --- |
| | Rational-Expectations Model |

261
(4)

| | |
| --- | --- |
| | An Example of a Rational-Expectations Model |

262
(2)

| | |
| --- | --- |
| | Criticisms of Rational Expectations |

264
(1)

| | |
| --- | --- |
| | Rational Expectations, Random Walk, and the Stock Market |

265
(1)

| | |
| --- | --- |
| | Real Business Cycle Theory |

266
(1)

| | |
| --- | --- |
| | Neo-Keynesian Macroeconomics |

267
(3)

| | |
| --- | --- |
| | Where Does Business Cycle Theory Stand Today? |

270
(1)
271
(1)
272
(2)
274
(4)

| | |
| --- | --- |
| | Open-Market Macroeconomics |

278
(27)
278
(2)

| | |
| --- | --- |
| | The Key to Understanding World Trade |

279
(1)
280
(15)

| | |
| --- | --- |
| | The Demand and Supply of the Dollar |

282
(3)
285
(5)

| | |
| --- | --- |
| | Factors Affecting the Exchange Rate |

290
(3)
293
(2)
295
(3)

| | |
| --- | --- |
| | Runs on Currencies and Capital Flight |

297
(1)

| | |
| --- | --- |
| | Fiscal and Monetary Policy in an Open Economy |

298
(1)
299
(1)
300
(2)
302
(3)

| | |
| --- | --- |
| | MICROECONOMICS: CONSUMER AND COST |

305
(19)

| | |
| --- | --- |
| | The Price Elasticity of Demand |

305
(8)

| | |
| --- | --- |
| | Measuring the Price Elasticity of Demand |

308
(2)

| | |
| --- | --- |
| | Elasticity and Total Revenue |

310
(3)

| | |
| --- | --- |
| | Factors Affecting Elasticity |

313
(5)
313
(3)
316
(2)

| | |
| --- | --- |
| | Interactions of Demand and Supply |

318
(1)
319
(1)
320
(1)
321
(3)
324
(15)

| | |
| --- | --- |
| | Market and Individual Demand |

324
(1)

| | |
| --- | --- |
| | The Law of Diminishing Marginal Utility |

325
(1)

| | |
| --- | --- |
| | The Law of Equal Marginal Utility per Dollar |

326
(3)

| | |
| --- | --- |
| | Deriving the Law of Demand from the Law of Equal Marginal Utility per Dollar |

328
(1)

| | |
| --- | --- |
| | Income Effects and Substitution Effects |

329
(2)
331
(2)

| | |
| --- | --- |
| | Applications for Business: Principle of Equal Marginal Benefit per Unit |

333
(1)
334
(1)
335
(1)
336
(3)
339
(17)
339
(10)
339
(7)
346
(3)
349
(1)
350
(1)
351
(2)
353
(3)

| | |
| --- | --- |
| | MICROECONOMICS: COMPETITION AND MONOPOLY |

356
(25)

| | |
| --- | --- |
| | Rules of Basic Decision Making |

356
(4)
356
(1)
357
(3)

| | |
| --- | --- |
| | How Competitive Firms Make Decisions Concerning Costs and Output |

360
(12)
362
(3)

| | |
| --- | --- |
| | The Construction of the Industry's Short-Run Supply Curve |

365
(5)

| | |
| --- | --- |
| | Effects of Costs on Supply |

370
(2)

| | |
| --- | --- |
| | Competition Bids Price Down to Cost |

372
(1)
372
(1)
373
(1)
374
(1)
375
(2)
377
(4)
381
(23)
383
(3)
386
(4)
387
(3)
390
(2)
392
(3)
395
(1)
396
(3)
399
(5)
404
(17)
404
(1)
405
(9)
405
(3)
408
(1)
409
(2)
411
(3)
414
(1)
415
(1)
416
(2)
418
(3)

| | |
| --- | --- |
| | Between Monopoly and Competition |

421
(19)

| | |
| --- | --- |
| | Perfectly Contestable Markets |

422
(1)
423
(3)
426
(7)

| | |
| --- | --- |
| | Special Models of Oligopolies |

428
(4)

| | |
| --- | --- |
| | Game Theory and Oligopoly |

432
(1)

| | |
| --- | --- |
| | Forces That Promote Competition |

433
(1)
434
(1)
435
(3)
438
(2)
440
(20)
440
(1)
441
(7)
443
(2)
445
(1)
446
(2)
448
(1)
448
(2)
450
(2)
452
(1)
452
(3)
455
(5)

| | |
| --- | --- |
| | Efficiency and Regulation |

460
(18)
460
(1)

| | |
| --- | --- |
| | The Efficiency of Competitive Markets |

461
(2)

| | |
| --- | --- |
| | The Social Loss from Monopoly |

463
(8)
465
(4)
469
(1)

| | |
| --- | --- |
| | Vertical Integration and Antitrust |

469
(2)
471
(1)

| | |
| --- | --- |
| | When Won't a Competitive Economy Be Efficient? |

472
(1)
473
(1)
473
(2)
475
(3)

| | |
| --- | --- |
| | MICROECONOMICS: WHAT PEOPLE EARN |

| | |
| --- | --- |
| | Factor Demand and Productivity |

478
(20)

| | |
| --- | --- |
| | How to Measure Productivity and Profits |

479
(10)

| | |
| --- | --- |
| | Determining Marginal Benefit by Marginal Revenue Product |

480
(5)

| | |
| --- | --- |
| | Determining Marginal Cost by Marginal Factor Cost |

485
(2)
487
(2)
489
(2)
491
(1)
491
(1)
492
(2)
494
(4)

| | |
| --- | --- |
| | Wages, Labor Markets, and Unions |

498
(20)
498
(8)

| | |
| --- | --- |
| | Model 1: Workers Alike, Jobs Alike |

498
(5)

| | |
| --- | --- |
| | Model 2: Workers Alike, Jobs Different |

503
(1)

| | |
| --- | --- |
| | Other Models of Differences in Wages |

504
(2)
506
(1)
507
(5)

| | |
| --- | --- |
| | Unions in Price-Taking Firms |

507
(2)
509
(1)

| | |
| --- | --- |
| | Unions and Monopsonistic Employers |

510
(2)
512
(1)
513
(1)
513
(2)
515
(3)

| | |
| --- | --- |
| | Rent, Interest, and Profits |

518
(14)
519
(2)
521
(5)

| | |
| --- | --- |
| | Making Investment Decisions |

524
(1)
525
(1)
526
(1)
527
(1)
528
(1)
529
(3)

| | |
| --- | --- |
| | MICROECONOMICS: GOVERNMENT AND THE ECONOMY |

| | |
| --- | --- |
| | Public Choice and Externalities |

532
(19)

| | |
| --- | --- |
| | Social Optimality and Free Markets |

532
(4)

| | |
| --- | --- |
| | Solutions to Market Failures Caused by Externalities |

533
(3)
536
(4)

| | |
| --- | --- |
| | An Application: Pollution Control |

538
(2)
540
(4)

| | |
| --- | --- |
| | Dealing with Special Interests |

541
(3)
544
(1)
544
(3)
547
(4)

| | |
| --- | --- |
| | Government Spending and Taxation |

551
(18)

| | |
| --- | --- |
| | Cost-Benefit Analysis of Government Spending |

552
(1)

| | |
| --- | --- |
| | The Economics of Transfer Payments |

552
(1)
553
(9)
555
(1)
555
(3)

| | |
| --- | --- |
| | Major Distortions in Our Current Tax Codes |

558
(2)
560
(1)
560
(1)

| | |
| --- | --- |
| | Tax Incidence and Tax Shifting |

561
(1)
562
(1)
563
(2)
565
(4)
569
(58)

| | |
| --- | --- |
| | When Will a Nation Benefit from Trade? |

570
(1)

| | |
| --- | --- |
| | What Goods Should a Nation Trade? |

571
(1)

| | |
| --- | --- |
| | The Law of Comparative Advantage |

572
(5)

| | |
| --- | --- |
| | Graphical Analysis of Comparative Advantage |

574
(3)

| | |
| --- | --- |
| | The Effect of Tariffs and Quotas |

577
(2)
579
(1)
579
(2)

| | |
| --- | --- |
| | Factor Price Equalization |

581
(1)
582
(1)
582
(3)
585
(4)
589
(1)

| | |
| --- | --- |
| | Indifference Curve Analysis |

590
(25)
599
(15)
614
(1)
615
(1)
615
(1)
615
(1)
616
(4)
617
(1)

| | |
| --- | --- |
| | Business Cycle Indicators |

618
(2)

| | |
| --- | --- |
| | Review and Additional Material |

620
(1)

| | |
| --- | --- |
| | The Geometry of Profit-Maximizing |

620
(2)

| | |
| --- | --- |
| | The Algebra of Income Determination in the Keynesian Model |

622
(2)

| | |
| --- | --- |
| | Summary of Macroeconomic Models |

624
(3)
Index
627