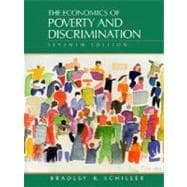 The Economics of Poverty and Discrimination
by
Bradley R. Schiller
Prentice Hall Professional Technical Reference
List Price: $59.00
Currently Available, Usually Ships in 24-48 Hours
Questions About This Book?
What version or edition is this?
This is the 7th edition with a publication date of 1/1/1998.
What is included with this book?
The New copy of this book will include any supplemental materials advertised. Please check the title of the book to determine if it should include any CDs, lab manuals, study guides, etc.
Summary
Emphasizing the complex economic, social, and political factors that create poverty and make its eradication so difficult, this book provides a broad overview of the dimensions of poverty and discrimination, the various explanations for these social ills, and the policy options for addressing them.
Table of Contents
Preface
xi
PART I: THE DIMENSIONS OF POVERTY
1
(44)

| | |
| --- | --- |
| | CHAPTER 1 Views of Inequality and Poverty |

1
(19)

| | |
| --- | --- |
| | The Continuing Controversy |

1
(2)
1
(1)
2
(1)
2
(1)
3
(6)
3
(1)
4
(1)
5
(1)
5
(1)
6
(1)
7
(2)
9
(1)
9
(1)
9
(1)
10
(4)
10
(1)

| | |
| --- | --- |
| | Transitory versus permanent income |

10
(1)
11
(1)
12
(1)
12
(1)
13
(1)

| | |
| --- | --- |
| | Whose happiness? Units of observations |

13
(1)
14
(4)
14
(1)
15
(3)
18
(1)
18
(2)

| | |
| --- | --- |
| | CHAPTER 2 Counting the Poor |

20
(25)

| | |
| --- | --- |
| | The Distribution of Income |

20
(2)

| | |
| --- | --- |
| | The Official Poverty Line |

22
(8)

| | |
| --- | --- |
| | The concept of minimum needs |

22
(1)
23
(2)
25
(1)
25
(2)
27
(1)

| | |
| --- | --- |
| | The current poverty index |

27
(3)

| | |
| --- | --- |
| | The Number of Poor People |

30
(2)

| | |
| --- | --- |
| | The official poverty count |

30
(1)
30
(2)
32
(1)
32
(6)
32
(2)
34
(1)
35
(1)
36
(1)
36
(1)
37
(1)
37
(1)

| | |
| --- | --- |
| | Characteristics of the Poor |

38
(4)
38
(1)
39
(2)
41
(1)

| | |
| --- | --- |
| | Similarities and differences |

42
(1)
42
(1)
43
(2)
PART II: CAUSES OF POVERTY
45
(132)

| | |
| --- | --- |
| | CHAPTER 3 Labor Force Participation |

45
(24)
45
(4)
46
(2)
48
(1)
49
(4)
50
(2)
52
(1)

| | |
| --- | --- |
| | The Process of Economic Deterioration |

53
(2)
55
(2)
55
(1)
56
(1)
56
(1)
56
(1)

| | |
| --- | --- |
| | The Question of Causation |

57
(7)
57
(3)
60
(1)
61
(2)
63
(1)
64
(1)
65
(1)

| | |
| --- | --- |
| | Appendix: The Phillips Curve Dilemma |

65
(4)

| | |
| --- | --- |
| | CHAPTER 4 The Working Poor |

69
(15)

| | |
| --- | --- |
| | Work Experience and Poverty |

69
(4)
69
(1)
70
(1)
71
(1)

| | |
| --- | --- |
| | More measurement problems |

72
(1)

| | |
| --- | --- |
| | The significance of secondary workers |

72
(1)

| | |
| --- | --- |
| | Searching for Explanations |

73
(1)
74
(1)
75
(4)
77
(2)
79
(1)
80
(1)
80
(1)

| | |
| --- | --- |
| | Appendix: Does Prosperity Trickle Down? |

81
(3)
84
(16)
84
(10)
84
(2)
86
(1)

| | |
| --- | --- |
| | Sources of economic support |

87
(5)
92
(1)
93
(1)
94
(1)
94
(1)
94
(4)
95
(1)
95
(1)
96
(1)
97
(1)
98
(1)
98
(1)
99
(1)

| | |
| --- | --- |
| | CHAPTER 6 Family Size and Structure |

100
(14)
100
(4)
101
(1)
101
(2)
103
(1)
103
(1)
104
(8)
104
(1)
105
(2)
107
(1)
108
(4)
112
(1)
112
(2)

| | |
| --- | --- |
| | CHAPTER 7 The Underclass: Culture and Race |

114
(16)
114
(4)
115
(2)

| | |
| --- | --- |
| | A question of opportunities |

117
(1)

| | |
| --- | --- |
| | Wilson's Underclass Theory |

118
(4)
118
(1)

| | |
| --- | --- |
| | Direct tests of aspirations |

119
(1)

| | |
| --- | --- |
| | Indirect tests of predicted behavior |

120
(1)
121
(1)

| | |
| --- | --- |
| | The Racial Inferiority Theory |

122
(5)
123
(1)
124
(1)
125
(1)
126
(1)
127
(1)
128
(2)

| | |
| --- | --- |
| | CHAPTER 8 Education and Ability |

130
(12)
130
(7)
131
(1)
131
(1)

| | |
| --- | --- |
| | Increasing skill premiums |

132
(1)
133
(2)

| | |
| --- | --- |
| | Education as a sorting device |

135
(2)
137
(1)
137
(3)
137
(1)
138
(2)
140
(1)
140
(2)

| | |
| --- | --- |
| | CHAPTER 9 Discrimination in Education |

142
(19)
142
(5)
143
(1)
143
(1)

| | |
| --- | --- |
| | Costs and benefits of discrimination |

144
(3)
147
(1)

| | |
| --- | --- |
| | Racial Discrimination in Education |

147
(6)
148
(1)
149
(2)
151
(1)
152
(1)

| | |
| --- | --- |
| | Class Discrimination in Education |

153
(4)
154
(1)
154
(1)
155
(2)

| | |
| --- | --- |
| | Sex Discrimination in Education |

157
(2)
157
(1)
158
(1)
159
(1)
160
(1)

| | |
| --- | --- |
| | CHAPTER 10 Discrimination in the Labor Market |

161
(16)

| | |
| --- | --- |
| | Racial Discrimination in the Labor Market |

161
(11)
162
(1)
163
(2)

| | |
| --- | --- |
| | Components of earnings disparities |

165
(3)
168
(1)
168
(3)
171
(1)

| | |
| --- | --- |
| | Class Discrimination in the Labor Market |

172
(1)

| | |
| --- | --- |
| | Sex Discrimination in the Labor Market |

173
(3)
173
(3)
176
(1)
176
(1)
PART III: POLICY OPTIONS
177
(84)

| | |
| --- | --- |
| | CHAPTER 11 Welfare Programs |

177
(27)

| | |
| --- | --- |
| | Welfare versus Social Insurance |

178
(1)

| | |
| --- | --- |
| | Welfare: The Cash Assistance Programs |

179
(9)
179
(1)
180
(2)
182
(1)
183
(3)

| | |
| --- | --- |
| | Conflicting welfare goals |

186
(1)
187
(1)

| | |
| --- | --- |
| | Welfare: The In-Kind Programs |

188
(5)
188
(1)
188
(1)
189
(1)
189
(1)
189
(1)

| | |
| --- | --- |
| | Revisiting the goal conflict |

190
(3)
193
(5)
193
(1)
194
(1)
195
(1)
196
(1)

| | |
| --- | --- |
| | The family support act of 1988 |

197
(1)
198
(1)
198
(2)
199
(1)

| | |
| --- | --- |
| | Temporary assistance for needy families (TANF) |

199
(1)
200
(1)
200
(2)
202
(1)
203
(1)

| | |
| --- | --- |
| | CHAPTER 12 Social Insurance Programs |

204
(17)
204
(7)
204
(1)
205
(1)
206
(1)
207
(4)
211
(1)
211
(1)

| | |
| --- | --- |
| | Supplemental medical insurance |

211
(1)
212
(1)
212
(3)
212
(1)
213
(1)
214
(1)

| | |
| --- | --- |
| | Child-Support Enforcement |

215
(4)
215
(1)
216
(1)
217
(2)
219
(1)
219
(2)

| | |
| --- | --- |
| | CHAPTER 13 Employment Policies |

221
(14)

| | |
| --- | --- |
| | Aggregate Demand Policies |

222
(2)

| | |
| --- | --- |
| | Full employment versus price stability |

222
(1)
223
(1)
224
(6)
224
(1)
225
(1)
226
(1)
227
(1)
228
(1)
229
(1)
229
(1)
230
(2)
230
(1)
231
(1)
232
(1)
233
(1)
234
(1)

| | |
| --- | --- |
| | CHAPTER 14 Equal Opportunity Policies |

235
(19)

| | |
| --- | --- |
| | Equal Employment Opportunity Policies |

236
(6)
236
(1)
237
(1)
238
(1)
239
(2)
241
(1)
241
(1)

| | |
| --- | --- |
| | Equal Educational Opportunity Policies |

242
(10)
242
(1)

| | |
| --- | --- |
| | De jure versus de facto segregation |

243
(1)
243
(1)
244
(2)
246
(1)
247
(2)
249
(1)
250
(2)
252
(1)
253
(1)

| | |
| --- | --- |
| | CHAPTER 15 Directions and Prospects |

254
(7)
254
(2)
256
(4)
257
(1)
258
(1)
258
(1)
259
(1)
259
(1)

| | |
| --- | --- |
| | Causes, Attitudes, and Policy |

260
(1)
Index
261