Note: Supplemental materials are not guaranteed with Rental or Used book purchases.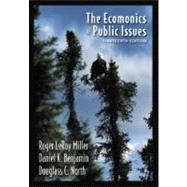 Summary
For years, The Economics of Public Issues has shown students the power of economics in explaining the world around us. The thirteenth edition continues the tradition of illustrating traditional economic principles through contemporary issues by offering ten all-new chapters on compelling topics such as the costs of terrorism, deregulation of energy in California, and the Internet economy. The authors' clear presentation and straightforward applications make the study of economics entertaining and informative. The Economics of Public Issues is an essential source of engaging, relevant readings for a principles of economics course, and an excellent way to spark independent thinking and classroom discussions in political economy, public policy, and social issues courses.
Table of Contents
Preface.
I. THE FOUNDATIONS OF ECONOMIC ANALYSIS.
1. Killer Airbags. 2. Terrible Trade-off. 3. Flying the Friendly Skies? 4. The Costs of Terrorism.
II. SUPPLY AND DEMAND.
5. Sex, Booze, and Drugs. 6. Is Water Different? 7. Slave Redemption in Sudan. 8. Choice and Life. 9. Smoking and Smuggling.
III. NON-PRICE RATIONING.
10. Bankrupt Landlords, from Sea to Shining Sea. 11. Rationing Health Care. 12. The Effects of the Minimum Wage. 13. Lights Out in California.
IV. MARKET STRUCTURES.
14. The Internet Economy. 15. Cartels, Combinations, and Conspiracies. 16. Coffee, Tea, or Tuition-Free?. 17. The Perils of Product Differentiation. 18. Keeping the Competition Out.
V. POLITICAL ECONOMY.
19. Killer Cars and the Rise of the SUV. 20. Superfund Follies. 21. Crime and Punishment. 22. The Graying of America. 23. The Economics of Weather Forecasting.
VI. PROPERTY RIGHTS AND THE ENVIRONMENT.
24. The Trashman Cometh. 25. Bye, Bye, Bison. 26. Smog Merchants. 27. Greenhouse Economics.
VII. GLOBAL AND MACROECONOMIC AFFAIRS.
28. The Opposition to Free Trade. 29. The $750,000 Job. 30. The Euro. 31. Monetary Policy and Interest Rates. 32. The Disappearing Surplus. Glossary. Index.