Note: Supplemental materials are not guaranteed with Rental or Used book purchases.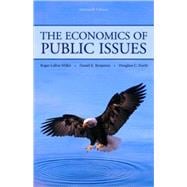 Questions About This Book?
What version or edition is this?
This is the 16th edition with a publication date of 6/25/2009.
What is included with this book?
The Used copy of this book is not guaranteed to include any supplemental materials. Typically, only the book itself is included.
Summary
KEY BENEFIT:The Economics of Public Issuesis a collection of brief, relevant readings that spark independent thinking. KEY TOPICS: The Foundations of Economic Analysis; Supply and Demand; Labor Markets; Market Structures; Political Economy; Property Rights and the Environment; Globalization and Economic Prosperity MARKET: For readers interested in applying theoretical discussions to todayrs"s important issues and gaining a deeper understanding of current economic policy concerns.
Author Biography
Roger LeRoy Miller received his PhD from the University of Chicago. He is currently Director of the Institute for University Studies in Arlington, Texas. Dr. Miller is a legal specialist and author of numerous books on law and the legal environment, including criminal procedure. In addition, Dr. Miller has authored books on the war on drugs, the economics of crime and criminal behavior, and on related topics.
Daniel K. Benjamin
Alumni Distinguished Professor, John E. Walker Department of Economics, Clemson University.
Table of Contents
Preface
p. xi
The Foundations of Economic Analysis
p. 1
Death by Bureaucrat (when bureaucratic choices mean life for some people-and death for others)
p. 4
Ethanol Madness (how one government policy illustrates the nature of all government policy)
p. 10
Flying the Friendly Skies? (how safe is commercial air travel? How safe should it be?)
p. 14
The Mystery of Wealth (why some nations are rich and others are poor)
p. 19
Supply and Demand
p. 25
Sex, Booze, and Drugs (the unintended and often harmful consequences of prohibiting voluntary exchange)
p. 29
Kidneys for Sale (does a market for human organs make sense?)
p. 36
When High Prices Are Low Prices (why "record high prices" are often much lower than they seem)
p. 42
Are We Running Out of Water? (on a planet that's two-thirds water, how can we be running out of the stuff?)
p. 47
The (Dis)incentives of Higher Taxes (how high taxes illustrate the old adage that "there is no free lunch")
p. 53
Bankrupt Landlords, from Sea to Shining Sea (when governments lower rents, tenants can suffer)
p. 58
Labor Markets
p. 65
(Why) Are Women Paid Less? (why are women paid less while men are working less?)
p. 67
The Effects of the Minimum Wage (how a "living wage" can ruin the lives of minority youngsters)
p. 72
Immigration, Superstars, and Poverty (are the rich getting richer and the poor getting poorer-and if not, why does it look that way?)
p. 76
A Farewell to Jobs (why efforts to "save jobs" make us all poorer)
p. 83
Market Structures
p. 89
Big Oil, Big Oil Prices? (does ExxonMobil really decide how much we pay at the pump?)
p. 92
Contracts, Combinations, and Conspiracies (why the NCAA and OPEC have more than four-letter names in common)
p. 97
Coffee, Tea, or Tuition-Free? (who wins and who loses from price discrimination)
p. 102
College Costs (...and Costs and Costs) (college costs have tripled, but the quality of the product hasn't; what's going on?)
p. 107
Keeping the Competition Out (when the government steps in, the competition steps out)
p. 112
Political Economy
p. 117
Mortgage Meltdown (how Congress got us into the mortgage market mess)
p. 121
The Political Economy of Collapsing Bridges (when shortsighted political decisions lead to long-term troubles)
p. 127
Is Your Bank Manager Headed to Vegas with Your Money? (how deposit insurance encourages risky behavior by commercial banks)
p. 132
Raising Less Corn and More Hell (how your tax dollars end up in farmers' pockets)
p. 137
Crime and Punishment (incentives matter-especially to criminals)
p. 143
The Graying of America (America is getting older, and you will foot the bill)
p. 148
Property Rights and the Environment
p. 153
The Trashman Cometh (the costs and benefits of recycling)
p. 156
Bye-Bye, Bison (why some species are endangered and others aren't)
p. 163
Smog Merchants (how markets can reduce pollution)
p. 170
Greenhouse Economics (the economics of global climate change)
p. 175
Globalization and Economic Prosperity
p. 181
Globalization and the Wealth of America (is globalization all bad?)
p. 183
The $750,000 Steelworker (the economic consequences of restricting international trade)
p. 189
The Lion, the Dragon, and the Future (do China, India, and other modernizing nations herald the demise of America?)
p. 194
Glossary
p. 199
Selected References
p. 209
Index
p. 219
Table of Contents provided by Ingram. All Rights Reserved.