Note: Supplemental materials are not guaranteed with Rental or Used book purchases.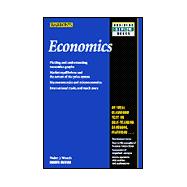 Summary
Covers many subjects including plotting and understanding graphs, market equilibrium and the nature of the price system, macroeconomics, microeconomics, and international trade.
Table of Contents
Preface
Essentials of Economics
What is Economics All About?
p. 1
How to Use Graphs in Economics
p. 18
Supply and Demand: Part One
p. 28
Supply and Demand: Part Two
p. 45
Macroeconomics: Aggregate Supply and Demand
Measuring National Output
p. 59
Inflation and Unemployment
p. 72
Aggregate Demand and Supply: The Key to Macroeconomics
p. 87
Aggregate Demand in the Private Sector: The Keynesian Model
p. 101
Aggregate Supply and Getting to Full Employment
p. 123
Macroeconomics: Fiscal and Monetary Policy
Fiscal Policy: Government Spending and Taxation
p. 138
The Supply of Money
p. 152
Money and Aggregate Demand: Keynesian Model
p. 165
Money and Aggregate Demand: Monetarist Model
p. 181
Inflation and Unemployment
p. 195
Rational Expectations and Other Models of the Business Cycle
p. 214
Microeconomics: Consumer and Cost
Elasticity
p. 234
The Theory of Demand
p. 250
Cost and Output
p. 265
Microeconomics: Competition and Monopoly
Competitive Supply
p. 282
Markets, Competition, and Growth
p. 304
Monopolies
p. 319
Between Monopoly and Competition
p. 335
Efficiency and Regulation
p. 354
Microeconomics: What People Earn
Factor Demand and Productivity
p. 368
Wages, Labor Markets, and Unions
p. 386
Rent, Interest, and Profits
p. 404
Microeconomics: Government and the Economy
Public Choice and Externalities
p. 418
Government Spending and Taxation
p. 436
International Trade
International Trade
p. 451
Exchange Rates and the International Monetary System
p. 470
Appendix
Index
p. 514
Table of Contents provided by Blackwell. All Rights Reserved.