Note: Supplemental materials are not guaranteed with Rental or Used book purchases.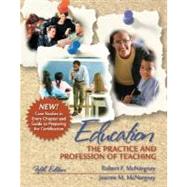 Questions About This Book?
What version or edition is this?
This is the 5th edition with a publication date of 1/1/2007.
What is included with this book?
The Used copy of this book is not guaranteed to include any supplemental materials. Typically, only the book itself is included.
Summary
With new cases in every chapter that bring readers into the real world of teaching, this widely admired text now integrates the core foundations of education with case-based analysis, practical examples of technology in the classroom, and personal encounters with diversity. Now more than ever teachers are being held accountable for results achieved by their students; now more than ever new teachers must be true education professionals, with a wide grasp of teaching knowledge and the ability to use it to solve real problems. This exciting new edition of "Education: The Practice and Profession of Teaching "melds comprehensive coverage of foundations topics with practical guidance on learning and instruction, and a wealth of insights into how authentic schools, classrooms, and educational systems function.
Table of Contents
Features
xv
Preface
xvii

| | |
| --- | --- |
| | Part I. Teaching from the Inside Out |

1
(90)
2
(28)

| | |
| --- | --- |
| | Case Study: Investigating Professionalism |

2
(2)

| | |
| --- | --- |
| | Is Teaching a Profession? |

4
(3)
5
(1)

| | |
| --- | --- |
| | Teaching Is a Semiprofession |

5
(2)

| | |
| --- | --- |
| | How Are Views of Teaching Changing? |

7
(3)

| | |
| --- | --- |
| | Technology in Practice: Thinking and Behaving Like a Professional |

8
(1)

| | |
| --- | --- |
| | A View of Teaching as Basic Professional Competence: INTASC |

9
(1)

| | |
| --- | --- |
| | What Career Issues Do Beginning Teachers Face? |

10
(5)
10
(2)
12
(2)
14
(1)

| | |
| --- | --- |
| | Successfully Performing Responsibilities |

15
(1)

| | |
| --- | --- |
| | How Are Teachers Evaluated? |

15
(5)
17
(1)

| | |
| --- | --- |
| | Performance Evaluations of Teachers |

18
(1)
19
(1)

| | |
| --- | --- |
| | National Teacher Examinations: The Praxis Series™ |

19
(1)

| | |
| --- | --- |
| | How Are Teachers Supported and Rewarded? |

20
(2)
20
(1)

| | |
| --- | --- |
| | Cultural Awareness: Lessons Learned |

20
(1)

| | |
| --- | --- |
| | Career Ladders and Merit Pay |

21
(1)
22
(1)

| | |
| --- | --- |
| | How Do Teachers Demonstrate Professional Leadership? |

22
(8)
22
(1)

| | |
| --- | --- |
| | Working with Professional Organizations |

23
(1)

| | |
| --- | --- |
| | Teachers and the Law: Must teachers pay union dues if they are not members? |

23
(2)

| | |
| --- | --- |
| | Meeting the Challenges of Professional Practice |

25
(1)
25
(2)
27
(1)
27
(1)

| | |
| --- | --- |
| | Reflective Activity: Choosing a Teaching Path |

27
(1)
28
(1)
28
(2)

| | |
| --- | --- |
| | Challenges Teachers and Schools Face |

30
(30)

| | |
| --- | --- |
| | Case Study: School Violence |

30
(2)

| | |
| --- | --- |
| | What Are Society's Expectations for Schools? |

32
(1)

| | |
| --- | --- |
| | How Does Poverty Place Students at Risk of School Failure? |

33
(2)

| | |
| --- | --- |
| | How Can Schools Intervene to Help Students at Risk? |

35
(6)

| | |
| --- | --- |
| | Providing Early Intervention Programs |

36
(2)

| | |
| --- | --- |
| | Keeping Students in School |

38
(1)

| | |
| --- | --- |
| | Providing Compensatory Education |

38
(1)

| | |
| --- | --- |
| | Providing Before- and After-School Programs |

39
(1)

| | |
| --- | --- |
| | Using the Arts to Engage Children |

40
(1)

| | |
| --- | --- |
| | Providing Mentors and Tutors |

40
(1)

| | |
| --- | --- |
| | How Can Schools Get Parents Involved in Their Children's Education? |

41
(2)

| | |
| --- | --- |
| | Implementing Parental Involvement Programs |

41
(1)

| | |
| --- | --- |
| | Providing Family Services through Full-Service Schools |

42
(1)

| | |
| --- | --- |
| | How Can Schools Reduce Risks That Threaten Children's Health and Safety? |

43
(17)

| | |
| --- | --- |
| | Teachers and the Law: What rights and responsibilities do teachers have in protecting students' online privacy? |

44
(1)

| | |
| --- | --- |
| | Preventing and Curing Childhood Obesity |

45
(1)

| | |
| --- | --- |
| | Preventing Child Abuse and Neglect |

46
(1)

| | |
| --- | --- |
| | Preventing and Responding to Teen Pregnancy |

47
(1)

| | |
| --- | --- |
| | Technology in Practice: Stopping Online Predators |

48
(1)

| | |
| --- | --- |
| | Issues in School Reform: No Name-Calling |

49
(1)

| | |
| --- | --- |
| | Preventing the Spread of AIDS and Other Communicable Diseases |

49
(3)

| | |
| --- | --- |
| | Preventing Suicide and Accidental Injury or Death |

52
(1)

| | |
| --- | --- |
| | Preventing School Violence |

53
(2)

| | |
| --- | --- |
| | Preventing Substance Abuse |

55
(1)
56
(1)
57
(1)
58
(1)

| | |
| --- | --- |
| | Reflective Activity: The Achievement Gap |

58
(1)
59
(1)
59
(1)

| | |
| --- | --- |
| | The Richness of Classroom Cultures |

60
(31)

| | |
| --- | --- |
| | Case Study: Are Some Curricula Discriminatory? |

60
(2)
62
(2)
62
(1)
63
(1)

| | |
| --- | --- |
| | What Other Concepts Define Diversity? |

64
(7)

| | |
| --- | --- |
| | From the Perspective of Immigrants |

64
(2)

| | |
| --- | --- |
| | From the Perspective of Being a Language Minority or Bilingual Person |

66
(1)

| | |
| --- | --- |
| | Voices Pro and Con: Bias in the African American Community |

66
(1)

| | |
| --- | --- |
| | From the Perspective of Gender |

67
(1)

| | |
| --- | --- |
| | Cultural Awareness: Lessons Learned |

68
(1)

| | |
| --- | --- |
| | From the Perspective of Exceptionality |

69
(1)

| | |
| --- | --- |
| | From the Perspective of Sexual Orientation |

70
(1)

| | |
| --- | --- |
| | What Is Multicultural Education? |

71
(3)

| | |
| --- | --- |
| | Teaching the Culturally Different |

72
(1)

| | |
| --- | --- |
| | Human Relations Approaches |

73
(1)
73
(1)
73
(1)

| | |
| --- | --- |
| | Education That Is Multicultural and Social Reconstructionist |

74
(1)

| | |
| --- | --- |
| | What Types of Multicultural Education Curricula Exist, and How Are They Evaluated? |

74
(3)
75
(2)

| | |
| --- | --- |
| | How Are Educational Services Adapted for Students with Exceptionalities? |

77
(6)

| | |
| --- | --- |
| | Technology in Practice: Countering Prejudice |

78
(1)

| | |
| --- | --- |
| | Delivering Services to Students with Disabilities |

78
(2)

| | |
| --- | --- |
| | Issues in School Reform: Serving Children with Special Needs through Inclusion |

80
(1)

| | |
| --- | --- |
| | Delivering Services to Gifted and Talented Students |

81
(2)

| | |
| --- | --- |
| | How Can Teachers Create Culturally Relevant Classrooms? |

83
(5)
83
(1)
83
(1)
84
(2)
86
(1)
86
(1)

| | |
| --- | --- |
| | Reflective Activity: One Immigrant's Success Story |

86
(1)
87
(1)
87
(1)

| | |
| --- | --- |
| | Developing a Professional Portfolio: Digital Portfolios |

88
(1)

| | |
| --- | --- |
| | Timeline: Historical and Philosophical Touchstones in Education |

88
(1)

| | |
| --- | --- |
| | Online Activity: The Learning Network |

89
(2)

| | |
| --- | --- |
| | Part II. Our Educational Heritage |

91
(94)

| | |
| --- | --- |
| | Education in America: The Early Years |

92
(32)

| | |
| --- | --- |
| | Case Study: The Long Shadow of History |

92
(2)

| | |
| --- | --- |
| | Which Europeans Influenced Early Education? |

94
(2)

| | |
| --- | --- |
| | Comenius: Value of Structure |

94
(1)

| | |
| --- | --- |
| | Locke and Rousseau: Enlightened Views |

94
(1)

| | |
| --- | --- |
| | Pestalozzi: Encouraging Development |

95
(1)
95
(1)

| | |
| --- | --- |
| | How Did Informal Education Develop before the Civil War? |

96
(6)

| | |
| --- | --- |
| | Education in the Southern Colonies |

97
(1)

| | |
| --- | --- |
| | Voices Pro and Con: The Role of Competition in Learning |

98
(1)

| | |
| --- | --- |
| | Education in the Middle Atlantic Colonies |

99
(1)

| | |
| --- | --- |
| | Education in the New England Colonies |

99
(1)

| | |
| --- | --- |
| | A National View of Education |

100
(2)

| | |
| --- | --- |
| | What Were the Aims of Education? |

102
(7)
102
(1)

| | |
| --- | --- |
| | Industry Affects Education |

103
(1)

| | |
| --- | --- |
| | Teachers and the Law: How free are teachers to practice their religion? |

104
(1)
104
(1)

| | |
| --- | --- |
| | Education for Native Americans |

105
(1)

| | |
| --- | --- |
| | Education in Spain's American Colonies |

106
(2)
108
(1)

| | |
| --- | --- |
| | Education for People with Disabilities |

109
(1)

| | |
| --- | --- |
| | How Did Formal Education Develop in America before the Civil War? |

109
(15)
109
(2)
111
(1)

| | |
| --- | --- |
| | Issues in School Reform: Children's Books Have Staying Power |

112
(1)

| | |
| --- | --- |
| | Recognizing Educational Success and Failure |

112
(1)

| | |
| --- | --- |
| | The Monitorial Method and the American Lyceum |

113
(1)

| | |
| --- | --- |
| | The Latin School and the English Academy: No Girls Allowed |

113
(1)

| | |
| --- | --- |
| | Early Ideas of Public Education |

114
(1)

| | |
| --- | --- |
| | Leaders in the Movement for Universal Education |

115
(1)

| | |
| --- | --- |
| | Technology in Practice: Turn on, Tune In--Leap for Joy! |

116
(1)

| | |
| --- | --- |
| | The Development of Parochial Schools |

116
(1)

| | |
| --- | --- |
| | The Growth of Institutions of Higher Education |

117
(2)
119
(2)
121
(1)
121
(1)

| | |
| --- | --- |
| | Reflective Activity: Eliza Pinckney |

121
(1)
122
(1)
123
(1)

| | |
| --- | --- |
| | Education in America: Then and Now |

124
(34)

| | |
| --- | --- |
| | Case Study: Where Do I Fit? |

124
(2)

| | |
| --- | --- |
| | How Did Educational Life Change after the Civil War? |

126
(6)

| | |
| --- | --- |
| | Ending Slavery and Reconstructing the South |

126
(1)

| | |
| --- | --- |
| | We Need Educational and Social Reform |

127
(1)

| | |
| --- | --- |
| | Science and Philanthropy Combine to Educate |

128
(1)
129
(1)

| | |
| --- | --- |
| | Federal Influence on Education |

129
(2)

| | |
| --- | --- |
| | Teachers and the Law: Has NCLB changed the rules on prayer in public schools? |

131
(1)

| | |
| --- | --- |
| | Who Are ``We the People''? |

132
(11)
132
(2)
134
(1)

| | |
| --- | --- |
| | Technology in Practice: Accessing History |

135
(1)
135
(2)

| | |
| --- | --- |
| | Cultural Awareness: Lessons Learned |

137
(1)
138
(1)

| | |
| --- | --- |
| | Voices Pro and Con: Illegal Immigrants |

139
(1)
140
(1)

| | |
| --- | --- |
| | Exceptional Learners in America |

141
(1)
142
(1)

| | |
| --- | --- |
| | How Did Teaching Change after the Civil War? |

143
(2)

| | |
| --- | --- |
| | Status of Women in Teaching Changes |

143
(1)

| | |
| --- | --- |
| | The Progressive Movement Begins |

144
(1)

| | |
| --- | --- |
| | Trying to Educate the Nation |

144
(1)

| | |
| --- | --- |
| | How Have Schools Changed During the Modern Era? |

145
(4)

| | |
| --- | --- |
| | Consolidation and Bureaucratization |

145
(1)

| | |
| --- | --- |
| | New Links between Schools and Communities |

145
(1)
146
(1)

| | |
| --- | --- |
| | The Middle School Movement |

146
(1)

| | |
| --- | --- |
| | Comprehensive High Schools |

146
(1)
147
(1)
148
(1)

| | |
| --- | --- |
| | Opportunities for Higher Education |

148
(1)

| | |
| --- | --- |
| | Why Was Curriculum So Important? |

149
(3)
150
(1)
150
(1)

| | |
| --- | --- |
| | Censorship and Core Curricula |

151
(1)
151
(1)

| | |
| --- | --- |
| | How Do We Typically Judge Educational Success and Failure? |

152
(6)
153
(1)
154
(1)
154
(1)

| | |
| --- | --- |
| | Reflective Activity: Cycles of Education |

155
(1)
156
(1)
157
(1)

| | |
| --- | --- |
| | Why Teachers Behave As They Do |

158
(27)

| | |
| --- | --- |
| | Case Study: Developing Civic Attitudes |

158
(2)

| | |
| --- | --- |
| | What Does Philosophy Have to Do with You As a Teacher? |

160
(1)

| | |
| --- | --- |
| | Philosophy Influences Education |

160
(1)

| | |
| --- | --- |
| | Voices Pro and Con: The Core Philosophies of Public Schools |

161
(1)

| | |
| --- | --- |
| | What Are the Roots of American Educational Philosophies? |

161
(4)
162
(1)
163
(1)
164
(1)

| | |
| --- | --- |
| | What Modern Philosophies Influence Western Education? |

165
(8)
165
(2)
167
(1)

| | |
| --- | --- |
| | Behaviorism and Cognitivism |

168
(1)
169
(1)

| | |
| --- | --- |
| | Technology in Practice: Pragmatism at Work |

170
(1)

| | |
| --- | --- |
| | Perennialism and Essentialism |

171
(1)
172
(1)

| | |
| --- | --- |
| | What Non-Western Philosophies Influence American Education? |

173
(4)
174
(1)
174
(1)
175
(1)

| | |
| --- | --- |
| | African and Native American Philosophies |

176
(1)

| | |
| --- | --- |
| | Cultural Awareness: Lessons Learned |

176
(1)

| | |
| --- | --- |
| | What Shapes Teachers' Personal Philosophies of Education? |

177
(5)

| | |
| --- | --- |
| | Learning from Teaching: Reflection |

177
(1)
178
(1)
179
(1)
179
(1)

| | |
| --- | --- |
| | Reflective Activity: Philosophical Differences |

179
(1)
180
(1)
181
(1)

| | |
| --- | --- |
| | Developing a Professional Portfolio: Your Own Philosophy of Teaching |

182
(1)

| | |
| --- | --- |
| | Timeline: Professional Teaching in a Diverse Society |

182
(1)

| | |
| --- | --- |
| | Online Activity: Exploring the Library of Congress |

183
(2)

| | |
| --- | --- |
| | Part III. Education from the Outside In |

185
(102)

| | |
| --- | --- |
| | Where Teachers Work: Schools |

186
(30)

| | |
| --- | --- |
| | Case Study: A Rose by Any Other Name |

186
(2)

| | |
| --- | --- |
| | How Is Public Schooling Organized in the United States? |

188
(8)
188
(1)
189
(1)

| | |
| --- | --- |
| | Early Childhood Education |

190
(1)
191
(1)
192
(1)

| | |
| --- | --- |
| | Junior High Schools and Middle Schools |

192
(1)

| | |
| --- | --- |
| | Cultural Awareness: Lessons Learned |

193
(1)
194
(1)
194
(1)

| | |
| --- | --- |
| | Issues in School Reform: School Consolidation |

195
(1)

| | |
| --- | --- |
| | What Are Some Schooling Alternatives? |

196
(6)
196
(1)

| | |
| --- | --- |
| | Vocational-Technical Schools |

197
(1)

| | |
| --- | --- |
| | Montessori and Waldorf Schools |

197
(1)

| | |
| --- | --- |
| | Private and Independent Schools |

198
(1)

| | |
| --- | --- |
| | Teachers and the Law: Does a public school have to accept a student's credit for a private school course? |

199
(1)
200
(1)
200
(1)
200
(2)
202
(1)

| | |
| --- | --- |
| | How Are Schools Administered? |

202
(2)

| | |
| --- | --- |
| | The School Superintendent |

203
(1)

| | |
| --- | --- |
| | Principals and Assistant Principals |

204
(1)

| | |
| --- | --- |
| | What Organizational and Policy Issues Do Schools Face? |

204
(4)
205
(1)

| | |
| --- | --- |
| | Class Schedule and Class Size |

205
(2)

| | |
| --- | --- |
| | Technology in Practice: Recognizing and Promoting School Quality |

207
(1)
207
(1)

| | |
| --- | --- |
| | What Makes Some Schools More Effective Than Others? |

208
(8)

| | |
| --- | --- |
| | Positive School Environments |

209
(1)

| | |
| --- | --- |
| | Relations between Home and School |

209
(2)
211
(2)
213
(1)
213
(1)

| | |
| --- | --- |
| | Reflective Activity: A New Paradigm for School Goals |

213
(1)
214
(1)
215
(1)

| | |
| --- | --- |
| | Leading, Governing, and Funding Schools |

216
(34)

| | |
| --- | --- |
| | Case Study: Scopes Revisited |

216
(2)

| | |
| --- | --- |
| | What Are School Governance and Education Finance? |

218
(7)
218
(1)
218
(1)

| | |
| --- | --- |
| | Connections between Education and the Economy |

219
(1)

| | |
| --- | --- |
| | Political Influences on Public Education |

220
(1)

| | |
| --- | --- |
| | Issues in School Reform: Leadership in an Age of Reform |

221
(4)

| | |
| --- | --- |
| | How Does the Federal Government Influence Education? |

225
(2)

| | |
| --- | --- |
| | Federal Funding for Education |

225
(2)

| | |
| --- | --- |
| | How Is Education Financed and Controlled by the States? |

227
(7)
228
(2)

| | |
| --- | --- |
| | State Education Oversight |

230
(3)

| | |
| --- | --- |
| | Cooperation among School Districts |

233
(1)

| | |
| --- | --- |
| | How Are Schools Financed and Managed at the Local Level? |

234
(5)
234
(1)
235
(1)
235
(1)

| | |
| --- | --- |
| | Technology in Practice: How Do Schools' Expenditures and Revenues Compare? |

236
(3)

| | |
| --- | --- |
| | How Are Governance and Funding Related to Educational Success? |

239
(11)

| | |
| --- | --- |
| | The Issue of Funding Equity |

240
(2)

| | |
| --- | --- |
| | The Issue of School Choice |

242
(1)

| | |
| --- | --- |
| | Voices Pro and Con: Public Support for Private Schools? |

243
(1)

| | |
| --- | --- |
| | The Issue of Site-Based Management |

244
(1)
245
(2)
247
(1)
247
(1)

| | |
| --- | --- |
| | Reflective Activity: School Board Membership |

247
(1)
248
(1)
249
(1)
250
(37)

| | |
| --- | --- |
| | Case Study: To Catch a Thief |

250
(2)

| | |
| --- | --- |
| | How Does Government Influence Education? |

252
(1)

| | |
| --- | --- |
| | What Legal Principles Affect Public Education? |

253
(3)

| | |
| --- | --- |
| | What Are Parents' Rights and Responsibilities? |

256
(3)

| | |
| --- | --- |
| | A Question of Religious Principle |

256
(1)

| | |
| --- | --- |
| | You Can't Spank My Child! |

257
(1)

| | |
| --- | --- |
| | Do Some Parents Have Special Rights? |

258
(1)

| | |
| --- | --- |
| | What Are Students' Rights and Responsibilities? |

259
(3)
259
(2)
261
(1)

| | |
| --- | --- |
| | Voices Pro and Con: Zero Tolerance |

262
(5)
263
(1)

| | |
| --- | --- |
| | Are There Limits on Student Expression? |

264
(1)

| | |
| --- | --- |
| | Treating Different Students Differently---Illegal Discrimination? |

265
(1)

| | |
| --- | --- |
| | Would You Check These Papers for Me? |

266
(1)

| | |
| --- | --- |
| | What Are Teachers' Rights and Responsibilities? |

267
(7)

| | |
| --- | --- |
| | There's Got to Be a Way to Keep This Job! |

267
(1)

| | |
| --- | --- |
| | A Line between Personhood and Professionalism |

268
(1)

| | |
| --- | --- |
| | What Do You Mean I'm Violating Copyright Laws? |

269
(1)

| | |
| --- | --- |
| | Maybe She Is Just a Sickly Child |

270
(1)

| | |
| --- | --- |
| | You Should Have Known Better |

271
(3)

| | |
| --- | --- |
| | Technology in Practice: Online Training for Recognizing Child Neglect and Abuse |

274
(1)

| | |
| --- | --- |
| | What Are School Districts' Rights and Responsibilities? |

274
(10)

| | |
| --- | --- |
| | Balancing Academic Freedom |

274
(1)
275
(1)

| | |
| --- | --- |
| | How Could You Let This Happen to a Student? |

276
(1)
277
(1)

| | |
| --- | --- |
| | What Kind of Choice Is This? |

278
(1)
279
(1)
280
(1)
280
(1)

| | |
| --- | --- |
| | Reflective Activity: Sexual Harassment |

280
(2)
282
(1)
283
(1)

| | |
| --- | --- |
| | Developing a Professional Portfolio: Planning Your Professional Development |

284
(1)

| | |
| --- | --- |
| | Timeline: Important Events in Educational Governance, Finance, and Law |

284
(1)

| | |
| --- | --- |
| | Online Activity: Oyez Project |

285
(2)

| | |
| --- | --- |
| | Part IV. Helping Students Succeed |

287
(66)

| | |
| --- | --- |
| | Curriculum and Instruction |

288
(36)

| | |
| --- | --- |
| | Case Study: Reaching Every Student |

288
(2)
290
(3)

| | |
| --- | --- |
| | Explicit and Implicit Curricula |

290
(1)
291
(1)
292
(1)
292
(1)

| | |
| --- | --- |
| | What Forces for Change Affect Curriculum Content? |

293
(8)

| | |
| --- | --- |
| | Voices Pro and Con: To Standardize or Not to Standardize the Curriculum? |

294
(1)
294
(1)

| | |
| --- | --- |
| | Teachers and the Law: Can students be required to recite the Pledge of Allegiance? |

295
(1)

| | |
| --- | --- |
| | State and Local Priorities |

295
(1)

| | |
| --- | --- |
| | Social Issues and Public Opinion |

296
(1)

| | |
| --- | --- |
| | Professional Groups and Individuals |

296
(3)

| | |
| --- | --- |
| | Educational Publishing and Mass Media |

299
(2)

| | |
| --- | --- |
| | How Are Curriculum and Instruction Planned and Organized? |

301
(3)
301
(1)

| | |
| --- | --- |
| | Teacher Planning for Instruction |

301
(3)

| | |
| --- | --- |
| | What Are Four General Models of Instruction? |

304
(7)

| | |
| --- | --- |
| | Issues in School Reform: Improving Achievement |

305
(1)

| | |
| --- | --- |
| | Behavioral Systems Strategies |

305
(1)
306
(2)

| | |
| --- | --- |
| | Information-Processing Strategies |

308
(1)

| | |
| --- | --- |
| | Personal Sources Strategies |

309
(1)

| | |
| --- | --- |
| | Technology in Practice: Technologies Old and New Make for Creative Curriculum |

310
(1)

| | |
| --- | --- |
| | What Is Effective Instruction? |

311
(5)
312
(1)
313
(1)

| | |
| --- | --- |
| | Creative Learning Environments |

313
(1)

| | |
| --- | --- |
| | Adapting Instruction for Students with Special Needs |

314
(1)

| | |
| --- | --- |
| | Cultural Awareness: Lessons Learned |

315
(1)

| | |
| --- | --- |
| | Evaluating Student Learning |

315
(1)

| | |
| --- | --- |
| | How Do Teachers Manage Students Effectively? |

316
(8)

| | |
| --- | --- |
| | Research Informs Teacher Management Behavior |

316
(1)

| | |
| --- | --- |
| | Relationships between Teachers and Students |

317
(1)

| | |
| --- | --- |
| | Classroom Management: An Environment of Self-Control |

318
(1)
319
(1)
320
(1)
320
(1)

| | |
| --- | --- |
| | Reflective Activity: Making Real-Life Connections |

320
(1)
321
(1)
322
(2)

| | |
| --- | --- |
| | Recognizing Educational Success: Standards and Assessment |

324
(29)

| | |
| --- | --- |
| | Case Study: Dodging Academic Disaster |

324
(2)

| | |
| --- | --- |
| | How Do We Know What Works in Education? |

326
(6)
326
(2)

| | |
| --- | --- |
| | National Goals and Standards |

328
(1)
328
(1)
329
(1)

| | |
| --- | --- |
| | Issues in School Reform: Measuring Progress under NCLB |

330
(1)
331
(1)

| | |
| --- | --- |
| | What Types of Classroom Assessments Do Teachers Use? |

332
(12)

| | |
| --- | --- |
| | Classroom Assessment Triad |

333
(1)
333
(1)
334
(2)

| | |
| --- | --- |
| | Cultural Awareness: Lessons Learned |

336
(1)

| | |
| --- | --- |
| | Minimum Competency Testing |

336
(1)
337
(1)
338
(1)

| | |
| --- | --- |
| | Voices Pro and Con: Grading |

339
(2)

| | |
| --- | --- |
| | Grading and Recommendations |

341
(1)
342
(1)

| | |
| --- | --- |
| | Technology in Practice: Rubrics |

343
(1)

| | |
| --- | --- |
| | How Can Teachers Know Whether They Are Assessing Students Fairly? |

344
(6)
344
(1)
344
(1)
345
(1)
346
(1)
347
(1)
347
(1)

| | |
| --- | --- |
| | Reflective Activity: Arithmetic Test |

348
(1)
349
(1)
349
(1)

| | |
| --- | --- |
| | Developing a Professional Portfolio: Assessing Students through Observation |

350
(1)

| | |
| --- | --- |
| | Timeline: Milestones in Curriculum, Instruction, and Assessment |

350
(1)

| | |
| --- | --- |
| | Online Activity: Teaching with Census Information |

351
(2)

| | |
| --- | --- |
| | Part V. A Connected Future |

353
(70)

| | |
| --- | --- |
| | A Global Educational Context |

354
(34)

| | |
| --- | --- |
| | Case Study: The USA as International Magnet |

354
(2)

| | |
| --- | --- |
| | Why Learn about Educational Life Outside the United States? |

356
(4)
356
(1)

| | |
| --- | --- |
| | Voices Pro and Con: Are There Global Limits to Our Tolerance? |

357
(1)
358
(2)

| | |
| --- | --- |
| | Why Study Educational Policy in Other Countries? |

360
(17)
361
(1)
362
(1)

| | |
| --- | --- |
| | Technology in Practice: Let the Machine Do the Translation? |

363
(2)
365
(3)
368
(2)

| | |
| --- | --- |
| | Education in the United Kingdom |

370
(3)
373
(2)

| | |
| --- | --- |
| | Education in South Africa |

375
(2)

| | |
| --- | --- |
| | How Might We Enhance Understanding of Global Interdependence? |

377
(11)

| | |
| --- | --- |
| | Trends in International Mathematics and Science Study |

377
(1)

| | |
| --- | --- |
| | Issues in School Reform: Will Jordan Lead the Way in Educational Reform in the Middle East? |

378
(1)

| | |
| --- | --- |
| | International Comparisons: Smoke and Mirrors? |

379
(1)

| | |
| --- | --- |
| | Comparisons that Foster a Global View |

380
(3)
383
(2)
385
(1)
385
(1)

| | |
| --- | --- |
| | Reflective Activity: Project Cuba |

385
(1)
386
(1)
387
(1)
388
(35)

| | |
| --- | --- |
| | Case Study: Looking to the Future |

388
(2)

| | |
| --- | --- |
| | How Are Teachers' Professional Roles Changing? |

390
(7)

| | |
| --- | --- |
| | Trends toward Common Educational Expectations |

390
(1)

| | |
| --- | --- |
| | Cultural Awareness: Lessons Learned |

391
(1)

| | |
| --- | --- |
| | Trends toward Comprehensive Curriculum and Assessment |

392
(2)

| | |
| --- | --- |
| | Trends toward Education for Diversity |

394
(1)

| | |
| --- | --- |
| | Trends toward Defining Diversity in Economic Terms |

395
(1)

| | |
| --- | --- |
| | Trends toward Character Education |

395
(2)

| | |
| --- | --- |
| | How Are Links to Technology Changing the Foundations of Education? |

397
(8)
400
(1)

| | |
| --- | --- |
| | Telecommunications Capabilities in the Schools |

401
(1)

| | |
| --- | --- |
| | Technology in Practice: Blogging, Vloging, and Podcasting |

402
(3)

| | |
| --- | --- |
| | How Are Small Schools Transforming Teaching and Learning? |

405
(1)

| | |
| --- | --- |
| | Targeting Students at Risk |

406
(5)

| | |
| --- | --- |
| | Increasing Parental Involvement |

409
(1)

| | |
| --- | --- |
| | Enhancing Relationships among Educators |

409
(2)

| | |
| --- | --- |
| | How Can Professional Educators Prepare for the Future? |

411
(9)

| | |
| --- | --- |
| | Using Professional Knowledge |

411
(4)

| | |
| --- | --- |
| | Reflecting on Professional Practice |

415
(2)
417
(1)
418
(1)
418
(1)

| | |
| --- | --- |
| | Reflective Activity: Turning Classrooms Over to Interns |

418
(1)
419
(1)
419
(1)

| | |
| --- | --- |
| | Developing a Professional Portfolio: Preparing Your Resume |

420
(1)

| | |
| --- | --- |
| | Timeline: From the Past Comes the Future |

420
(2)

| | |
| --- | --- |
| | Online Activity: Teaching Overseas |

422
(1)
Glossary
423
(8)
References
431
(12)
Name Index
443
(6)
Subject Index
449