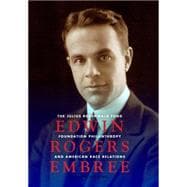 Edwin Rogers Embree : The Julius Rosenwald Fund, Foundation Philanthropy, and American Race Relations
by
Perkins, Alfred
List Price: $39.95

More New and Used
from Private Sellers
Summary
One of the most influential philanthropists of the early 20th century Edwin Rogers Embree was the scion of generations of abolitionists and integrationists. He ably served the Rockefeller Foundation and when Julius Rosenwald created a foundation for his philanthropic activity, he called on Embree to be its head. The Rosenwald Fund is best known for constructing more than 5,300 schools for rural black communities in the South. In the 1940s Embree became more personally engaged with race relations in the U.S. He chaired Chicago's Commission on Race Relations, helped create Roosevelt College, and was co-founder of the American Council on Race Relations. Late in life, Embree was president of the Liberian Foundation, devoted to improving health and education in Africa's oldest republic.
Author Biography
David C. Hammack, author of Making the Nonprofit Sector in the United States.
Table of Contents
Preface
p. ix
Frontier Outposts, Singular Village, Prestigious University
p. 1
Learning Philanthropy: From Apprentice to Master Craftsman
p. 29
Someone to Keep Julius Rosenwald Straight
p. 63
Southern Initiatives, Asset Collapse, Transformation
p. 95
Character to Cope with Disagreement
p. 133
Toward ˘Full Democracy÷
p. 182
On the National Stage
p. 213
Celebrations, Proclamations, Tributes
p. 249
Notes
p. 281
Bibliography
p. 335
Index
p. 345
Table of Contents provided by Ingram. All Rights Reserved.