Note: Supplemental materials are not guaranteed with Rental or Used book purchases.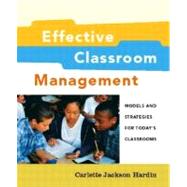 Effective Classroom Management: Models and Strategies for Today's Classrooms
ISBN13:
9780130968098
by
Hardin, Carlette J.
Related Products
Summary
This practical book examines models of classroom management by discipline, system, and instruction. Written in an easy-to-read, clearly understandable style, it reviews the latest research on classroom management, addresses the current INTASC standards (nationally-recognized benchmarks for effective teaching), and offers readers a solid foundation for selecting one of the models presented to suit their own style and need. Case studies and scenarios place the reader into real classrooms with real learners, giving them a "snapshot" of these models in action. Coverage includes: classroom management as discipline (behavioral approaches, assertive discipline, positive discipline, and cooperative discipline); classroom management as system (reality therapy and choice therapy, discipline with dignity, building community, and classroom organization); classroom management as instruction (inner discipline, skillstreaming, conflict resolution and peer mediation, and judicious discipline); and developing a personal system (classroom management in a diverse society, and creating a personal system). An excellent resource for teachers of children of all ages and from all backgrounds; its comprehensive glossary and its coverage of INTASC standards makes this an invaluable reference tool.
Table of Contents
Changing Views of Classroom Management
Classroom Management as Discipline
Behavioral Approaches to Classroom Management
Lee and Marlene Canter-Assertive Discipline
Frederic Jones-Positive Discipline
Rudolf Dreikurs and Linda Albert-Cooperative Discipline
Classroom Management as a System
William Glasser-Reality Therapy and Choice Therapy
Curwin and Mendler-Discipline with Dignity
Ginott and Kohn-Building Community
Carolyn Evertson-Classroom Organization and Management Program
Classroom Management as Instruction
Barbara Coloroso-Inner Discipline
Goldstein and McGinnis-Skillstreaming
Bodine, Crawford-Conflict Resolution and Peer Mediation
Forrest Gathercoal-Judicious Discipline
Classroom Management in a Diverse Society
Creating Your Own System
Index
Table of Contents provided by Publisher. All Rights Reserved.
Excerpts
A friend, who knew I was writing this text, recently shared a textbook used by her aunt when she was training to be a teacher in the 1930s. The text,Classroom Organization and Controlby Jesse Sears, was published in 1928 and left little doubt about the role of the teacher, with chapters devoted to order, discipline, and punishments. The text was a reminder of how much classroom management has changed in the last 70 years. The text from the 1930s is a far cry from many current classroom-management texts that focus less on teacher-centered control and punishment and more on building communities and creating safe learning environments. The purpose ofEffective Classroom Management: Models and Strategies for Today's Classroomsis to provide a synthesis of these changing views of classroom management. The text presents 12 models of classroom management that fall into three distinct categories: Classroom Management as Discipline, Classroom Management as a System, and Classroom Management as Instruction. This book is a scholarly review of the research base on classroom management. However, it is written and formatted in a way that is easy for students to read, understand, and apply. INTENDED AUDIENCE Effective Classroom Management: Models and Strategies for Today's Classroomsis especially appropriate as the sole text for an undergraduate or graduate course on classroom management. In addition, it may be used for staff-development programs for inservice teachers. This text provides a foundation for selecting a model to follow or for the development of an individual classroom-management plan. The content is applicable for teachers and preservice teachers at all levels--elementary, middle, and high school. ORGANIZATION Chapter 1 provides the theoretical framework of the text, in which a rationale is given for considering classroom management as discipline, as a system, or as instruction. The chapter presents a brief review of the major research in the field, and ends with a discussion of how individual management plans are developed. Part 1.Classroom Management as Discipline presents four models of classroom management. Chapter 2 presents basic behavioral concepts, including a review of B. F. Skinner's theory of operant conditioning. Lee and Marlene Canter's model, Assertive Discipline, is presented in Chapter 3. Chapter 4 provides a different approach to using behavioral theory in Fredric Jones's model, Positive Classroom Discipline. Chapter 5 presents the work of two theorists, Rudolf Dreikurs and Linda Albert. Part II.Classroom Management as a System highlights four models that are systematic in approach. The changing theories of William Glasser are the focus of Chapter 6. Chapter 7 presents Richard Curwin and Allen Mendler's model, Discipline with Dignity. Chapter 8 focuses on building communities and discusses the theories of Haim Ginott and Alfie Kohn. The research of Carolyn Evertson is the foundation of her model, Classroom Organization and Management Program (COMP), which is presented in Chapter 9. Part III.Classroom Management as Instruction provides four models that have the teaching of prosocial skills as their central focus. The first model, presented in Chapter 10, is Barbara Coloroso's Inner Discipline. Chapter 11 reviews Ellen McGinnis and Arnold Goldstein's model, Skillstreaming. Several approaches to teaching conflict resolution and peer mediation are presented in Chapter 12. Finally, Forrest Gathercoal's model, Judicious Discipline, is the focus of Chapter 13. Part IV.Developing a Personal System provides information to assist the teacher in designing a personal system of classroom management. Chapter 14 provides information for creating a safe learning environment for all students and explores issues related to multicultural and socioeconomic factors, physical and mental disabilities, and at-risk behavi