Note: Supplemental materials are not guaranteed with Rental or Used book purchases.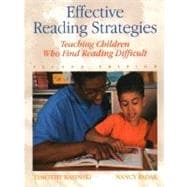 Questions About This Book?
What version or edition is this?
This is the edition with a publication date of 1/1/2000.
What is included with this book?
The New copy of this book will include any supplemental materials advertised. Please check the title of the book to determine if it should include any CDs, lab manuals, study guides, etc.
Related Products
Summary
This text is appropriate for undergraduate and graduate Reading Diagnosis and Remediation courses, courses in meeting individual needs in reading, or as a supplement in clinical courses.This practical text clearly defines the reading and writing process and demonstrates how to assist students with reading difficulties. It offers an easy-to-read format that includes an extensive and rich digest of instructional strategies that have been proven effective in helping children who experience difficulty in learning to read. Strategies and stories in teachers' voices help make this book useful and inviting.
Table of Contents
| | |
| --- | --- |
| | New Perspectives on Helping Students Become Literate |

2
(16)

| | |
| --- | --- |
| | Authentic and Engaged Reading Classrooms |

5
(2)

| | |
| --- | --- |
| | Corrective Reading in an Authentic and Engaged Context |

7
(2)

| | |
| --- | --- |
| | Principles of Authentic and Engaged Corrective Instruction |

9
(4)

| | |
| --- | --- |
| | Use Authentic and Whole Texts |

9
(1)

| | |
| --- | --- |
| | Focus on Students' Motivation and Interest in Reading |

10
(1)

| | |
| --- | --- |
| | Maximize the Amount of Reading of Connected Text |

10
(1)

| | |
| --- | --- |
| | Provide for High Levels of Engagement |

11
(1)
11
(1)

| | |
| --- | --- |
| | Let Students Lead the Way |

11
(1)
11
(1)

| | |
| --- | --- |
| | Provide Support When Needed |

12
(1)
12
(1)

| | |
| --- | --- |
| | Everybody's a Teacher, Everybody's a Learner |

12
(1)
13
(1)

| | |
| --- | --- |
| | A New Direction for Teaching Struggling Readers |

13
(3)

| | |
| --- | --- |
| | The Instructional Framework |

16
(18)
18
(4)

| | |
| --- | --- |
| | Students' Conceptual Needs and Beliefs |

18
(2)

| | |
| --- | --- |
| | Students' Instructional Needs and Beliefs |

20
(2)

| | |
| --- | --- |
| | Developing Communities of Learners |

22
(2)

| | |
| --- | --- |
| | How Much Time on What Kind of Task? |

24
(1)

| | |
| --- | --- |
| | Establishing Instructional Routines |

25
(4)
25
(1)
26
(1)
27
(1)
28
(1)

| | |
| --- | --- |
| | Creating a Literate Environment |

29
(1)
29
(1)
30
(1)
30
(4)

| | |
| --- | --- |
| | Developing Positive Attitudes about Reading |

34
(20)

| | |
| --- | --- |
| | Motivation to Read: A View from Children |

36
(1)
37
(1)

| | |
| --- | --- |
| | Finding Out about Attitudes and Interests |

38
(4)

| | |
| --- | --- |
| | Learning to Expect Success |

42
(5)
42
(1)

| | |
| --- | --- |
| | Conditions of Language Learning |

43
(3)

| | |
| --- | --- |
| | A Success-Based Classroom |

46
(1)

| | |
| --- | --- |
| | Learning to Value Reading |

47
(4)

| | |
| --- | --- |
| | How Do We Decide about the Value of Reading? |

47
(2)
49
(1)
50
(1)

| | |
| --- | --- |
| | Learning to Value Reading |

51
(3)
54
(22)

| | |
| --- | --- |
| | Components of Exemplary Early Reading Instruction |

55
(4)
55
(1)
56
(1)

| | |
| --- | --- |
| | Predictable and Enlarged Texts |

57
(1)
57
(1)

| | |
| --- | --- |
| | Daily Independent Reading |

58
(1)
58
(1)
59
(1)

| | |
| --- | --- |
| | Phonemic Awareness: A Necessity for Reading |

59
(9)

| | |
| --- | --- |
| | How Students Develop Phonemic Awareness |

60
(1)

| | |
| --- | --- |
| | Assessing Phonemic Awareness |

61
(2)

| | |
| --- | --- |
| | Teaching and Nurturing Phonemic Awareness Through Text Play and Writing |

63
(2)

| | |
| --- | --- |
| | Teaching and Nurturing Phonemic Awareness Through More Focused Activities |

65
(3)

| | |
| --- | --- |
| | Creating Powerful Instructional Routines |

68
(8)
76
(26)

| | |
| --- | --- |
| | Old and New Ways of Word-Recognition Instruction |

80
(20)
81
(2)

| | |
| --- | --- |
| | Language Experience Approach |

83
(1)
84
(1)
85
(1)
86
(1)
87
(1)
88
(2)
90
(1)
91
(2)
93
(2)

| | |
| --- | --- |
| | Dealing with Longer Words |

95
(1)
96
(2)

| | |
| --- | --- |
| | Multimodality Approaches to Word Recognition |

98
(2)

| | |
| --- | --- |
| | Fluency Building and Wide Reading |

100
(1)

| | |
| --- | --- |
| | Making It Work Through Instructional Routines |

100
(2)
102
(24)

| | |
| --- | --- |
| | Assessing Reading Fluency |

104
(2)
106
(1)
107
(1)
108
(4)
112
(1)
113
(2)
115
(1)

| | |
| --- | --- |
| | Marking Phrase Boundaries |

116
(1)
117
(2)

| | |
| --- | --- |
| | Fluency Development Lesson |

119
(2)
121
(1)
121
(1)
122
(1)

| | |
| --- | --- |
| | We Can't Neglect Reading Fluency |

122
(4)
126
(22)

| | |
| --- | --- |
| | Traditional Vocabulary Instruction |

128
(2)

| | |
| --- | --- |
| | Two Dimensions of Vocabulary |

130
(1)

| | |
| --- | --- |
| | Good Ways to Learn New Words |

131
(1)

| | |
| --- | --- |
| | Principles of Effective Vocabulary Instruction |

132
(2)
134
(2)

| | |
| --- | --- |
| | Other Categorization Activities |

136
(2)
138
(1)
139
(1)
140
(1)

| | |
| --- | --- |
| | Word Stories and Histories |

141
(1)
142
(1)
143
(3)
143
(1)
144
(1)
144
(1)
144
(1)
144
(2)

| | |
| --- | --- |
| | Integrating Vocabulary Throughout the Curriculum |

146
(2)

| | |
| --- | --- |
| | Comprehension Development with Literary Text |

148
(22)

| | |
| --- | --- |
| | Supporting Comprehension before Reading |

151
(5)
152
(1)
152
(2)

| | |
| --- | --- |
| | Other Media and Activities |

154
(1)
155
(1)
156
(1)

| | |
| --- | --- |
| | Supporting Comprehension During Reading |

156
(6)

| | |
| --- | --- |
| | Directed Reading-Thinking Activity (DR-TA) |

157
(2)
159
(1)
160
(1)
160
(1)
161
(1)

| | |
| --- | --- |
| | Extending Comprehension After Reading |

162
(5)
162
(1)
163
(1)
163
(1)
164
(1)
164
(1)

| | |
| --- | --- |
| | Compare-and-Contrast Charts |

165
(1)
166
(1)
167
(1)

| | |
| --- | --- |
| | Readers' Workshop and Literature Circles |

167
(2)

| | |
| --- | --- |
| | Instruction to Promote Comprehension |

169
(1)

| | |
| --- | --- |
| | Comprehension Development with Nonfiction Text |

170
(20)
172
(7)
173
(1)
174
(1)
174
(2)
176
(1)

| | |
| --- | --- |
| | Building Background Knowledge |

177
(2)

| | |
| --- | --- |
| | Activities to Support Students During Reading |

179
(4)

| | |
| --- | --- |
| | Directed Reading-Thinking Activity |

180
(2)
182
(1)

| | |
| --- | --- |
| | Save the Last Word for Me |

182
(1)
183
(5)

| | |
| --- | --- |
| | Distinctive-Features Activity |

184
(1)
185
(1)
185
(2)
187
(1)
188
(1)

| | |
| --- | --- |
| | Principles for Effective Comprehension Instruction |

188
(2)
190
(20)

| | |
| --- | --- |
| | Learning About Written Language |

192
(1)

| | |
| --- | --- |
| | Why Should Readers Write? |

193
(1)

| | |
| --- | --- |
| | Discovering What Children Know About Writing |

194
(3)

| | |
| --- | --- |
| | Supporting Writers: General Principles |

197
(4)

| | |
| --- | --- |
| | Classroom Atmosphere: Lots of Writing |

197
(1)
198
(1)

| | |
| --- | --- |
| | Support, Encouragement, and Acceptance |

199
(1)
200
(1)
201
(4)
201
(1)
202
(1)

| | |
| --- | --- |
| | Learning Logs or Content Area Journals |

203
(2)

| | |
| --- | --- |
| | A Closer Look at Spelling |

205
(1)
206
(2)

| | |
| --- | --- |
| | Writing is Meant to Be Read |

208
(2)

| | |
| --- | --- |
| | Putting It All Together: Making Reading Programs That Work |

210
(14)

| | |
| --- | --- |
| | Guidelines for Program Development |

212
(4)
213
(1)

| | |
| --- | --- |
| | Massed and Spaced Practice or Activity |

214
(1)
215
(1)

| | |
| --- | --- |
| | Proficient, Professional Instructors |

215
(1)

| | |
| --- | --- |
| | Effective Instructional Programs |

216
(6)
216
(1)

| | |
| --- | --- |
| | Literacy Lesson Framework |

217
(1)
218
(2)
220
(1)

| | |
| --- | --- |
| | The Curious George Strategy |

221
(1)

| | |
| --- | --- |
| | Fluency Development Lesson |

222
(1)
222
(2)

| | |
| --- | --- |
| | Involving Parents in Children's Reading |

224
(20)

| | |
| --- | --- |
| | Use Proven and Effective Strategies |

226
(1)

| | |
| --- | --- |
| | Provide Training, Communication, and Support |

227
(1)
227
(1)

| | |
| --- | --- |
| | Make Activities Easy and Consistent |

228
(1)
228
(1)

| | |
| --- | --- |
| | Provide Texts and Other Instructional Materials for Parents |

228
(1)

| | |
| --- | --- |
| | Provide Ways to Document Home Activities |

229
(1)

| | |
| --- | --- |
| | Be Consistent Over the Long Term |

229
(1)

| | |
| --- | --- |
| | Successful Parent Involvement Programs |

229
(15)
229
(2)

| | |
| --- | --- |
| | Encouragement and Incentive Programs |

231
(4)
235
(1)
236
(3)
239
(5)

| | |
| --- | --- |
| | Determining Instructional Needs: Observing Readers in Action |

244
(21)

| | |
| --- | --- |
| | The Classroom as Setting, the Reader as Informant |

246
(2)

| | |
| --- | --- |
| | The Value of Portfolio Assessment |

248
(2)

| | |
| --- | --- |
| | The Importance of Observation |

250
(5)
251
(1)

| | |
| --- | --- |
| | Professional Judgment in Making Diagnostic Decisions |

251
(3)

| | |
| --- | --- |
| | Observing Throughout the School Day |

254
(1)

| | |
| --- | --- |
| | Techniques and Strategies |

255
(8)
255
(1)
256
(2)

| | |
| --- | --- |
| | Conversations and Interviews |

258
(2)
260
(3)

| | |
| --- | --- |
| | Observing, Understanding, and Helping Students |

263
(2)
Appendix A Award-Winning Books
265
(14)
Appendix B Poetry and Rhymes for Reading
279
(2)
Appendix C Predictable Pattern Books
281
(4)
Appendix D Series Books
285
(2)
Appendix E Alphabet, Number, and Other Concept Books
287
(4)
Appendix F Common Word Families
291
(2)
Appendix G Maze and Cloze Activities
293
(2)
Appendix H Internet Sites
295
(6)
Appendix I Sources of Information on Word Histories and Word Play
301
(2)
Appendix J Meaningful Prefixes, Suffixes, and Word Parts
303
(4)
Appendix K Magazines for Children
307
(7)
Appendix L Bookmaking Ideas
314
(3)
Appendix M Sample Letter to Parents
317
(2)
Appendix N Professional Resources
319
(2)
References
321
(10)
Author Index
331
(4)
Subject Index
335
(8)
About the Authors
343