Note: Supplemental materials are not guaranteed with Rental or Used book purchases.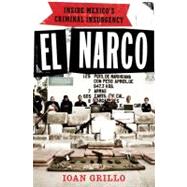 El Narco Inside Mexico's Criminal Insurgency
ISBN13:
9781608192113
by
Grillo, Ioan
Summary
"War" is no exaggeration in discussing the bloodshed that has terrorized Mexico in the past decades. As rival cartels battle for control of a billion-dollar drug trade, the body count--23,000 dead in five years--and sheer horror beggar the imagination of journalistic witnesses. Cartel gunmen have shot up schools and rehabilitation centers, and murdered the entire families of those who defy them. Reformers and law enforcement officials have been gunned down within hours of taking office. Headless corpses are dumped on streets to intimidate rivals, and severed heads are rolled onto dancefloors as messages to would-be opponents. And the war is creeping northward. El Narco is the story of the ultraviolent criminal organizations that have turned huge areas of Mexico into a combat zone. It is a piercing portrait of a drug trade that turns ordinary men into mass murderers, as well as a diagnosis of what drives the cartels and what gives them such power. Veteran Mexico correspondent Ioan Grillo traces the gangs from their origins as smugglers to their present status as criminal empires. The narco cartels are a threat to the Mexican government--and their violence has now reached as far as North Carolina. El Narcois required reading for anyone concerned about one of the most important news stories of the decade.
Author Biography
A native of England, Ioan Grillo has covered Mexico since 2001 for top newspapers, magazines and TV stations in the US and UK. He reports for Time Magazine as well as producing presentations for stations including PBS, ABC and Channel 4 of the UK. He regularly appears on radio and TV, commenting on Mexican crime and other issues. He has witnessed police and military operations, mafia killings and major seizures; he's also discussed the drug war with two Mexican presidents, three attorney generals and the U.S. ambassador, among others.
Table of Contents
"Effectively [analyzes how] Mexico came to control drug trafficking, how it spreads, and what can be done about it…This excellent work packs the punch of Roberto Saviano's Gomorrah, an exploration of the Italian Mafia, which also displays the fruits of direct reporting bolstered by intensive interviewing."–Booklist (starred review)
"El Narco is riveting, authoritative reporting from the front lines of the Mexican drug wars. What's happening there has explosive potential consequences for every American, and Ioan Grillo's book shows you why."—Dan Rather, Founder and Anchor, HDNet's Dan Rather Reports.
"It is hard enough to report the facts of Mexico's crazy death spiral of drug violence. Ioan Grillo goes much, much deeper. He explains why El Narco threatens the soul of this beautiful country. He tells us how we got  here."—William Booth, bureau chief for Mexico, Central America, and the Caribbean, Washington Post
"Not since Elaine Shannon's Desperados has a book shown us the lawless horrors of the drug war with the kind of gripping human detail that confronts us in El Narco. Ioan Grillo explores that world as deeply as few journalists have dared, but he also examines it artfully and broadly: he puts the tragedy in a rich historical context that indicts not only Mexican and Latin American politicos but U.S. policymakers as well.—Tim Padgett, Miami and Latin America Bureau Chief, Time
"Mexico's drug trafficking mafias have become too large and dangerous for Americans to ignore. In limpid prose and penetrating analysis Ioan Grillo puts a human face on the violent tragedy caused by U.S. drug demand and Mexican cartel criminality. The author argues that a narco-insurgency threatens the very future of the Mexican state and society. I strongly recommend this timely and troubling book." —Howard Campbell, Professor of Anthropology, University of Texas-El Paso, author of Drug War Zone: Frontline Dispatches from the Streets of El Paso and Juarez
"The monster of violence rampaging in Mexico was a long time coming. Ioan Grillo traces the beast's footprints with meticulous research—including courageous reporting on some of the country's meanest streets—and engaging writing. Remarkable."—Dudley Althaus, Mexico City Bureau Chief, Houston Chronicle
"Ioan Grillo, the most intrepid and knowledgeable foreign journalist covering the drug war in Mexico today, provides us with more than just a glimpse into this sordid underworld and its history—he gives us access to the soul and mind of El Narco, as well as deftly explaining and providing new insight into this hemispheric war on drugs."—
Malcolm Beith, author of The Last Narco: Inside the Hunt for El Chapo, the World's Most Wanted Drug Lord
"Ioan Grillo really gets Mexico's Drug War. His gripping and informative El Narco masterfully intersperses personal accounts from the front lines with fascinating and crucial historical details to help the reader understand why this violence is happening, and how it is impacting people on both sides of the border. El Narco is a must-read for anyone who wants the bottom line on the situation in Mexico."—Sylvia Longmire, Consultant, Drug War analyst, and author of Cartel: The Coming Invasion of Mexico's Drug Wars.
"Accomplished, chilling account of the murderous growth of Mexican drug cartels …Grillo has reported from the region since 2001; his experience is evident in his easy, wry familiarity with the political and social currents of Latin America … A valuable contribution to the literature of the Drug War."—Kirkus
"A propulsive account of the blood-soaked machinery of 'El Narco' … Examining the trade's gunslinging culture, the motivations behind the continual ramping-up of violence, and some potential solutions to the problem, Grillo argues that America's hard-line rhetoric has failed—and that if a game-changing alternative is not implemented, the Mexican state could also fail. Given the savage chaos Grillo shows us in the country's streets and barrios, his arguments are as perceptive as his high-octane reportage."—Publishers Weekly