Note: Supplemental materials are not guaranteed with Rental or Used book purchases.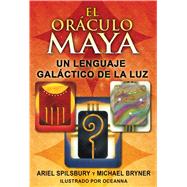 El Oraculo Maya / The Mayan Oracle: Un Lenguaje Galactico de la Luz / A Galactic Language of Light
by
Spilsbury, Ariel
Summary
Conceived in a prophetic dream, The Mayan Oracle contains 44 cards depicting archetypal Mayan symbols and an in-depth guidebook with instructions for harnessing the energies being activated during our current time of awakening.
Author Biography
Ariel Spilsbury's passion is for participating in the conscious evolution of this planet and all its inhabitants. She has devoted her life to sharing the wisdom of the divine feminine around the globe. She is the author of The Alchemy of Ecstasy: Initiates Guide to the Goddess' Mysteries and The 13 Moon Oracle: A Journey Through the Archetypal Faces of the Divine Feminine.
Table of Contents

A todos los que entran aquí

Reconocimientos

Prefacio a la segunda edición: El camino del asombro

Prefacio a la primera edición: "Hemos venido a facilitar el camino"

Primera parte. Acerca del oráculo

Una introducción al lenguaje galáctico de la luz
Cómo utilizar el oráculo
Oraciones y meditación
Recuadros del oráculo maya
Juegos de percepción con glifos estelares

Segunda parte. Interpretaciones del oráculo

Los glifos estelares
Imix
Ik
Akbal
Kan
Chicchan
Cimi
Manik
Lamat
Muluc
Oc
Chuen
Eb
Ben
Ix
Men
Cib
Caban
Etznab
Cauac
Ahau

Los números
Uno: unidad
Dos: polaridad
Tres: ritmo
Cuatro: medida
Cinco: centro
Seis: equilibrio orgánico
Siete: poder místico
Ocho: resonancia armónica
Nueve: ciclos más grandes
Diez: manifestación
Once: disonancia
Doce: estabilidad compleja
Trece: movimiento universal

Las lentes
El lenguaje de la luz
Sombra
Resolución de la dualidad
La gesta del aventurero
Cambio de reino
Holograma
Transformador
Nuevo mito
El soñador y lo soñado
Transparencia
Portal de trascendencia


Tercera parte. El Viajero

Una mirada más profunda a los glifos estelares arquetípicos
Imix
Ik
Akbal
Kan
Chicchan
Cimi
Manik
Lamat
Muluc
Oc
Chuen
Eb
Ben
Ix
Men
Cib
Caban
Etznab
Cauac
Ahau

El oráculo en forma resumida
Los glifos estelares
Los números
Las lentes

Índice de sabiduría de las sombras

Correspondencias psicológicas de los arquetipos mayas

Glosario

Bibliografía

Acerca de los autores

Acerca de la artista