Note: Supplemental materials are not guaranteed with Rental or Used book purchases.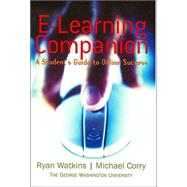 Questions About This Book?
What version or edition is this?
This is the 1st edition with a publication date of 1/13/2004.
What is included with this book?
The New copy of this book will include any supplemental materials advertised. Please check the title of the book to determine if it should include any CDs, lab manuals, study guides, etc.
Summary
This text serves as a resource and quick-reference guide for any course that demands online technology skills. The E-Learning Companion shows students how to adapt previously mastered skills--such as time management, note taking, or critical thinking--to the online environment. Students expand their knowledge of troubleshooting and technical terminology and become more flexible learners. The book provides skills students will use throughout college and as they begin future careers. A spiral-bound format and smaller size make for convenient use in a campus computer lab or at home. Student-to-Student Tips are recommendations based on the experiences of students from around the world who have completed online course assignments and activities. The Glossary features new words and phrases, including essential technical lingo.
Table of Contents
Catalog of Contents
ix
Introduction for Instructors
xiii
Introduction for Students
xv
E-Learning Readiness Self-Assessment
xxi
1
(23)

| | |
| --- | --- |
| | Understanding the Basic Lingo |

2
(5)

| | |
| --- | --- |
| | Checking Technology Requirements |

7
(2)

| | |
| --- | --- |
| | Familiarizing Yourself with Required Hardware |

9
(5)

| | |
| --- | --- |
| | Familiarizing Yourself with Required Software |

14
(10)
21
(1)
21
(1)

| | |
| --- | --- |
| | Chapter One Skills Checklist |

22
(2)

| | |
| --- | --- |
| | Technology Tips for Online Students |

24
(36)

| | |
| --- | --- |
| | Before Online Coursework Begins |

25
(1)

| | |
| --- | --- |
| | Time-Saving Technology Tips |

26
(2)
28
(3)

| | |
| --- | --- |
| | Tips for Managing Your Files |

31
(4)

| | |
| --- | --- |
| | Tips for Using the World Wide Web |

35
(7)

| | |
| --- | --- |
| | Evaluating Online Resources |

42
(6)

| | |
| --- | --- |
| | Tips for Using Your Web Browser |

48
(1)
49
(2)

| | |
| --- | --- |
| | Tips for Using Microsoft Word |

51
(2)
53
(2)

| | |
| --- | --- |
| | Developing a Technology Contingency Plan |

55
(5)
57
(1)
57
(1)

| | |
| --- | --- |
| | Chapter Two Skills Checklist |

58
(2)

| | |
| --- | --- |
| | Selecting the Right Opportunities for Success |

60
(15)

| | |
| --- | --- |
| | Increasing the Odds of Your Success |

61
(1)

| | |
| --- | --- |
| | Be Realistic with Your Time |

62
(3)
65
(1)

| | |
| --- | --- |
| | Balance Your Academic and Work Commitments |

66
(1)

| | |
| --- | --- |
| | Balance Your Academic and Personal Commitments |

67
(1)

| | |
| --- | --- |
| | Get Your Feet Wet: Take an Online Course of Personal Interest |

68
(1)

| | |
| --- | --- |
| | Review Prerequisite Requirements |

69
(1)

| | |
| --- | --- |
| | Verify Your Support Services |

69
(6)
73
(1)
73
(1)

| | |
| --- | --- |
| | Chapter Three Skills Checklist |

74
(1)

| | |
| --- | --- |
| | Create a Plan and Follow It |

75
(24)

| | |
| --- | --- |
| | Planning for Online Success |

76
(3)

| | |
| --- | --- |
| | Setting Realistic Expectations of Online Coursework |

79
(1)

| | |
| --- | --- |
| | Common Misconceptions of Online Coursework |

80
(2)

| | |
| --- | --- |
| | Clarifying Personal Expectations and Setting Goals |

82
(2)

| | |
| --- | --- |
| | Building Comprehension Skills |

84
(2)
86
(1)

| | |
| --- | --- |
| | Creating an Effective Study Environment |

87
(5)

| | |
| --- | --- |
| | Planning with Learning or Physical Disabilities in Mind |

92
(1)

| | |
| --- | --- |
| | Familiarizing Yourself with the Course Design |

93
(1)
94
(1)

| | |
| --- | --- |
| | Creating an Effective Plan |

95
(4)
96
(1)
96
(1)

| | |
| --- | --- |
| | Chapter Four Skills Checklist |

97
(2)

| | |
| --- | --- |
| | Time Management Strategies |

99
(12)
100
(1)

| | |
| --- | --- |
| | Don't Wait for Perfection |

101
(1)
101
(1)

| | |
| --- | --- |
| | Don't Expect Your Instructor to Always Be Online |

102
(1)
103
(1)

| | |
| --- | --- |
| | Use Your Free Time Wisely |

103
(2)
105
(1)
105
(2)

| | |
| --- | --- |
| | Know Your Studying Prime Times |

107
(4)
109
(1)
109
(1)

| | |
| --- | --- |
| | Chapter Five Skills Checklist |

110
(1)

| | |
| --- | --- |
| | Developing Positive Online Relationships |

111
(20)
112
(1)

| | |
| --- | --- |
| | Making a Good First Impression Online |

113
(2)

| | |
| --- | --- |
| | Effective Email Communications |

115
(1)
116
(1)
117
(1)
118
(1)

| | |
| --- | --- |
| | Getting to Know Your Instructor |

119
(1)

| | |
| --- | --- |
| | Creating a Supportive Online Learning Community |

120
(2)

| | |
| --- | --- |
| | Five Strategies for Successful Online Communications |

122
(9)
128
(1)
128
(2)

| | |
| --- | --- |
| | Chapter Six Skills Checklist |

130
(1)

| | |
| --- | --- |
| | Study Tips for Online Students |

131
(40)
133
(4)
137
(4)
141
(5)
146
(2)
148
(4)
152
(2)
154
(3)
157
(3)

| | |
| --- | --- |
| | Online (or Electronic) Portfolios |

160
(2)

| | |
| --- | --- |
| | Turning in Assignments Online |

162
(2)
164
(1)
165
(6)
168
(1)
169
(1)

| | |
| --- | --- |
| | Chapter Seven Skills Checklist |

170
(1)

| | |
| --- | --- |
| | Getting Motivating, Staying Motivated |

171
(10)
172
(1)
173
(1)

| | |
| --- | --- |
| | Keeping Your Goals in Mind |

174
(1)

| | |
| --- | --- |
| | Developing Your Motivational Support System |

174
(1)
175
(1)

| | |
| --- | --- |
| | Communicating with Your Instructor |

176
(1)

| | |
| --- | --- |
| | Being an Active Participant |

176
(1)

| | |
| --- | --- |
| | Rewarding Yourself Throughout the Semester |

177
(1)

| | |
| --- | --- |
| | Developing Healthy Habits |

177
(4)
178
(1)
179
(1)

| | |
| --- | --- |
| | Chapter Eight Skills Checklist |

180
(1)
References and Recommended Readings
181
(1)
Glossary
182
(5)
About the Authors
187
(1)
Acknowledgements
188