Note: Supplemental materials are not guaranteed with Rental or Used book purchases.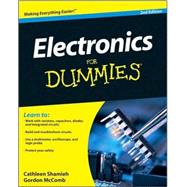 Summary
The second edition has been fully updated to cover the latest advancements in circuitry, transmitters, hardware, robotics, microcontrollers, tools, and amplifiers. A color signature and several new projects are also included.
Author Biography
Cathleen Shamieh is a high-tech writer with extensive engineering and consulting experience in the fields of medical electronics, speech processing, and telecommunications. Gordon McComb writes the Robotics Resources column for SERVO Magazine, the leading hobby electronics magazine in the US.
Table of Contents
Introduction.
Part I: Understanding the Fundamentals of Electronics.
Chapter 1: What Is Electronics and What Can It Do for You?
Chapter 2: Manipulating Electricity to Make Something Happen.
Chapter 3: Meeting Up with Resistance.
Chapter 4: Getting a Charge Out of Capacitors.
Chapter 5: Curling Up with Coils and Crystals.
Chapter 6: The Wide World of Semiconductors.
Chapter 7: Packing Parts Together on Integrated Circuits.
Chapter 8: Rounding Out Your Parts List.
Part II: Getting Your Hands Dirty.
Chapter 9: Setting Up Shop and Ensuring Your Safety.
Chapter 10: Reading Schematics.
Chapter 11: Constructing Circuits.
Chapter 12: Measuring and Analyzing Circuits.
Chapter 13: Getting Down with Logic Probes and Oscilloscopes.
Part III: Putting Theory into Practice.
Chapter 14: Exploring Some Learning Circuits.
Chapter 15: Great Projects You Can Build in 30 Minutes or Less.
Part IV: The Part of Tens.
Chapter 16: Ten (Or So) Terrifi c Tips to Help You Succeed.
Chapter 17: Ten (Or So) Great Electronics Parts Sources.
Appendix: Internet Resources.
Glossary.
Index.