Note: Supplemental materials are not guaranteed with Rental or Used book purchases.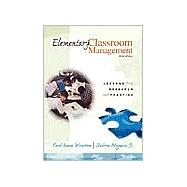 Elementary Classroom Management : Lessons from Research and Practice
ISBN13:
9780072322439
by
WEINSTEIN C
McGraw-Hill Humanities/Social Sciences/Languages
Related Products
Summary
Written in a lively, engaging, conversational style that teacher education students appreciate, Elementary Classroom Management combines what research has to say about effective classroom management with knowledge culled from practice. The text is scholarly and research-based, yet realistic and practical. The text shows how four masterful teachers (grades 1, 3, 4 and 5/6) in very different school settings create classrooms that are orderly and productive, yet humane and caring. By integrating into discussions of research-based management principles, both the thinking and the actual management practices of four real elementary teachers, readers come to "know" these teachers and their classrooms. We hear about the classes they teach and about the physical constraints of their rooms, hear them reflect on their rules and routines, and watch as they teach those rules and routines to students. We listen as they talk about motivating students and building community and as they discuss appropriate ways to deal with misbehavior. Well-organized and more comprehensive than many classroom management texts, Elementary Classroom Management includes chapters on building safer, more caring classrooms; working with families; using time effectively; motivation; working with troubled students and students with special needs; and violence prevention. It also addresses the managerial challenges involved in a variety of instructional formats, such as seatwork, recitations and discussions, and groupwork. The third edition features updated and expanded coverage. The revision stresses the need to build caring, supportive relationships with and among students. It responds to current concerns about students' alienation, isolation, apathy, and lack of motivation so that prospective and beginning teachers see that classroom management is not simply about rules, rewards, and consequences, but also about building connections with students and creating safer, more caring classrooms.
Table of Contents
Preface
xvi
Part 1 INTRODUCTION
1
(28)

| | |
| --- | --- |
| | The Elementary Classroom Environment: Crowded, Complex, and Potentially Chaotic |

2
(10)
6
(3)
9
(3)
10
(1)
11
(1)

| | |
| --- | --- |
| | Meeting the Teachers (and Their Students) |

12
(17)
13
(2)
15
(3)
18
(2)
20
(3)

| | |
| --- | --- |
| | What Do the Students Say? |

23
(2)
25
(4)
26
(1)
27
(2)
Part 2 ESTABLISHING AN ENVIRONMENT FOR LEARNING
29
(154)

| | |
| --- | --- |
| | Designing the Physical Environment |

30
(28)

| | |
| --- | --- |
| | Six Functions of the Classroom Setting |

31
(13)
32
(2)
34
(5)
39
(1)
40
(1)
40
(2)
42
(2)

| | |
| --- | --- |
| | The Teacher as Environmental Designer |

44
(3)

| | |
| --- | --- |
| | Think about the Activities the Room Will Accommodate |

45
(1)
46
(1)

| | |
| --- | --- |
| | Involve Students in Environmental Planning |

47
(1)

| | |
| --- | --- |
| | Try the New Arrangement, Evaluate, and Redesign |

47
(1)

| | |
| --- | --- |
| | Designing a Fourth-Grade Classroom |

47
(11)
51
(1)
52
(3)
55
(1)
55
(1)
56
(2)

| | |
| --- | --- |
| | Establishing Norms for Behavior |

58
(26)

| | |
| --- | --- |
| | Research on Effective Classroom Management |

59
(1)

| | |
| --- | --- |
| | Defining Your Expectations for Behavior |

60
(8)

| | |
| --- | --- |
| | Planning Norms for General Conduct |

61
(4)

| | |
| --- | --- |
| | Planning Routines for Specific Situations |

65
(3)

| | |
| --- | --- |
| | The First Few Days of School: Teaching Students How to Behave |

68
(10)

| | |
| --- | --- |
| | Teaching Norms for General Conduct |

69
(2)

| | |
| --- | --- |
| | Teaching Routines for Specific Situations |

71
(1)

| | |
| --- | --- |
| | Different Approaches to Teaching Rules and Routines |

72
(6)
78
(6)
79
(1)
80
(2)
82
(1)
82
(2)

| | |
| --- | --- |
| | Creating Safer, More Caring Classrooms |

84
(32)

| | |
| --- | --- |
| | Ways of Showing Care and Respect |

87
(15)
87
(1)

| | |
| --- | --- |
| | Be Sensitive to Children's Concerns |

87
(2)
89
(1)

| | |
| --- | --- |
| | Be a Real Person (Not Just a Teacher) |

90
(2)

| | |
| --- | --- |
| | Promote Autonomy by Sharing Responsibility |

92
(1)

| | |
| --- | --- |
| | Reduce the Use of Extrinsic Control |

93
(1)
94
(1)

| | |
| --- | --- |
| | Search for Students' Strengths |

95
(2)

| | |
| --- | --- |
| | Develop Communication Skills |

97
(5)
102
(1)

| | |
| --- | --- |
| | Building Caring Relationships among Students |

102
(8)
103
(1)

| | |
| --- | --- |
| | Model and Recognize Prosocial Behavior |

104
(1)

| | |
| --- | --- |
| | Provide Opportunities for Students to Get to Know One Another |

105
(2)
107
(1)

| | |
| --- | --- |
| | Be Alert for Student-to-Student Sexual Harassment |

108
(1)

| | |
| --- | --- |
| | Use Cooperative Learning Groups |

109
(1)
110
(6)
111
(1)
112
(1)
112
(1)
113
(1)
113
(3)
116
(38)

| | |
| --- | --- |
| | Barriers to Family-Teacher Cooperation |

117
(4)

| | |
| --- | --- |
| | Teacher Reluctance to Involve Families in Schooling |

117
(2)

| | |
| --- | --- |
| | Parent Reluctance to Become Involved in Schooling |

119
(2)

| | |
| --- | --- |
| | The Changing Nature of the Family |

121
(1)

| | |
| --- | --- |
| | Overcoming the Barriers: Fostering Collaboration between Families and Schools |

121
(27)

| | |
| --- | --- |
| | Type 1: Helping Families to Fulfill Their Basic Obligations |

121
(3)

| | |
| --- | --- |
| | Type 2: Fulfilling the Basic Obligations of Schools---Communicating with Families |

124
(17)

| | |
| --- | --- |
| | Type 3: Family Involvement in School |

141
(3)

| | |
| --- | --- |
| | Type 4: Family Involvement in Learning Activities at Home |

144
(4)
148
(6)
148
(1)
149
(1)
150
(1)
151
(1)
151
(3)

| | |
| --- | --- |
| | Making the Most of Classroom Time |

154
(29)

| | |
| --- | --- |
| | How Much Time Is There, Anyway? |

155
(4)

| | |
| --- | --- |
| | Increasing Opportunity to Learn |

159
(17)

| | |
| --- | --- |
| | Maintaining Activity Flow |

159
(3)

| | |
| --- | --- |
| | Minimizing Transition Times |

162
(5)

| | |
| --- | --- |
| | Holding Students Accountable |

167
(5)

| | |
| --- | --- |
| | Managing Pullouts as Efficiently as Possible |

172
(4)
176
(7)
176
(1)
177
(4)
181
(1)
181
(2)
Part 3 ORGANIZING AND MANAGING INSTRUCTION
183
(128)

| | |
| --- | --- |
| | Enhancing Students' Motivation |

184
(23)

| | |
| --- | --- |
| | What is Realistic? What Is Appropriate? |

185
(3)

| | |
| --- | --- |
| | An Expectancy X Value Framework |

186
(2)

| | |
| --- | --- |
| | Strategies for Increasing Expectations of Success |

188
(4)

| | |
| --- | --- |
| | Provide Opportunities for Success |

188
(1)

| | |
| --- | --- |
| | Teach Students to Set Reasonable Goals and to Assess Their Own Performance |

189
(1)

| | |
| --- | --- |
| | Help Students Recognize the Relationship between Effort and Outcome |

189
(1)

| | |
| --- | --- |
| | Provide Informative Feedback |

189
(2)

| | |
| --- | --- |
| | Provide Special Motivational Support to Discouraged Students |

191
(1)

| | |
| --- | --- |
| | Enhancing the Value of the Task |

192
(9)

| | |
| --- | --- |
| | Relate Lessons to Students' Own Lives |

192
(1)

| | |
| --- | --- |
| | Provide Opportunities for Choice |

193
(1)

| | |
| --- | --- |
| | Model Interest in Learning and Express Enthusiasm for the Material |

194
(1)

| | |
| --- | --- |
| | Include Novelty/Variety Elements |

194
(1)

| | |
| --- | --- |
| | Provide Opportunities for Students to Respond Actively |

194
(1)

| | |
| --- | --- |
| | Allow Students to Create Finished Products |

194
(1)

| | |
| --- | --- |
| | Provide Opportunities for Students to Interact with Peers |

195
(1)

| | |
| --- | --- |
| | Provide Extrinsic Rewards |

195
(6)

| | |
| --- | --- |
| | Motivating Underachieving and Disaffected Students |

201
(1)
202
(5)
202
(2)
204
(1)
204
(1)
205
(2)

| | |
| --- | --- |
| | Managing Independent Work |

207
(31)

| | |
| --- | --- |
| | Seatwork: How Much, What, and Why? |

209
(1)

| | |
| --- | --- |
| | The Challenges for Teachers |

210
(3)

| | |
| --- | --- |
| | The Challenges for Students |

213
(3)

| | |
| --- | --- |
| | Implications for Practice |

216
(16)

| | |
| --- | --- |
| | Assign Work That Is Clear and Meaningful |

216
(2)

| | |
| --- | --- |
| | Match the Work to Varying Achievement Levels |

218
(1)

| | |
| --- | --- |
| | Make Sure Oral Directions Are Clear |

218
(3)

| | |
| --- | --- |
| | Monitor Behavior and Comprehension |

221
(3)

| | |
| --- | --- |
| | Teach Children What to Do if They Get Stuck |

224
(1)
225
(1)

| | |
| --- | --- |
| | Find Alternatives to workbook Pages |

226
(6)
232
(6)
233
(1)
234
(2)
236
(1)
236
(2)
238
(35)

| | |
| --- | --- |
| | The Pitfalls of Groupwork |

240
(5)

| | |
| --- | --- |
| | Designing and Implementing Successful Groupwork |

245
(17)

| | |
| --- | --- |
| | Decide on the Type of Group to Use |

245
(5)

| | |
| --- | --- |
| | Decide on the Size of the Group |

250
(1)

| | |
| --- | --- |
| | Assign Students to Groups |

251
(2)

| | |
| --- | --- |
| | Structure the Task for Positive Interdependence |

253
(1)

| | |
| --- | --- |
| | Ensure Individual Accountablity |

254
(2)

| | |
| --- | --- |
| | Teach Students to Cooperate |

256
(6)

| | |
| --- | --- |
| | Monitor Learning, Involvement, and Cooperative Behavior |

262
(1)

| | |
| --- | --- |
| | Four Specific Approaches to Cooperative Learning |

262
(3)
263
(1)
263
(1)
264
(1)

| | |
| --- | --- |
| | The Structural Approach to Cooperative Learning |

264
(1)
265
(8)
267
(2)
269
(1)
270
(1)
270
(3)

| | |
| --- | --- |
| | Managing Recitations and Discussions |

273
(38)

| | |
| --- | --- |
| | The Pitfalls of Recitations |

281
(2)
281
(1)

| | |
| --- | --- |
| | Losing It All: Pace, Focus, and Involvement |

281
(2)

| | |
| --- | --- |
| | Difficulties in Monitoring Students' Comprehension |

283
(1)

| | |
| --- | --- |
| | Strategies for Managing Recitations |

283
(13)

| | |
| --- | --- |
| | Distributing Chances to Participate |

284
(5)

| | |
| --- | --- |
| | Providing Time to Think without Losing the Pace |

289
(1)

| | |
| --- | --- |
| | Stimulating and Maintaining Interest |

290
(2)

| | |
| --- | --- |
| | Providing Feedback without Losing the Pace |

292
(2)

| | |
| --- | --- |
| | Monitoring Comprehension: Requiring Overt Responses |

294
(2)

| | |
| --- | --- |
| | Monitoring Comprehension: Using a Steering Group |

296
(1)
296
(6)
302
(9)
303
(2)
305
(2)
307
(1)
307
(4)
Part 4 COPING WITH THE CHALLENGES
311

| | |
| --- | --- |
| | When Prevention Is Not Enough: Protecting and Restoring Order |

312
(40)

| | |
| --- | --- |
| | Principles for Dealing with Inappropriate Behavior |

314
(4)

| | |
| --- | --- |
| | Dealing with Minor Misbehavior |

318
(5)
318
(2)
320
(3)

| | |
| --- | --- |
| | Deliberately Ignoring the Misbehavior |

323
(1)

| | |
| --- | --- |
| | Dealing with More Serious Misbehavior: Using Penalties |

323
(7)
324
(3)
327
(1)
328
(1)

| | |
| --- | --- |
| | Pealizing the Group for Individual Misbehavior |

329
(1)

| | |
| --- | --- |
| | Dealing with Chronic Misbehavior |

330
(8)

| | |
| --- | --- |
| | Resolving Conflicts through Problem Solving |

330
(1)

| | |
| --- | --- |
| | Approaches Based on Principles of Behavior Modification |

331
(5)

| | |
| --- | --- |
| | Using an Ecosystemic Approach: Changing Problem Behavior by Reframing |

336
(2)

| | |
| --- | --- |
| | Dealing with Thorny Problems |

338
(1)
338
(6)
339
(1)
340
(1)
341
(1)
342
(1)

| | |
| --- | --- |
| | Sexually Related Behavior |

343
(1)
343
(1)
344
(8)
346
(2)
348
(1)
349
(1)
349
(3)

| | |
| --- | --- |
| | Helping Students with Special Needs |

352
(37)

| | |
| --- | --- |
| | Helping Children with Disabilities and ADHD |

355
(12)

| | |
| --- | --- |
| | Attention-Deficit/Hyperactivity Disorder |

358
(2)

| | |
| --- | --- |
| | Strategies for Helping Children with Disabilities and ADHD |

360
(7)

| | |
| --- | --- |
| | Helping Children Who Are Second-Language Learners |

367
(2)

| | |
| --- | --- |
| | Helping Students Who Are Troubled |

369
(13)
370
(7)
377
(4)
381
(1)
382
(7)
382
(2)
384
(2)
386
(1)
386
(3)

| | |
| --- | --- |
| | Preventing and Responding to Violence |

389

| | |
| --- | --- |
| | How Much Violence Is There? |

390
(1)

| | |
| --- | --- |
| | Strategies for Preventing Violence |

391
(14)

| | |
| --- | --- |
| | Building Supportive School Communities |

391
(1)

| | |
| --- | --- |
| | Teaching Conflict Resolution |

392
(8)

| | |
| --- | --- |
| | Knowing the Early Warning Signs of Potential for Violence |

400
(2)

| | |
| --- | --- |
| | Being Attentive to Whispers and Rumors |

402
(1)

| | |
| --- | --- |
| | De-Escalating Potentially Explosive Situations |

403
(2)
405
(4)

| | |
| --- | --- |
| | Coping with Aggressive Behavior |

405
(3)

| | |
| --- | --- |
| | Responding Effectively to Physical Fights |

408
(1)
409
409
(1)
410
(1)
411
(1)
411
(1)
412
Index
1