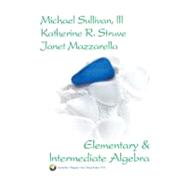 List Price: $170.67
Hurry!
Only one copy
in stock at this price.
In Stock Usually Ships in 24 Hours.
Currently Available, Usually Ships in 24-48 Hours

More New and Used
from Private Sellers
Questions About This Book?
Why should I rent this book?
Renting is easy, fast, and cheap! Renting from eCampus.com can save you hundreds of dollars compared to the cost of new or used books each semester. At the end of the semester, simply ship the book back to us with a free UPS shipping label! No need to worry about selling it back.
How do rental returns work?
Returning books is as easy as possible. As your rental due date approaches, we will email you several courtesy reminders. When you are ready to return, you can print a free UPS shipping label from our website at any time. Then, just return the book to your UPS driver or any staffed UPS location. You can even use the same box we shipped it in!
What version or edition is this?
This is the 1st edition with a publication date of 1/1/2007.
What is included with this book?
The New copy of this book will include any supplemental materials advertised. Please check the title of the book to determine if it should include any CDs, lab manuals, study guides, etc.
The Used copy of this book is not guaranteed to include any supplemental materials. Typically, only the book itself is included.
The Rental copy of this book is not guaranteed to include any supplemental materials. You may receive a brand new copy, but typically, only the book itself.
Summary
Normal 0 false false false MicrosoftInternetExplorer4 Intended for a 2-semester sequence of ElementaryandIntermediate Algebrawhere students get a solid foundation in algebra, including exposure to functions, which prepares them for success in College Algebra or their next math course. Operations on Real Numbers and Algebraic Expressions; Equations and Inequalities in One Variable; Introduction to Graphing and Equations of Lines; Systems of Linear Equations and Inequalities; Exponents and Polynomials; Factoring Polynomials; Rational Expressions and Equations; Graphs, Relations, and Functions; Radicals and Rational Exponents; Quadratic Equations and Functions; Exponential and Logarithmic Functions; Conics; Sequences, Series, and The Binomial Theorem; Review of Fractions, Decimals, and Percents; Division of Polynomials; Synthetic Division; The Library of Functions; Geometry; More on Systems of Equations For all readers interested in elementary and intermediate algebra.
Table of Contents
Preface
viii

| | |
| --- | --- |
| | Operations on Real Numbers and Algebraic Expressions |

1
(73)
2
(6)

| | |
| --- | --- |
| | The Number Systems and the Real Number Line |

8
(10)

| | |
| --- | --- |
| | Adding, Subtracting, Multiplying, and Dividing Integers |

18
(10)

| | |
| --- | --- |
| | Adding, Subtracting, Multiplying, and Dividing Rational Numbers Expressed as Fractions and Decimals |

28
(13)

| | |
| --- | --- |
| | Putting the Concepts Together (Sections 1.2--1.4) |

40
(1)

| | |
| --- | --- |
| | Properties of Real Numbers |

41
(8)

| | |
| --- | --- |
| | Exponents and the Order of Operations |

49
(8)

| | |
| --- | --- |
| | Simplifying Algebraic Expressions |

57
(17)

| | |
| --- | --- |
| | Chapter 1 Activity: The Math Game |

65
(1)
66
(7)
73
(1)

| | |
| --- | --- |
| | Equations and Inequalities in One Variable |

74
(100)

| | |
| --- | --- |
| | Linear Equations: The Addition and Multiplication Properties of Equality |

75
(9)

| | |
| --- | --- |
| | Linear Equations: Using the Properties Together |

84
(9)

| | |
| --- | --- |
| | Solving Linear Equations Involving Fractions and Decimals; Classifying Equations |

93
(10)

| | |
| --- | --- |
| | Evaluating Formulas and Solving Formulas for a Variable |

103
(14)

| | |
| --- | --- |
| | Putting the Concepts Together (Sections 2.1--2.4) |

116
(1)

| | |
| --- | --- |
| | Introduction to Problem Solving: Direct Translation Problems |

117
(14)

| | |
| --- | --- |
| | Problem Solving: Direct Translation Problems Involving Percent |

131
(8)

| | |
| --- | --- |
| | Problem Solving: Geometry and Uniform Motion |

139
(11)

| | |
| --- | --- |
| | Solving Linear Inequalities in One Variable |

150
(24)

| | |
| --- | --- |
| | Chapter 2 Activity: Pass to the Right |

164
(1)
165
(7)
172
(2)

| | |
| --- | --- |
| | Introduction to Graphing and Equations of Lines |

174
(98)

| | |
| --- | --- |
| | The Rectangular Coordinate System and Equations in Two Variables |

175
(16)

| | |
| --- | --- |
| | Graphing Equations in Two Variables |

191
(15)
206
(11)

| | |
| --- | --- |
| | Slope-Intercept Form of a Line |

217
(10)

| | |
| --- | --- |
| | Point-Slope Form of a Line |

227
(8)

| | |
| --- | --- |
| | Parallel and Perpendicular Lines |

235
(10)

| | |
| --- | --- |
| | Putting the Concepts Together (Sections 3.1--3.6) |

244
(1)
245
(7)

| | |
| --- | --- |
| | Linear Inequalities in Two Variables |

252
(20)

| | |
| --- | --- |
| | Chapter 3 Activity: Graphing Practice |

261
(1)
262
(8)
270
(1)

| | |
| --- | --- |
| | Cumulative Review Chapters 1--3 |

271
(1)

| | |
| --- | --- |
| | Systems of Linear Equations and Inequalities |

272
(71)

| | |
| --- | --- |
| | Solving Systems of Linear Equations by Graphing |

273
(12)

| | |
| --- | --- |
| | Solving Systems of Linear Equations Using Substitution |

285
(11)

| | |
| --- | --- |
| | Solving Systems of Linear Equations Using Elimination |

296
(11)

| | |
| --- | --- |
| | Putting the Concepts Together (Sections 4.1--4.3) |

306
(1)

| | |
| --- | --- |
| | Solving Direct Translation, Geometry, and Uniform Motion Problems Using Systems of Linear Equations |

307
(7)

| | |
| --- | --- |
| | Solving Mixture Problems Using Systems of Linear Equations |

314
(12)

| | |
| --- | --- |
| | Systems of Linear Inequalities |

326
(17)

| | |
| --- | --- |
| | Chapter 4 Activity: Find the Numbers |

334
(1)
334
(7)
341
(2)

| | |
| --- | --- |
| | Exponents and Polynomials |

343
(64)

| | |
| --- | --- |
| | Adding and Subtracting Polynomials |

344
(10)

| | |
| --- | --- |
| | Multiplying Monomials: The Product and Power Rules |

354
(6)
360
(11)

| | |
| --- | --- |
| | Dividing Monomials: The Quotient Rule and Integer Exponents |

371
(12)

| | |
| --- | --- |
| | Putting the Concepts Together (Sections 5.1--5.4) |

383
(1)
383
(8)

| | |
| --- | --- |
| | Applying Exponent Rules: Scientific Notation |

391
(16)

| | |
| --- | --- |
| | Chapter 5 Activity: What Is the Question? |

398
(2)
400
(4)
404
(1)

| | |
| --- | --- |
| | Cumulative Review Chapters 1--5 |

405
(2)
407
(67)

| | |
| --- | --- |
| | Greatest Common Factor and Factoring by Grouping |

408
(10)

| | |
| --- | --- |
| | Factoring Trinomials of the Form x2 + bx + c |

418
(9)

| | |
| --- | --- |
| | Factoring Trinomials of the Form ax2 + bx + c, a 1 |

427
(9)

| | |
| --- | --- |
| | Factoring Special Products |

436
(8)

| | |
| --- | --- |
| | Summary of Factoring Techniques |

444
(7)

| | |
| --- | --- |
| | Putting the Concepts Together (Sections 6.1--6.5) |

450
(1)

| | |
| --- | --- |
| | Solving Polynomial Equations by Factoring |

451
(9)

| | |
| --- | --- |
| | Modeling and Solving Problems with Quadratic Equations |

460
(14)

| | |
| --- | --- |
| | Chapter 6 Activity: Which One Does Not Belong? |

468
(1)
469
(4)
473
(1)

| | |
| --- | --- |
| | Getting Ready for Intermediate Algebra: A Review of Chapters 1--6 |

474
(89)

| | |
| --- | --- |
| | Rational Expressions and Equations |

476
(87)

| | |
| --- | --- |
| | Simplifying Rational Expressions |

477
(8)

| | |
| --- | --- |
| | Multiplying and Dividing Rational Expressions |

485
(9)

| | |
| --- | --- |
| | Adding and Subtracting Rational Expressions with a Common Denominator |

494
(7)

| | |
| --- | --- |
| | Finding the Least Common Denominator and Forming Equivalent Rational Expressions |

501
(8)

| | |
| --- | --- |
| | Adding and Subtracting Rational Expressions with Unlike Denominators |

509
(11)

| | |
| --- | --- |
| | Complex Rational Expressions |

520
(9)

| | |
| --- | --- |
| | Putting the Concepts Together (Sections 7.1--7.6) |

528
(1)
529
(12)

| | |
| --- | --- |
| | Models Involving Rational Equations |

541
(22)

| | |
| --- | --- |
| | Chapter 7 Activity: Correct the Quiz |

555
(1)
556
(5)
561
(2)

| | |
| --- | --- |
| | Getting Ready for Intermediate Algebra: A Review of Chapters 1--7 |

563

| | |
| --- | --- |
| | Graphs, Relations, and Functions |

565
(94)
566
(11)
577
(7)

| | |
| --- | --- |
| | Putting the Concepts Together (Sections 8.1--8.2) |

584
(1)

| | |
| --- | --- |
| | An Introduction to Functions |

584
(13)

| | |
| --- | --- |
| | Functions and Their Graphs |

597
(10)
607
(14)
621
(11)

| | |
| --- | --- |
| | Absolute Value Equations and Inequalities |

632
(27)

| | |
| --- | --- |
| | Chapter 8 Activity: Shifting Discovery |

644
(1)
644
(12)
656
(3)

| | |
| --- | --- |
| | Radicals and Rational Exponents |

659
(84)
660
(6)

| | |
| --- | --- |
| | nth Roots and Rational Exponents |

666
(8)

| | |
| --- | --- |
| | Simplify Expressions Using the Laws of Exponents |

674
(6)

| | |
| --- | --- |
| | Simplifying Radical Expressions |

680
(12)

| | |
| --- | --- |
| | Adding, Subtracting, and Multiplying Radical Expressions |

692
(7)

| | |
| --- | --- |
| | Rationalizing Radical Expressions |

699
(6)

| | |
| --- | --- |
| | Putting the Concepts Together (Sections 9.1--9.6) |

705
(1)

| | |
| --- | --- |
| | Functions Involving Radicals |

705
(7)

| | |
| --- | --- |
| | Radical Equations and Their Applications |

712
(10)

| | |
| --- | --- |
| | The Complex Number System |

722
(21)

| | |
| --- | --- |
| | Chapter 9 Activity: Which One Does Not Belong? |

733
(1)
734
714
(27)

| | |
| --- | --- |
| | Cumulative Review Chapters 1--9 |

741
(2)

| | |
| --- | --- |
| | Quadratic Equations and Functions |

743
(94)

| | |
| --- | --- |
| | Solving Quadratic Equations by Completing the Square |

744
(13)

| | |
| --- | --- |
| | Solving Quadratic Equations by the Quadratic Formula |

757
(15)

| | |
| --- | --- |
| | Solving Equations Quadratic in Form |

772
(9)

| | |
| --- | --- |
| | Putting the Concepts Together (Sections 10.1--10.3) |

780
(1)

| | |
| --- | --- |
| | Graphing Quadratic Functions Using Transformations |

781
(14)

| | |
| --- | --- |
| | Graphing Quadratic Functions Using Properties |

795
(16)
811
(10)
821
(16)

| | |
| --- | --- |
| | Chapter 10 Activity: Presidential Decision Making |

827
(1)
828
(7)
835
(2)

| | |
| --- | --- |
| | Exponential and Logarithmic Functions |

837
(75)

| | |
| --- | --- |
| | Composite Functions and Inverse Functions |

838
(14)
852
(18)
870
(14)

| | |
| --- | --- |
| | Putting the Concepts Together (Sections 11.1--11.3) |

883
(1)
884
(10)

| | |
| --- | --- |
| | Exponential and Logarithmic Equations |

894
(18)

| | |
| --- | --- |
| | Chapter 11 Activity: Correct the Quiz |

903
(1)
904
(5)
909
(1)

| | |
| --- | --- |
| | Cumulative Review Chapters 1--11 |

910
(2)
912
(61)

| | |
| --- | --- |
| | Distance and Midpoint Formulas |

913
(7)
920
(7)
927
(11)
938
(11)
949
(9)

| | |
| --- | --- |
| | Putting the Concepts Together (Sections 12.1--12.5) |

957
(1)

| | |
| --- | --- |
| | Nonlinear Systems of Equations |

958
(15)

| | |
| --- | --- |
| | Chapter 12 Activity: How Do You Know That . . . ? |

966
(1)
966
(6)
972
(1)

| | |
| --- | --- |
| | Sequences, Series, and the Binomial Theorem |

973
974
(8)
982
(8)

| | |
| --- | --- |
| | Geometric Sequences and Series |

990
(12)

| | |
| --- | --- |
| | Putting the Concepts Together (Sections 13.1--13.3) |

1001
(1)
1002

| | |
| --- | --- |
| | Chapter 13 Activity: Pass to the Right |

1008
(1)
1008
(4)
1012
(1)

| | |
| --- | --- |
| | Cumulative Review Chapters 1--13 |

1013
Appendix A: Fractions, Decimals, and Percents
1
(1)
Appendix B: Synthetic Division
1
(1)
Appendix C: Geometry Review
1
(1)
Appendix D: The Library of Functions
1
(1)
Appendix E: More on Systems of Linear Equations
1
(1)
Appendix F: Table of Square Roots
1
(1)
Answers to Quick Check Exercises
1
(1)
Answers to Selected Exercises
1
(1)
Applications Index
1
(1)
Subject Index
1
(1)
Photo Credits
1