Note: Supplemental materials are not guaranteed with Rental or Used book purchases.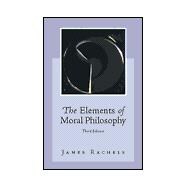 The Elements of Moral Philosophy
ISBN13:
9780070525603
by
Rachels, James
Summary
Firmly established as the standard text for undergraduate courses in ethics, this concise, lively book combines clear explanations of the main theories of ethics with discussions of interesting examples. Topics covered include famine relief, euthanasia, homosexuality, and the treatment of animals. The text's versatility allows it to be widely used not only in ethical theory courses, but also in applied ethics courses of all kinds.
Table of Contents
Preface
xi
About the Third Edition
xiii
1
(19)

| | |
| --- | --- |
| | The Problem of Definition |

1
(1)

| | |
| --- | --- |
| | An Infant with No Prospects: Baby Theresa |

1
(4)

| | |
| --- | --- |
| | An Infant with Uncertain Prospects: Baby Jane Doe |

5
(8)

| | |
| --- | --- |
| | A Child with No Further Prospects: Tracy Latimer |

13
(2)
15
(4)

| | |
| --- | --- |
| | The Minimum Conception of Morality |

19
(1)

| | |
| --- | --- |
| | The Challenge Of Cultural Relativism |

20
(17)

| | |
| --- | --- |
| | How Different Cultures Have Different Moral Codes |

20
(2)
22
(1)

| | |
| --- | --- |
| | The Cultural Differences Argument |

23
(2)

| | |
| --- | --- |
| | The Consequences of Taking Cultural Relativism Seriously |

25
(2)

| | |
| --- | --- |
| | Why There Is Less Disagreement Than It Seems |

27
(2)

| | |
| --- | --- |
| | How All Cultures Have Some Values in Common |

29
(2)

| | |
| --- | --- |
| | Judging a Cultural Practice to Be Undesirable |

31
(3)

| | |
| --- | --- |
| | What Can Be Learned from Cultural Relativism |

34
(3)
37
(16)

| | |
| --- | --- |
| | The Basic Idea of Ethical Subjectivism |

37
(1)

| | |
| --- | --- |
| | The Evolution of the Theory |

38
(1)

| | |
| --- | --- |
| | The First Stage: Simple Subjectivism |

39
(2)

| | |
| --- | --- |
| | The Second Stage: Emotivism |

41
(4)

| | |
| --- | --- |
| | Emotivism, Reason, and ``Moral Facts'' |

45
(2)

| | |
| --- | --- |
| | Are There Proofs in Ethics? |

47
(3)

| | |
| --- | --- |
| | The Question of Homosexuality |

50
(3)

| | |
| --- | --- |
| | Does Morality Depend On Religion? |

53
(17)

| | |
| --- | --- |
| | The Presumed Connection between Morality and Religion |

53
(2)

| | |
| --- | --- |
| | The Divine Command Theory |

55
(4)

| | |
| --- | --- |
| | The Theory of Natural Law |

59
(5)

| | |
| --- | --- |
| | Christianity and the Problem of Abortion |

64
(6)
70
(12)

| | |
| --- | --- |
| | Is Unselfishness Possible? |

70
(1)

| | |
| --- | --- |
| | The Strategy of Reinterpreting Motives |

71
(2)

| | |
| --- | --- |
| | Two Arguments in Favor of Psychological Egoism |

73
(4)

| | |
| --- | --- |
| | Clearing Away Some Confusions |

77
(2)

| | |
| --- | --- |
| | The Deepest Error in Psychological Egoism |

79
(3)
82
(14)

| | |
| --- | --- |
| | Is There a Duty to Contribute for Famine Relief? |

82
(3)

| | |
| --- | --- |
| | Three Arguments in Favor of Ethical Egoism |

85
(5)

| | |
| --- | --- |
| | Three Arguments against Ethical Egoism |

90
(6)
96
(11)
96
(3)

| | |
| --- | --- |
| | First Example: Euthanasia |

99
(3)

| | |
| --- | --- |
| | Second Example: Nonhuman Animals |

102
(5)

| | |
| --- | --- |
| | The Debate Over Utilitarianism |

107
(15)

| | |
| --- | --- |
| | The Resilience of the Theory |

107
(1)

| | |
| --- | --- |
| | Is Happiness the Only Thing That Matters? |

108
(2)

| | |
| --- | --- |
| | Are Consequences All That Matter? |

110
(5)

| | |
| --- | --- |
| | The Defense of Utilitarianism |

115
(7)

| | |
| --- | --- |
| | Are There Absolute Moral Rules? |

122
(10)

| | |
| --- | --- |
| | Kant and the Categorical Imperative |

122
(3)

| | |
| --- | --- |
| | Absolute Rules and the Duty Not to Lie |

125
(3)
128
(1)

| | |
| --- | --- |
| | Another Look at Kant's Basic Idea |

129
(3)

| | |
| --- | --- |
| | Kant And Respect For Persons |

132
(11)

| | |
| --- | --- |
| | The Idea of ``Human Dignity'' |

132
(3)

| | |
| --- | --- |
| | Retribution and Utility in the Theory of Punishment |

135
(3)
138
(5)

| | |
| --- | --- |
| | The Idea Of A Social Contract |

143
(19)
143
(4)
147
(5)

| | |
| --- | --- |
| | Some Advantages of the Social Contract Theory of Morals |

152
(3)

| | |
| --- | --- |
| | The Problem of Civil Disobedience |

155
(3)

| | |
| --- | --- |
| | Difficulties for the Theory |

158
(4)

| | |
| --- | --- |
| | Feminism And The Ethics Of Care |

162
(13)

| | |
| --- | --- |
| | Do Women and Men Think Differently about Ethics? |

162
(7)

| | |
| --- | --- |
| | Implications for Moral Judgment |

169
(4)

| | |
| --- | --- |
| | Implications for Ethical Theory |

173
(2)
175
(19)

| | |
| --- | --- |
| | The Ethics of Virtue and the Ethics of Right Action |

175
(2)
177
(10)

| | |
| --- | --- |
| | Some Advantages of Virtue Ethics |

187
(2)

| | |
| --- | --- |
| | The Incompleteness of Virtue Ethics |

189
(5)

| | |
| --- | --- |
| | What Would A Satisfactory Moral Theory Be Like? |

194
(14)
194
(7)
201
(1)
202
(6)
Suggestions for Further Reading
208
(10)
Notes on Sources
218
(9)
Index
227