Note: Supplemental materials are not guaranteed with Rental or Used book purchases.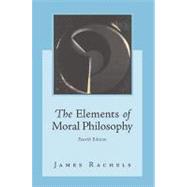 The Elements of Moral Philosophy with Dictionary of Philosophical Terms
ISBN13:
9780072825749
by
Rachels, James
McGraw-Hill Humanities/Social Sciences/Languages
Summary
Firmly established as the standard text for undergraduate courses in ethics, this concise, lively book combines clear explanations of the main theories of ethics with discussions of interesting examples. Topics covered include famine relief, homosexuality, and the treatment of animals. The text's versatility allows it to be widely used not only in ethical theory courses, but also in applied ethics courses of all kinds.
Table of Contents
PrefaceAbout the Fourth EditionCHAPTER 1: WHAT IS MORALITY?The Problem of DefinitionFirst Example: Baby TheresaSecond Example: Jodie and MaryThird Example: Tracy LatimerReason and ImpartialityThe Minimum Conception of MoralityCHAPTER 2: THE CHALLENGE OF CULTURAL RELATIVISMHow Different Societies Have Different Moral CodesCultural RelativismThe Cultural Differences ArgumentThe Consequences of Taking Cultural Relativism SeriouslyWhy There is Less Disagreement than it SeemsHow All Cultures Have Some Values in CommonJudging a Cultural Practice to be UndesirableWhat Can be Learned from Cultural RelativismCHAPTER 3: SUBJECTIVISM IN ETHICSThe Basic Idea of Ethical SubjectivismThe Evolution of the TheoryThe First Stage: Simple SubjectivismThe Second Stage: EmotivismAre There Any Moral Facts?Are There Proofs in Ethics?The Question of HomosexualityCHAPTER 4: DOES MORALITY DEPEND ON RELIGION?The Presumed Connection Between Morality and ReligionThe Divine Command TheoryThe Theory of Natural LawReligion and Particular Moral IssuesCHAPTER 5: PSYCHOLOLOGICAL EGOISMIs Unselfishness Possible?The Strategy of Reinterpreting MotivesTwo Arguments in Favor of Psychological EgoismClearing Away Some ConfusionsThe Deepest Error in Psychological EgoismCHAPTER 6: ETHICAL EGOISMIs There a Duty to Help Starving People?Three Arguments in Favor of Ethical EgoismThree Arguments Against Ethical EgoismCHAPTER 7: THE UTILITARIAN APPROACHThe Revolution in EthicsFirst Example: EuthanasiaSecond Example: Nonhuman AnimalsCHAPTER 8: THE DEBATE OVER UTILITARIANISMThe Classical Version of the TheoryIs Happiness the Only Thing That Matters?Are Consequences All That Matter?Should We be Equally Concerned for Everyone?The Defense of UtilitarianismCHAPTER 9: ARE THERE ANY ABSOLUTE MORAL RULES?Harry Truman and Elizabeth AnscombeThe Categorical ImperativeAbsolute Rules and the Duty Not to LieConflicts Between RulesAnother Look at Kant's Basic IdeaCHAPTER 10: KANT AND RESPECT FOR PERSONSThe Idea of Human DignityRetribution and Utility in the Theory of PunishmentKant's RetributivismCHAPTER 11: THE IDEA OF A SOCIAL CONTRACTHobbes's ArgumentThe Prisoner's DilemmaSome Advantages of the Social Contract Theory of MoralsThe Problem of Civil DisobedienceCHAPTER 12: FEMINISM AND THE ETHICS OF CAREDo Women and Men Think Differently About Ethics?Implications for Moral JudgmentImplications for Ethical TheoryCHAPTER 13: THE ETHICS OF VIRTUEThe Ethics of Virtue and the Ethics of Right ActionThe VirtuesSome Advantages of Virtue EthicsThe Problem of IncompletenessCHAPTER 14: WHAT WOULD A SATISFACTORY MORAL THEORY BE LIKE?Morality Without HubrisTreating People as They Deserve and Other MotivesMultiple-Strategies UtilitarianismThe Moral CommunityJustice and FairnessConclusionSuggestions for Further ReadingNotes on SourcesIndex