Note: Supplemental materials are not guaranteed with Rental or Used book purchases.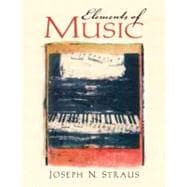 Questions About This Book?
What version or edition is this?
This is the edition with a publication date of 1/1/2003.
What is included with this book?
The Used copy of this book is not guaranteed to include any supplemental materials. Typically, only the book itself is included.
Summary
Elements of Music covers the traditional fundamental topics in tonal music theory: pitch notation in bass and treble clefs; rhythm and meter; major and minor scales; intervals; triads and seventh chords; and simple harmonic progressions. bull; bull;Musical literature. Elements of Music includes an anthology of core works in diverse tonal styles (both in score and recorded on CD), and these are the source of all of the musical examples and many of the written exercises. Students learn the concepts through the musical works, and the musical works through the concepts. bull;Interactivity. Elements of Music comes with an interactive CD that contains all of the written exercises. Students can thus hear the music they write as they write it. bull;Flexibility. Elements of Music, with its transparent organization and its extensive, imaginative, interactive exercises, is designed as a set of flexible resources for the teacher rather than a prescribed curricular sequence that must be followed in lockstep. bull;In-class Activities. Each lesson is accompanied by suggested in-class activities, including singing, dictation, and keyboard exercises designed to supplement and reinforce the theory lessons. The goal of these activities, and of the book as a whole, is to bring beginning students into close contact with music. At every stage, this book emphasizes that music is to be heard and made, not merely seen and contemplated.
Table of Contents
1. Pitch.
Staff. Keyboard. Treble Clef. Bass Clef. Great Staff. Supplementary Lesson

2. Rhythm and Meter.
Quarter-, Half-, and Whole-Notes in 4/4 Meter. Eighth-Notes and Sixteenth-Notes. Dots and Ties. Rests. Duple Meter (2/4 and 2/2). Triple Meter (3/4). Compound Meter (6/8). Syncopation. Supplementary Lesson.

3. Major and Minor Scales.
Semitones and Whole Tones. Major Scale (C-Major). Major Scales Other Than C-Major. Major Keys and Key Signatures. Minor Scale (A-Minor). Minor Scales Other Than A-Minor. Minor Keys and Key Signatures. Supplementary Lesson.

4. Intervals.
Interval Size. Seconds and Thirds. Sixths and Sevenths. Fourths and Fifths, Unisons and Octaves. Intervals in a Major Key. Intervals in a Minor Key. Supplementary Lesson.

5. Triads and Seventh Chords.
Triads. Triads in Inversion. Triads in Major Keys. Triads in Minor Keys. Seventh Chords. Supplementary Lesson.

6. Fundamentals of Harmony.
Tonic and Dominant. Expanding Tonic and Dominant. Approaching the Dominant. Phrase and Cadence. Supplementary Lesson.

Anthology.
Over the Rainbow, Harold Arlen. Two Fugues from the Well-Tempered Clavier, Volume 1, Johann Sebastian Bach. Two Chorales from the St. Matthew Passion, Johann Sebastian Bach. Two Preludes from Opus 28, Frederic Chopin. It Don't Mean a Thing (If It Ain't Got That Swing), Duke Ellington. St. Louis Blues. W.C. Handy. String Quartet, Op. 76, No. 3, Third Movement (minuet), Franz Joseph Haydn. The Entertainer, Scott Joplin. Song, Josephine Lang. Trio for Piano, Violin, and Cello, Op. 11, Second Movement, Fanny Mendelssohn. Piano Sonata in A-Major, K. 331, First Movement, Theme, and Variations 1, 3, and 6, Wolfgang Amadeus Mozart. "Dove sono" from The Marriage of Figaro, Wolfgang Amadeus Mozart. La Cumparsita, Matos Rodriguez. Two Songs, Franz Schubert. Song, Robert Schumann.

Excerpts
Who is this book for? This book is designed for a one-semester course for two groups of students: (1) Nonmusic majors who are taking a course in music because they want to write their own music or are simply curious about how music is put together; (2) Aspiring music majors who need some extra work in fundamental topics. before beginning a sequence of theory courses for music majors. What topics does this book cover? This book covers the traditional fundamental topics in tonal music theory: pitch notation in bass and treble clefs; rhythm and meter; major and minor scales; intervals; triads and seventh chords; simple harmonic progressions and cadences. What makes this book different? Musical literature.This book is immersed in musical literature. It includes an anthology of core works in diverse tonal styles (both in score and recorded oil CD), and these are the source of all of the musical examples and many of the written exercises. Each musical excerpt is thus understood in its larger context; there are no isolated snippets. The theoretical concepts and musical works are integrated with each other. As students learn each basic concept, they see how it functions in music of high artistic quality At the same time, they use their newly acquired theoretical ability to come to an intimate understanding of a small group of fine works. They learn the concepts through the musical works, and the musical works through the concepts. Interactivity.The book comes with an interactive CD. Recorded performances of the pieces in the anthology are available there. More important, for each concept in the text, the CD provides interactive exercises. Students will be able to engage aurally and interactively with the musical concepts and the musical works in the anthology. They will be able to hear the music they are studying and to hear what they themselves have written. Flexibility.The book is organized into six chapters: (1) pitch; (2) rhythm; (3) scales; (4) intervals; (5) triads and seventh chords; and (6) harmony. This transparent organization provides instructors with a significant degree of flexibility. For example, teachers who prefer to teach rhythm before, or simultaneously with, early work in pitch notation will find it easy to do so. The book, with its extensive, imaginative, interactive exercises, is designed as a set of flexible resources for the teacher rather than a prescribed curricular sequence that must be followed in lockstep. Written exercises ad assignments.For each concept, there are extensive written exercises, both in traditional written and electronic formats. Many of the exercises incorporate music from the anthology and many encourage creative composition. There are far more exercises than any one class could do; the instructor will thus have a wide range of choices. Many of the exercises also work well for in-class drill and study. In-class activities.Each lesson is accompanied by suggested in-class activities, including singing, dictation, and keyboard exercises. These activities do not comprise a course in sightsinging, dictation, or keyboard harmony; rather, they are designed to supplement and reinforce the theory lessons. The goal of these activities, and of the book as a whole, is to bring beginning students into close, intimate contact with musical materials, not only to understand them intellectually but to embody them in some way. At every stage, this book emphasizes that music is to be heard and made, not merely seen and contemplated in the abstract. What is the goal of this book? Learning music is like learning a foreign language. Some hard work is required to master the basic grammar and vocabulary. But once you gain a reasonable degree of fluency, a whole new world opens up to you. You can express yourself and communicate in a new language, and you can listen with far deeper un