Note: Supplemental materials are not guaranteed with Rental or Used book purchases.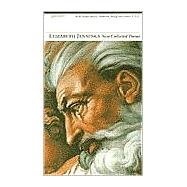 Elizabeth Jennings: New Collected Poems
ISBN13:
9781857545593
by
Unknown
Summary
With new poems from the past 25 years as well as works from the award-winning 1986 Collected Poems, this collection demonstrates Elizabeth Jennings's enduring poetic elegance and skill. It is an abidingly popular body of poetry that uses traditional forms with experimental vigor and explores the verse-essay, the extended sequence, the epistle, and the love elegy. The poet is attuned to the changes in language that is her medium in every sense.
Table of Contents
Preface
xix
1
(1)
1
(1)
1
(1)
2
(1)
2
(1)
2
(1)
3
(1)
4
(1)
4
(1)
5
(1)
5
(1)
6
(1)

| | |
| --- | --- |
| | from A Way of Looking (1955) |

7
(1)

| | |
| --- | --- |
| | Song at the Beginning of Autumn |

7
(1)
8
(1)
8
(1)
9
(1)
10
(1)
10
(1)
11
(1)
11
(1)
12
(1)
12
(1)

| | |
| --- | --- |
| | from A Sense of the World (1955) |

13
(1)
14
(1)
14
(1)
15
(1)
16
(1)
16
(1)
17
(1)
18
(1)
18
(1)
19
(1)
19
(1)
20
(1)
21
(1)
21
(1)
22
(1)
23
(1)
23
(1)
24
(1)
25
(1)
25
(1)
26
(1)

| | |
| --- | --- |
| | A Conversation in the Gardens of the Villa Celimontana, Rome |

27
(1)
28
(1)
29
(1)

| | |
| --- | --- |
| | San Faolo fuori le Mura, Rome |

30
(1)
30
(1)
31
(1)
32
(1)
33
(1)

| | |
| --- | --- |
| | from Song for a Birth or a Death (1961) |

| | |
| --- | --- |
| | Song for a Birth or a Death |

34
(1)
35
(1)
35
(1)
36
(1)
37
(1)
37
(1)
38
(1)
39
(1)

| | |
| --- | --- |
| | Notes for a Book of Hours (I-IV) |

40
(2)
42
(1)
42
(1)
43
(1)

| | |
| --- | --- |
| | Mantegna's Agony in the Garden |

44
(1)
45
(1)
45
(3)
48
(1)
49
(1)
49
(1)

| | |
| --- | --- |
| | To a Friend with a Religious Vocation |

50
(1)
51
(1)

| | |
| --- | --- |
| | The Pride of Life: a Roman Setting |

51
(1)
52
(1)
52
(1)
53
(1)
54
(1)
55
(1)
55
(1)

| | |
| --- | --- |
| | from The Sonnets of Michelangelo (1961) |

56
(1)
56
(1)
57
(1)

| | |
| --- | --- |
| | To Gandolfo Porrino, on his Mistress Faustina Mancina |

57
(1)

| | |
| --- | --- |
| | `To be more worthy of you...' |

58
(1)

| | |
| --- | --- |
| | `Just as in pen and ink...' |

58
(1)
59
(1)

| | |
| --- | --- |
| | `How much a garland pleases...' |

59
(1)
59
(1)

| | |
| --- | --- |
| | `My Lord, you know that I know...' |

60
(1)
60
(1)

| | |
| --- | --- |
| | `Now that I need men's pity...' |

61
(1)

| | |
| --- | --- |
| | `I wish, God, for some end...' |

61
(1)

| | |
| --- | --- |
| | `Although it saddens me...' |

62
(1)
62
(1)

| | |
| --- | --- |
| | Sequence in Hospital (I-VIII) |

62
(5)
67
(1)
68
(1)
68
(1)
69
(1)
70
(1)
70
(1)
71
(1)
71
(1)
72
(1)

| | |
| --- | --- |
| | from The Mind has Mountains (1966) |

| | |
| --- | --- |
| | A Mental Hospital Sitting-Room |

72
(1)
73
(1)
74
(1)
74
(1)

| | |
| --- | --- |
| | Samuel Palmer and Chagall |

75
(1)

| | |
| --- | --- |
| | On a Friend's Relapse and Return to a Mental Clinic |

76
(1)

| | |
| --- | --- |
| | Night Garden of the Asylum |

77
(1)
77
(1)
78
(1)

| | |
| --- | --- |
| | Caravaggio's 'Narcissus' in Rome |

79
(1)
79
(1)
80
(1)
81
(1)

| | |
| --- | --- |
| | from `New Poems' (Collected Poems 1967) |

81
(1)
82
(1)
82
(1)
83
(1)
83
(1)

| | |
| --- | --- |
| | from The Animals' Arrival (1969) |

84
(1)
84
(1)
85
(1)
86
(1)
86
(1)
87
(1)

| | |
| --- | --- |
| | First Evening (from the French of Rimbaud) |

87
(1)

| | |
| --- | --- |
| | The Rooks (from the French of Rimbaud) |

88
(1)

| | |
| --- | --- |
| | from Relationships (1972) |

89
(1)
90
(1)
90
(1)
91
(1)

| | |
| --- | --- |
| | from Growing Points (i975) |

92
(1)
92
(1)
93
(1)
93
(1)
94
(1)
94
(1)
95
(1)
95
(1)
96
(1)
96
(1)
97
(1)
97
(1)
98
(1)
99
(1)
99
(1)
100
(1)
100
(1)

| | |
| --- | --- |
| | Meditation on the Nativity |

101
(1)
102
(1)
102
(1)
103
(1)
103
(1)
104
(1)
104
(1)

| | |
| --- | --- |
| | Rembrandt's Late Self-Portraits |

105
(1)

| | |
| --- | --- |
| | A Scholar Emperor of the Tang Dynasty |

105
(1)
106
(1)
107
(1)
108
(1)
108
(1)
109
(1)
110
(1)
110
(1)
111
(1)
112
(1)
112
(1)
113
(1)
113
(1)
114
(1)
115
(1)
115
(1)
116
(1)
116
(1)

| | |
| --- | --- |
| | Childhood in Lincolnshire |

117
(1)
117
(2)
119
(1)
120
(1)
120
(1)
121
(2)
123
(1)
123
(1)
124
(1)
124
(1)
125
(1)
126
(1)
126
(1)
127
(1)
128
(1)

| | |
| --- | --- |
| | from Consequently I Rejoice (1977) |

128
(1)
128
(1)
129
(1)
130
(1)
131
(1)
131
(1)

| | |
| --- | --- |
| | Michelangelo's First Pieta |

132
(1)
132
(1)
133
(1)
134
(1)

| | |
| --- | --- |
| | Night Concert at Taormina |

134
(1)

| | |
| --- | --- |
| | from Moments of Grace (1980) |

135
(1)
136
(1)
136
(1)
137
(1)
138
(1)
138
(1)
139
(1)
140
(1)
140
(1)
141
(1)
142
(1)

| | |
| --- | --- |
| | Christmas Suite in Five Movements |

143
(2)

| | |
| --- | --- |
| | from Celebrations and Elegies (1982) |

145
(1)
146
(1)
147
(1)
147
(1)
148
(1)

| | |
| --- | --- |
| | from Extending the Territory (1985) |

149
(1)
149
(1)
150
(1)
151
(1)
151
(1)
152
(1)
153
(1)
154
(1)
154
(1)
155
(1)
156
(1)
157
(1)
157
(1)
158
(1)
158
(1)
159
(1)
159
(1)
160
(1)
160
(1)
161
(1)
161
(1)
162
(1)
162
(1)
163
(1)
163
(1)
164
(1)
165
(1)
166
(1)
166
(1)

| | |
| --- | --- |
| | Rome - A Quarter of a Century Ago |

167
(1)
168
(1)

| | |
| --- | --- |
| | A Performance of Henry V at Stratford-upon-Avon |

169
(1)
170
(1)
171
(1)
171
(1)
172
(1)
173
(1)
173
(1)

| | |
| --- | --- |
| | Notes to The Winter's Tale |

174
(1)
175
(1)
175
(1)
176
(1)
176
(1)

| | |
| --- | --- |
| | After a Painting is Finished |

177
(2)

| | |
| --- | --- |
| | Sant' Anselmo on the Aventine Hill, Rome |

179
(1)
180
(1)
180
(1)
181
(2)
183
(1)
184
(1)
184
(1)
185
(1)
186
(1)
187
(1)
187
(1)
188
(1)
188
(1)
188
(1)
189
(1)
190
(1)
191
(1)

| | |
| --- | --- |
| | Landscape and Wild Gardens |

191
(1)
192
(1)
193
(1)
193
(1)
194
(2)
196
(1)
196
(1)
197
(1)
198
(1)
198
(1)
198
(1)

| | |
| --- | --- |
| | Fifteen Years After a Death |

199
(1)
200
(1)
201
(1)
202
(1)
203
(1)
204
(1)
204
(1)
205
(1)
206
(1)
207
(1)
208
(1)
209
(1)
209
(1)
210
(2)
212
(1)
213
(1)
214
(1)
214
(1)
215
(1)
215
(1)
216
(1)

| | |
| --- | --- |
| | `Death again but death in so friendly a fashion' |

217
(1)
218
(2)
220
(1)

| | |
| --- | --- |
| | Death of a Dominican Priest at Easter |

221
(1)
222
(1)

| | |
| --- | --- |
| | from Times & Seasons (1992) |

223
(1)
223
(1)
224
(1)
224
(1)
225
(1)
225
(1)
226
(1)
227
(1)
228
(1)
229
(1)

| | |
| --- | --- |
| | The Smell of Chrysanthemums |

230
(1)

| | |
| --- | --- |
| | Protest after a Written Interview |

231
(1)
231
(1)
232
(2)
234
(1)
234
(2)
236
(2)
238
(1)
239
(1)
239
(1)
240
(1)
240
(1)
241
(1)
242
(1)
243
(1)
243
(1)
244
(1)
245
(1)
245
(1)
246
(1)
246
(2)

| | |
| --- | --- |
| | The Start of the Universe: April 1992 |

248
(1)
248
(1)
249
(1)
250
(1)
250
(2)
252
(1)
252
(1)
253
(1)
254
(1)
254
(1)
255
(1)
256
(1)
257
(1)
257
(1)
258
(1)
258
(1)
259
(1)
259
(1)
260
(1)
260
(1)
261
(1)
261
(1)
262
(1)
263
(1)
264
(1)
265
(1)
265
(1)
266
(1)

| | |
| --- | --- |
| | from Familiar Spirits (1994) |

267
(1)
268
(1)

| | |
| --- | --- |
| | A Cliff Walk in North Devon when I was Twelve |

269
(1)
270
(1)
270
(1)
271
(1)
271
(1)
272
(1)
273
(1)
274
(1)
274
(1)
275
(1)
276
(1)
277
(1)

| | |
| --- | --- |
| | After a Film called The Bridge |

277
(2)
279
(1)
280
(1)
280
(1)

| | |
| --- | --- |
| | Two Sonnets on Love and Lust |

281
(1)
282
(1)
283
(1)
284
(1)
284
(1)
285
(1)
286
(1)
286
(1)
287
(1)

| | |
| --- | --- |
| | from In the Meantime (1996) |

287
(1)
288
(1)
289
(1)
290
(1)
290
(1)
291
(1)
292
(1)
293
(1)
293
(1)
294
(1)
294
(1)
295
(1)
296
(1)
296
(1)
297
(1)
297
(1)
298
(1)

| | |
| --- | --- |
| | `Homage is due to you because you show` |

299
(1)

| | |
| --- | --- |
| | `Imagine worlds without some form of mirror' |

299
(1)

| | |
| --- | --- |
| | `Holy ones have always sought to find' |

300
(1)
300
(1)
301
(1)
301
(2)
303
(1)
303
(1)
304
(1)
305
(1)
306
(1)
307
(1)
307
(1)
308
(1)
308
(1)
309
(1)
310
(1)
310
(1)
311
(1)
312
(1)
313
(1)
313
(1)
314
(1)
315
(1)
315
(1)
316
(1)
317
(1)
317
(1)
318
(1)
319
(1)

| | |
| --- | --- |
| | Reasons for Not Returning |

320
(1)
321
(1)
321
(1)

| | |
| --- | --- |
| | A Metaphysical Point About Poetry |

322
(1)
323
(1)
323
(1)
324
(1)
324
(1)
325
(1)
325
(1)
326
(1)
327
(1)
327
(1)
328
(1)
329
(2)

| | |
| --- | --- |
| | `Does history guess itself into our minds' |

331
(3)
334
(1)
335
(2)

| | |
| --- | --- |
| | from Timely Issues (2001) |

337
(1)
337
(1)

| | |
| --- | --- |
| | Mozart in the Middle of the Night |

338
(1)
338
(1)
339
(1)
339
(1)

| | |
| --- | --- |
| | Out in the Country in 2000 |

340
(1)
341
(1)
342
(1)
342
(1)
343
(1)
343
(1)
344
(1)

| | |
| --- | --- |
| | Prayer: Homage to George Herbert |

345
(1)

| | |
| --- | --- |
| | Homage to Thomas Traherne |

345
(1)

| | |
| --- | --- |
| | Homage to Gerard Manley Hopkins: After Receiving Communion in Hospital |

346
(1)
346
(1)
347
(1)
348
(1)

| | |
| --- | --- |
| | Some Months After Anaesthetics |

348
(1)
349
(1)
350
(1)
351
(1)
351
(1)
352
(1)
353
(1)
354
(1)
354
(1)
355
(1)
355
(1)
356
(1)
357
(1)
357
(1)
358
(1)
359
(1)

| | |
| --- | --- |
| | Assurance Beyond Midnight |

360
(1)
Index of first lines
361
(14)
Index of titles
375