Note: Supplemental materials are not guaranteed with Rental or Used book purchases.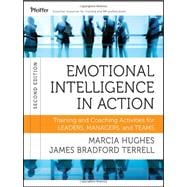 Questions About This Book?
What version or edition is this?
This is the 2nd edition with a publication date of 2/14/2012.
What is included with this book?
The New copy of this book will include any supplemental materials advertised. Please check the title of the book to determine if it should include any CDs, lab manuals, study guides, etc.
Summary
This book provides an introduction to the key EQ measures: EQ-i, Goleman & Boyatzis ECI 360, Mayer, Salovey & Caruso MSCEIT, and Emotional Intelligence Skills Assessment (EISA) and offers specific exercises and activities designed to develop the skills of emotional intelligence.  The activities are mapped to each of the measures included in the book.  There are more than 50 Exercises (4 - 6 exercises per component). Each exercise includes: --Purpose: What the exercise focuses on and what will be accomplished --Outcome(s): Specific behavioral changes that will occur --Facilitator Competencies: Easy, moderate, or advanced --Instructions: Step-by-step instructions of how to perform the exercise --Handouts: Where provided these can be copied and distributed by the facilitator or coach.
Author Biography
About the Authors
Marcia Hughes, president of Collaborative Growth, serves as a strategic communications partner for organizations and trainers and is a professional speaker. She offers emotional intelligence training and coaching and is a certified trainer in the EQ-i 2.0 and EQ360, and TESI.
James Bradford Terrell, vice president of Collaborative Growth, provides coaching in emotional and communication skillfulness and organizational competency development for individuals, teams in transition, and senior leaders. He coaches leaders and teams using the EQ-i 2.0 and EQ360 and TESI.
Table of Contents
On the Web xv
Acknowledgments xix
Introduction: Getting the Most from This Resource 1
PART ONE Using Emotional Intelligence to Create Real Change 7
CHAPTER 1 The Case for Emotional Intelligence 9
CHAPTER 2 How Everyone Can Use the Exercises: Cross-Reference Matrix 17
PART TWO Exploring Emotional Intelligence and Well-Being Skills 35
1 Self-Regard 37
2 Self-Actualization 41
3 Emotional Self-Awareness 47
4 Emotional Expression 53
5 Assertiveness 57
6 Independence 63
7 Interpersonal Relationships 67
8 Empathy 71
9 Social Responsibility 77
10 Problem Solving 83
11 Reality Testing 87
12 Impulse Control 91
13 Flexibility 95
14 Stress Tolerance 101
15 Optimism 107
16 Happiness/Well-Being 113
PART THREE Emotional Intelligence Exercises to Build Effective Skills 117
1 Self-Regard
EXERCISE 1.1 Lighten Up with Self-Compassion 121
EXERCISE 1.2 Of Thine Own Self Be Aware 125
EXERCISE 1.3 Reconciliation 129
EXERCISE 1.4 Toot Your Horn and Scratch Your Back 135
2 Self-Actualization
EXERCISE 2.1 Leverage Your Time with a 2% Solution 139
EXERCISE 2.2 The Scavenger Hunt 145
EXERCISE 2.3 Becoming All That You Can Be 155
EXERCISE 2.4 Applying Inspiration 163
3 Emotional Self-Awareness
EXERCISE 3.1 Expanding Your Uncommon Awareness 171
EXERCISE 3.2 Are You in Touch? 175
EXERCISE 3.3 It Just Bubbles Up 181
EXERCISE 3.4 Moving Toward and
Moving Away 187
4 Emotional Expression
EXERCISE 4.1 Expressing Resistance 195
EXERCISE 4.2 Say It Nonverbally! 199
EXERCISE 4.3 Tell a Story 203
EXERCISE 4.4 Expressing Emotions in Social Media 207
5 Assertiveness
EXERCISE 5.1 Developing Appropriate Assertiveness Within Your Team 211
EXERCISE 5.2 Ramp It Up 217
EXERCISE 5.3 Dial It Back 223
EXERCISE 5.4 Getting Your Point Across 227
6 Independence
EXERCISE 6.1 Virtual Decision Making 231
EXERCISE 6.2 Cut the Apron Strings 237
EXERCISE 6.3 Solitary Effort 241
EXERCISE 6.4 Going Along with the Group—Or Not 245
7 Interpersonal Relationships
EXERCISE 7.1 Investment in Friends 249
EXERCISE 7.2 You've Got Good News 253
EXERCISE 7.3 Making New Friends 259
EXERCISE 7.4 Fun and Meaningful Relationships 265
8 Empathy
EXERCISE 8.1 Recipe for Infl uence: Curiosity and Compassion 269
EXERCISE 8.2 Connect Feeling with Meaning 273
EXERCISE 8.3 Mixed Emotions 277
EXERCISE 8.4 Do as the Empathic Do 285
9 Social Responsibility
EXERCISE 9.1 Focus on Something Bigger Than Yourself 289
EXERCISE 9.2 Refl ect the Best 293
EXERCISE 9.3 Who Do I Work for? 299
EXERCISE 9.4 The Value of Volunteering 305
10 Problem Solving
EXERCISE 10.1 When Problems Become Confl icts 309
EXERCISE 10.2 Emotions Affect Decision Making 317
EXERCISE 10.3 Using the MasterSolve Modelfor Teams 323
EXERCISE 10.4 Win-Win Negotiating 331
EXERCISE 10.5 Let's Cover Our Bases 335
11 Reality Testing
EXERCISE 11.1 Political Savvy 341
EXERCISE 11.2 Feel, Hear, See—Is It Reality? 345
EXERCISE 11.3 Visit Their Reality 349
EXERCISE 11.4 Using All Three of Your Minds 355
12 Impulse Control
EXERCISE 12.1 Putting on the Brakes 361
EXERCISE 12.2 To Impulse or Not to Impulse 365
EXERCISE 12.3 The Urge to Splurge 377
EXERCISE 12.4 Hot Buttons 383
13 Flexibility
EXERCISE 13.1 The Highly Flexible Team 387
EXERCISE 13.2 No More Shutdowns 391
EXERCISE 13.3 Yes, No, Maybe So 397
EXERCISE 13.4 Flex Time 401
14 Stress Tolerance
EXERCISE 14.1 The EZ Stress Buster 405
EXERCISE 14.2 'Cause You've Got Personality 411
EXERCISE 14.3 Water Off a Duck's Back 421
EXERCISE 14.4 Deep Center Breathing 425
15 Optimism
EXERCISE 15.1 Optimistic Self-Talk and Behavior 431
EXERCISE 15.2 Be Solution-Focused 437
EXERCISE 15.3 See a Positive Resolution 441
EXERCISE 15.4 The Optimistic Explanation 445
16 Happiness/Well-Being
EXERCISE 16.1 Beyond Personal Silos 453
EXERCISE 16.2 Growing My Happiness 459
EXERCISE 16.3 Pay It Forward with Gratitude 463
EXERCISE 16.4 Attitude of Gratitude 467
Resources 471
References 473
About the Authors 477
Index 479