Note: Supplemental materials are not guaranteed with Rental or Used book purchases.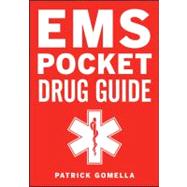 Summary
The drug guide that belongs in the pocket of every front-line EMS providerThis is the first EMS pocket drug guide that contains the detailed information typically found only in much larger reference books.EMS Pocket Drug Guideis a true must-have for any level EMS provider from basic to advanced. Small enough to fit in a shirt pocket, it should always be with you for quick, reliable reference in the field. The detail you need without sacrificing ease of use Essential information on 1000 of the most commonly prescribed medications and more than 70 drugs most often used in the pre-hospital setting Drug-specific EMS pearls, including signs and symptoms of overdose and specific overdose management Sections on street drugs and medicinal herbs Quick field reference tables, including cardiac algorithms, weight conversion, and injury severity scoresAn amazing amount of content packed into a pocket-sized reference: EMS Field Medications, Commonly Prescribed Medications: Classificaton, Commonly Prescribed Medications: Generic and Selected Brand Data, Commonly Used Medicinal Herbs, Common Street Drugs, Reference Tables, Adult Emergency Cardiac Care Medications
Author Biography
Patrick Gomella, NREMT-P, graduated from Penn State Universitywith a BS in Biology and minor in Movement Science, and also has a Masters in PublicHealth. He is a nationally-certified Paramedic through Thomas Jefferson Hospital and isalso a certified firefighter and NREMT-B. In addition to having experience in the field, Mr. Gomellais certified as an EMS instructor. He is the son of Leonard Gomella, who authored Clinician'sPocket Drug Reference and Clinician's Pocket Reference.
Table of Contents
Preface
Medication Key
Abbreviations
I. EMS Field Medications
Prehospital Drug Classification
II. Commonly Prescribed Medications: Classification
III. Commonly Prescribed Medications: Generic and Selected Brand Data
IV. Commonly Used Medicinal Herbs
V. Common Street Drugs
VI. Tables
Index
Adult Emergency Cardiac Care Medications