Note: Supplemental materials are not guaranteed with Rental or Used book purchases.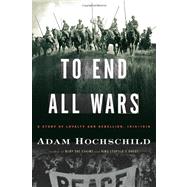 To End All Wars: A Story of Loyalty and Rebellion, 1914-1918
ISBN13:
9780618758289
by
Hochschild, Adam
Houghton Mifflin Harcourt
Questions About This Book?
What version or edition is this?
This is the edition with a publication date of 5/3/2011.
What is included with this book?
The Used copy of this book is not guaranteed to include any supplemental materials. Typically, only the book itself is included.
Summary
World War I stands as one of history's most senseless spasms of carnage, defying rational explanation. In a riveting, suspenseful narrative with haunting echoes for our own time, Adam Hochschild brings it to life as never before. He focuses on the long-ignored moral drama of the war's critics, alongside its generals and heroes. Thrown in jail for their opposition to the war were Britain's leading investigative journalist, a future winner of the Nobel Prize for Literature, and an editor who, behind bars, published an underground newspaper for his fellow inmates on toilet paper. These critics were intimately connected to their enemy hawks: One of Britain's most prominent women pacifist campaigners had a brother who was commander in chief on the Western Front. Two well-known sisters split so bitterly over the war that they ended up publishing newspapers that attacked each other. Today, hundreds of military cemeteries spread across the fields of northern France and Belgium, containing the bodies of millions of men who died in the "war to end all wars." Can we ever avoid repeating history?
Table of Contents
List of Maps
p. ix
Introduction: Clash of Dreams
p. xi
Dramatis Personae
Brother and Sister
p. 3
A Man of No Illusions
p. 16
A Clergyman's Daughter
p. 27
Holy Warriors
p. 40
Boy Miner
p. 54
On the Eve
p. 65
1914
A Strange Light
p. 79
As Swimmers into Cleanness Leaping
p. 98
The God of Right Will Watch the Fight
p. 114
1915
This Isn't War
p. 135
In the Thick of It
p. 147
Not This Tide
p. 160
1916
We Regret Nothing
p. 177
God, God, Where's the Rest of the Boys?
p. 200
Casting Away Arms
p. 215
1917
Between the Lion's Jaws
p. 241
The World Is My Country
p. 257
Drowning on Land
p. 275
Please Don't Die
p. 289
1918
Backs to the Wall
p. 309
There Are More Dead Than Living Now
p. 329
Exeunt Omnes
The Devil's Own Hand
p. 347
An Imaginary Cemetery
p. 360
Source Notes
p. 379
Bibliography
p. 411
Acknowledgments
p. 423
Index
p. 427
About the Author
p. 449
Table of Contents provided by Ingram. All Rights Reserved.
Excerpts
An early autumn bite is in the air as a gold-tinged late afternoon falls over the rolling countryside of northern France. Where the land dips between gentle rises, it is already in shadow. Dotting the fields are machine-packed rolls, high as a person's head, of the year's final hay crop. Massive tractors pull boxcar-sized cartloads of potatoes, or corn chopped up for cattle feed. Up a low hill, a grove of trees screens the evidence of another kind of harvest, reaped on this spot nearly a century ago. Each gravestone in the small cemetery has a name, rank, and serial number; 162 have crosses, and one has a Star of David. When known, a man's age is engraved on the stone as well: 19, 22, 23, 26, 34, 21, 20. Ten of the graves simply say, "A Soldier of the Great War, Known unto God." Almost all the dead are from Britain's Devonshire Regiment, the date on their gravestones July 1, 1916, the first day of the Battle of the Somme. Most were casualties of a single German machine gun several hundred yards from this spot, and were buried here in a section of the front-line trench they had climbed out of that morning. Captain Duncan Martin, 30, a company commander and an artist in civilian life, had made a clay model of the battlefield across which the British planned to attack. He predicted to his fellow officers the exact place at which he and his men would come under fire from the nearby German machine gun as they emerged onto an exposed hillside. He, too, is buried here, one of some 21,000 British soldiers killed or fatally wounded on the day of greatest bloodshed in the history of their country's military, before or since.
 On a stone plaque next to the graves are the words this regiment's survivors carved on a wooden sign when they buried their dead:
The devonshires held this trench
The devonshires hold it still
 
 The comments in the cemetery's visitors' book are almost all from England: Bournemouth, London, Hampshire, Devon. "Paid our respects to 3 of our townsfolk." "Sleep on, boys." "Lest we forget." "Thanks, lads." "Gt. Uncle thanks, rest in peace." Why does it bring a lump to the throat to see words like sleep, rest, sacrifice, when my reason for being here is the belief that this war was needless folly and madness? Only one visitor strikes a different note: "Never again." On a few pages the ink of the names and remarks has been smeared by raindrops — or was it tears?
 The bodies of soldiers of the British Empire lie in 400 cemeteries in the Somme battlefield region alone, a rough crescent of territory less than 20 miles long, but graves are not the only mark the war has made on the land. Here and there, a patch of ground gouged by thousands of shell craters has been left alone; decades of erosion have softened the scarring, but what was once a flat field now looks like rugged, grassed-over sand dunes. On the fields that have been smoothed out again, like those surrounding the Devonshires' cemetery, some of the tractors have armor plating beneath the driver's seat, because harvesting machinery cannot distinguish between potatoes, sugar beets, and live shells. More than 700 million artillery and mortar rounds were fired on the Western Front between 1914 and 1918, of which an estimated 15 percent failed to explode. Every year these leftover shells kill people — 36 in 1991 alone, for instance, when France excavated the track bed for a new high-speed rail line. Dotted throughout the region are patches of uncleared forest or scrub surrounded by yellow danger signs in French and English warning hikers away. The French government employs teams of démineurs, roving bomb-disposal specialists, who respond to calls when villagers discover shells; they collect and destroy 900 tons of unexploded munitions each year. More than 630 French démineurs have died in the line of duty since 1946. Like those shells, the First World War itself has remained in our lives, below the surface, because we live in a world that was so much formed by it and by the industrialized total warfare it inaugurated.
 Even though I was born long after it ended, the war always seemed a presence in our family. My mother would tell me about the wild enthusiasm of crowds at military parades when — at last! — the United States joined the Allies. A beloved first cousin of hers marched off to the sound of those cheers, to be killed in the final weeks of fighting; she never forgot the shock and disillusionment. And no one in my father's family thought it absurd that two of his relatives had fought on opposite sides of the First World War, one in the French army, one in the German. If your country called, you went.
 My father's sister married a man who fought for Russia in that war, and we owed his presence in our lives to events triggered by it: the Russian Revolution and the bitter civil war that followed — after which, finding himself on the losing side, he came to America. We shared a summer household with this aunt and uncle, and friends of his who were also veterans of 1914–1918 were regular visitors. As a boy, I vividly remember standing next to one of them, all of us in bathing suits and about to go swimming, and then looking down and seeing the man's foot: all his toes had been sheared off by a German machine-gun bullet somewhere on the Eastern Front.
 The war also lived on in the illustrated adventure tales that British cousins sent me for Christmas. Young Tim or Tom or Trevor, though a mere teenager whom the colonel had declared too young for combat, would bravely dodge flying shrapnel to carry that same wounded colonel to safety after the regiment, bagpipes playing, had gone "over the top" into no man's land. In later episodes, he always managed to find some way — as a spy or an aviator or through sheer boldness — around the deadlock of trench warfare.
 As I grew older and learned more history, I found that this very deadlock had its own fascination. For more than three years the armies on the Western Front were virtually locked in place, burrowed into trenches with dugouts sometimes 40 feet below ground, periodically emerging for terrible battles that gained at best a few miles of muddy, shell-blasted wasteland. The destructiveness of those battles still seems beyond belief. In addition to the dead, on the first day of the Somme offensive another 36,000 British troops were wounded. The magnitude of slaughter in the war's entire span was beyond anything in European experience: more than 35 percent of all German men who were between the ages of 19 and 22 when the fighting broke out, for example, were killed in the next four and a half years, and many of the remainder grievously wounded. For France, the toll was proportionately even higher: one half of all Frenchmen aged 20 to 32 at the war's outbreak were dead when it was over. "The Great War of 1914–18 lies like a band of scorched earth dividing that time from ours," wrote the historian Barbara Tuchman. British stonemasons in Belgium were still at work carving the names of their nation's missing onto memorials when the Germans invaded for the next war, more than 20 years later. Cities and towns in the armies' path were reduced to jagged rubble, forests and farms to charred ruins. "This is not war," a wounded soldier among Britain's Indian troops wrote home from Europe. "It is the ending of the world."