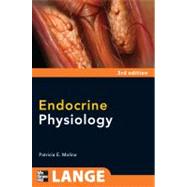 Summary
The Third Edition of Endocrine Physiology offers comprehensive coverage of the basic science and anatomy behind endocrine function. The concepts covered will provide a basis for understanding the physiologic mechanisms involved in the neuroendocrine regulation of organ function. With its focus on must-know principles, Endocrine Physiology is the best review available for the USMLE Step 1 and the perfect reference for residents and fellows.
Author Biography
Patricia Molina, MD, PhD, is head of the Physiology Department of the Louisiana State University Health Sciences Centre in New Orleans, Louisiana.
Table of Contents
Preface
p. vii
General Principles of Endocrine Physiology
p. 1
The Endocrine System: Physiologic Functions & Components
p. 1
Hormone Chemistry & Mechanisms of Action
p. 3
Hormone Cellular Effects
p. 7
Hormone Receptors & Signal Transduction
p. 9
Control of Hormone Release
p. 14
Assessment of Endocrine Function
p. 19
The Hypothalamus & Posterior Pituitary Gland
p. 27
Functional Anatomy
p. 28
Hormones of the Posterior Pituitary
p. 34
Anterior Pituitary Gland
p. 49
Functional Anatomy
p. 49
Hypothalamic Control of Anterior Pituitary Hormone Release
p. 52
Hormones of the Anterior Pituitary
p. 52
Diseases of the Anterior Pituitary
p. 69
Thyroid Gland
p. 75
Functional Anatomy
p. 75
Regulation of Biosynthesis, Storage, & Secretion of Thyroid Hormones
p. 77
Diseases of Thyroid Hormone Overproduction & Undersecretion
p. 91
Evaluation of the Hypothalamic-Pituitary-Thyroid Axis
p. 96
Parathyroid Gland & Ca2+&PO4-Regulation
p. 101
Functional Anatomy
p. 102
PTH Biosynthesis & Transport
p. 102
PTH Target Organs & Physiologic Effects
p. 105
Calcium Homeostasis
p. 113
Diseases of PTH Production
p. 124
Adrenal Gland
p. 129
Functional Anatomy & Zonation
p. 130
Hormones of the Adrenal Cortex
p. 131
Hormones of the Adrenal Medulla
p. 153
Endocrine Pancreas
p. 165
Functional Anatomy
p. 165
Pancreatic Hormones
p. 166
Diseases Associated with Pancreatic Hormones
p. 182
Male Reproductive System
p. 189
Functional Anatomy
p. 190
Gonadotropin Regulation of Gonadal Function
p. 192
Gonadal Function
p. 196
Physiologic Effects of Androgens at Target Organs
p. 201
Neuroendocrine & Vascular Control of Erection & Ejaculation
p. 208
Diseases of Testosterone Excess or Deficiency
p. 209
Female Reproductive System
p. 215
Functional Anatomy
p. 216
Gonadotropin Regulation of Ovarian Function
p. 218
Ovarian Hormone Synthesis
p. 219
Ovarian Cycle
p. 222
Endometrial Cycle
p. 230
Physiologic Effects of Ovarian Hormones
p. 233
Age-Related Changes in the Female Reproductive System
p. 247
Contraception & the Female Reproductive Tract
p. 249
Diseases of Overproduction & Undersecretion of Ovarian Hormones
p. 250
Endocrine Integration of Energy & Electrolyte Balance
p. 255
Neuroendocrine Regulation of Energy Storage, Mobilization, & Utilization
p. 256
Electrolyte Balance
p. 270
Neuroendocrine Regulation of the Stress Response
p. 281
Appendix
p. 287
Normal values of metabolic parameters and tests of endocrine function: Plasma and serum values
p. 287
Normal values of metabolic parameters and tests of endocrine function: Urinary levels
p. 289
Answers to Study Questions
p. 291
Index
p. 293
Table of Contents provided by Ingram. All Rights Reserved.